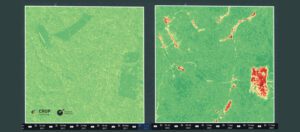 As of 2022, Brazil's Munduruku Indigenous Reserve is the second worst-affected territory occupied by illegal miners in the country. In 2021, the illegal mining there grew by 363 percent within only two years, seizing hundreds and hundreds of lands. The situation with the Munduruku people is only one possible focal point to evaluate the scale of the problem. Using satellite data, EOS Data Analytics measured the negative mining effects, namely deforestation, algae growth in the water, and soil with no more vegetation. 
For the research, data from 2017 and 2022 collected using EOSDA Crop Monitoring, an online satellite-based precision agriculture platform, was compared to see how the situation in the region of Itaituba, which is in the state of Pará, Brazil, changed since more miners came to the area.
In these images, the total area of 1,900 hectares with 10-meter resolution was compared based on the Normalized Difference Vegetation Index (NDVI) index of the soil. NDVI reveals the density and greenness of the vegetation in the area. Red spots represent areas where the land was deforested and now there's only bare soil. 
In the second image, the lower right corner reveals the emergence of one of the mines in the region. For its functions, active deforestation has been taking place. Apart from that, the NDVI index helps spot and track new clandestine roads that had been formed throughout the region.
Comparing these two images, the EOSDA team calculated that more than 66 hectares of the land had been deforested in the span of five years.
Image Credit: EOS Data Analytics