3D Laser Mapping has announced the latest in a series of free, application specific workshops designed to promote a new range of innovative, hand-held 3D laser scanners. Aimed at potential users of the Mantis Vision imager from within the Archaeological and Heritage sectors, the workshop will take place on the 14 March, 2013 at the Creswell Crags Limestone Gorge and Cave Systems near Sheffield. The one day showcase event will feature product demonstrations including documenting Britain's only known Ice Age rock art and recording a variety of interesting bones from the Museum's collection of more than 50,000 rare and unusual objects.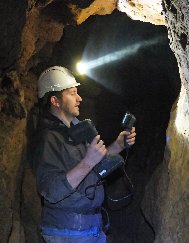 "The MVC-F5 is ideally suited to the exacting requirements of users within the archaeological and heritage sectors," commented event organiser Charlie Whyman of Nottingham based 3D Laser Mapping, distributor of the F5 in the UK, South Africa and Australia. She continued, "It's small, light, easy to use and can be used in any lighting condition. It can capture highly detailed site data as well as accurately recording the smallest artefacts without the need to touch potentially delicate or sensitive assets."
"This event, and subsequent themed workshops, will provide potential users with an introduction to the concepts of 3D scanning, together with a thorough understanding of the benefits of the hand-held imager. Delegates will have the opportunity to get 'hands on' with the F5 and learn from experts and peers from within their sector."
The Mantis Vision MVC-F5 is the only 3D imager specifically designed to meet the stringent demands of field use, operating at speed to capture millimetre-accurate measurements in seconds. It can be used on the move and is even covert; silent to operate and using infrared light that is naked to the visible eye. The F5 is ideally suited for use in complex and changing environments, where its size and speed of operation can be critical to a project's success.
Demanding field user's benefit from its rugged design and an easy to use interface makes it ideal for those with little or no experience of laser scanning. The collected data is compatible with common applications and content creation software, and the captured images can be quickly analysed with tools for measuring, triangulation and surface creation.
The latest workshop will take place on the 14th March 2013 at Creswell Crags Museum and Heritage Centre conveniently located just five miles from Junction 30 of the M1. The one-day event includes training materials and onsite refreshments and is free to attend; however advance registration is required and places are strictly limited. For further information email [email protected] or call 01949 838004.