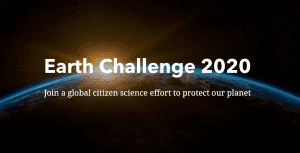 Earth Challenge 2020 (Earth Challenge) launched on April 9, 2020, marking the 50th anniversary of Earth Day. This project creates a global expansion of open-source citizen science data and opportunities for civic engagement. 
Earth Challenge has two goals. First, to aggregate existing citizen science from around the world and make it interoperable, creating a coordinated point of entry for the research and public-policy community. Second, to give each user of the Earth Challenge 2020 app the opportunity to take a civic action specifically related to issues in their own country. The app is available in 11 languages. 
For Earth Day, the challenge will focus on two research areas: air quality and plastic pollution. Over the coming months, issue areas will be added on insects, water quality, food security and local climate impacts. 
The coronavirus pandemic reinforces the importance of science in understanding and protecting our health and environment. The app enables individuals to participate in authentic environmental research from the safety of their homes, while being part of the global citizen science community.
The EC2020 App can be downloaded on the Apple's App Store and Google Play.