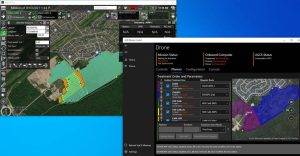 For a nuisance-reduction program after a summer rainfall 2021, GDG was challenged to monitor a several-thousand-hectare region and treat all mosquito breeding sites within it in just five days. As a result, biological larvicide treatment was applied to nearly one thousand hectares of areas producing mosquito larvae by GDG's drone division in 2021. 
"Once a mosquito egg has hatched, in ideal conditions, the mosquito larvae can potentially pass all stages of development and emerge as an adult as fast as in five days," explains Benjamin Russell, a project supervisor at GDG Environment. "When a mosquito emerges as an adult, the only effective pesticides are adulticides, harsh broad-spectrum chemicals, which we do not use. Timing and speed advantages offered by using a drone were critical for the program's success."
As the world of drone technology moves quickly, GDG Environment brings different drone and payload models into their fleet to work on reducing mosquito nuisance. Since 2018, it has been opting for SPH Engineering's solutions, UgCS, a ground-control software, and later on UgCS .NET SDK, a toolset for developing custom applications on top of UgCS. The company developed an inhouse platform for automating their payload functions. With automation, GDG can now begin to scale into performing treatments with multiple drones. The platform simplifies the procedure, allowing the same number of personnel to safely employ more complex operations.
For pesticide application within Canada, GDG obtained authorization from Health Canada for the purpose of conducting research under the Pest Control Products Regulations. As of today, drone-based pesticide application services outside the scope of the current research cannot be offered, however, GDG is looking to use their technology to expand the drone services they offer into the fields of agriculture, forestry, public health and food safety.
To learn more, watch the video.