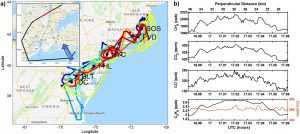 Major U.S. cities may be leaking far more methane into the atmosphere than government estimates suggest. New measurements found that up to twice as much gas is being released from six cities on the East Coast—Washington, D.C.; Philadelphia; Boston; New York; Providence, R.I.; and Baltimore—than estimates recorded by the Environmental Protection Agency (EPA).
Their combined methane emissions are higher than those at some of the nation's biggest natural gas production centers, including the Four Corners region and the Bakken Shale in the Dakotas.
"For context, it's quite a bit of methane for a small number of cities to be emitting," study co-author Eric Kort, a climate scientist at the University of Michigan, said in an interview with E&E News. "Does it drive the global budget? No. But is it an important component that potentially drives mitigation opportunities and is potentially important to consider when we consider the footprint of natural gas? Certainly."
While carbon dioxide remains the most significant greenhouse gas affecting the planet's climate, methane emissions are a growing concern among climate scientists. Methane persists for a shorter period of time in the atmosphere than CO2, but its climate-warming influence is much more potent while it lasts.
The new study isn't the first to suggest that the amount of methane released during the production of natural gas may be higher than previously thought. A striking analysis published in Science in 2018 found that methane from the oil and gas supply chain could be up to 60 percent higher than estimates by EPA.
But what about cities? Emissions from urban centers have been an "under-examined part of the methane budget," the authors of the new study write.
The findings were recently published in the journal Geophysical Research Letters.