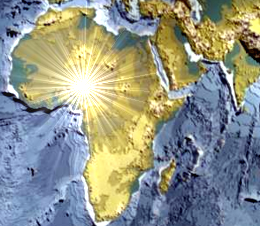 The growth of mega-cities around the world poses unique challenges for managing infrastructure, health, communities and transportation. This expansion is near impossible to understand and plan for appropriately without the assistance of spatial information and geospatial technology. Geographic informatiom systems (GIS) and computer-aided design (CAD) are both helping to address these challenges. Yet, other areas that require attention fall more directly to spatial data infrastructures (SDI) and helping to build capacity within policy bodies.
Introduction
A megacity is defined as a metropolitan area with a total population in excess of 10 million people. [1] Most population experts believe that due to the rapid migration from rural to urban communities, megacities are a consistently growing unit of human ecology and they are here to stay despite problems associated with them. Surveys and projections indicate that all urban growth over the next 25 years will be in developing countries.[3] Thus, it is safe to say that there has been no better time for finding solution to their endemic problems than now.
Nigeria is the most populous nation in Africa with a teaming population of over 140 million people crowded over a land area of about 923,000 square kilometers. It has over a hundred cities with population that passes for urban centers. Nigerian cities notably Lagos, Kano and Ibadan are among the first one hundred largest cities in the world which translates into pressures on land and thus high urban dynamics.
This article is an effort to identify and highlight the urbanizational trend in Ibadan, a city in the South West Region of Nigeria. Its goal is to examine the process of change of Ibadan from a well-known historical war camp of the Yoruba people to its present state and its capacity to become a mega city.
Objectives
Examine the growth and development of Ibadan city;Examine the process of urban changes;Identify the socio economic aspect of the change process;Provide explanation to structural and lateral changes in the urban land; andEvaluate various urban planning initiatives.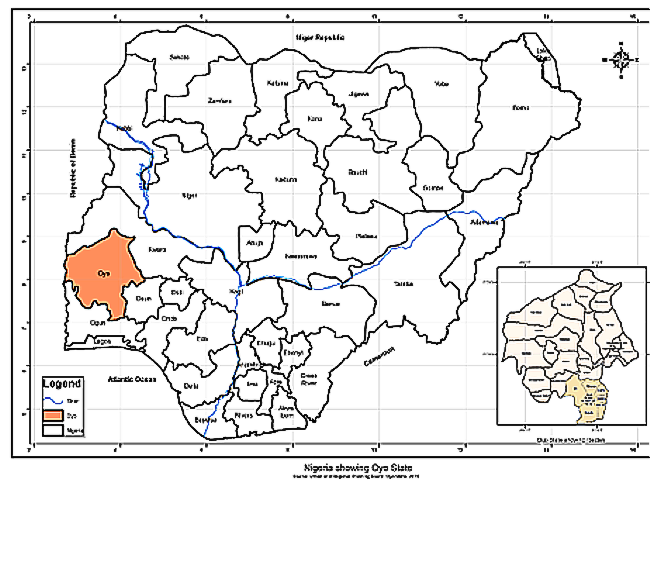 Figure 1 – Map showing the Oyo State in Nigeria
Issues relating to the development of Ibadan Mega City
Historical perspective
Defence was a major consideration when Lagelu, a historical war hero, founded Ibadan, a city at the boundary of the rain forest and the savannah, and resting firmly on seven hills. The descriptive name "Eba-Odan" (verge of the savannah), over time underwent a phonetic and phonological emendation to become "Ibadan."
The initial congregation of Ibadan after the occupation of the allied army of Ife, Ijebu and Oyo – three major Yoruba city-state communities, was along ethnic lines in 1820. Ijebus lived in the South at Isale-Ijebu while the Egbas, led by Lamodi, moved far away from their conquerors and settled at Yiosa. Ife and Oyo settled at Oja'ba.[4] The settlement grew very rapidly under the protection of a series of warlords.
Population growth
The population growth of Ibadan has been remarkable with a population of a 100,000 in 1851, to 175,000 in 1911 and 745,448 in 1952. The population rose to 1,141,677 in 1963 at a growth rate of 3.95% per annum. In 1991, the population rose to 1,829,300 and then to 2,550,593 million in 2006.[8] The population growth rate has been on the increase, although census figures have been less than reliable.
Socio Economic Interaction
An interesting phenomenon of Ibadan City is its urban-rural homogeneity, reflecting socio-economic ties. This accounts for a popular adage, "Ibadan tile toko" (Ibadan with homes in the urban area and farmsteads in the rural area). Ibadan City today, has incorporated former rural area of Lalupon, Alakia, Olodo, Ogbere, Odo-Ona, Bode-Igbo and Moniya which lie at the urban periphery of the city.
The phenomenon of homogeneity imposes movements on the people who are residents of the peripheral communities on a routine basis. They particularly troupe into the metropolis during days for business ventures. This often results in heavy traffic congestion in the central Ibadan city. Indeed, Ibadan is often known for its unusual traffic congestions in the city and especially around the surrounding open flea market areas.
Table 1 – Dynamics of
Urban Landuse Change

| | | | |
| --- | --- | --- | --- |
| | 1972 | 1984 | 2006 |
| Land Use | % | % | % |
| Urban | 5 | 14 | 15 |
| Sub-Urban | 19 | 52 | 53 |
| Water | 13 | 8 | 5 |
| Rural / Vegetation | 63 | 26 | 17 |
This trend understandably poses a big challenge to physical planning activities. It is imperative that social and public amenities be made available to prevent Ibadan becoming a modern slum.
Spatial Analysis
Landsat satellite imageries of 1972, 1984 and 2006 were classified using spectral signatures for Urban, Sub-Urban, Water and Vegetation.
From the analysis below, it can be observed that the Land use of Ibadan has changed dynamically reflecting an expanding development into the former rural and mostly vegetation areas.
The remarkable change between 1972 and 1984 can be attributed to the oil boom and the antecedent infrastructural development.
The mass migration from rural to urban communities in a way prompted drastic utilization of land resources, especially in terms of building houses and erecting facilities for businesses.
Urban Infrastructure and Service Delivery
Ever since the 1820s, the very first opportunity to commence a comprehensive planning of the city came over a century later. In 1945 a report pointed that: "For more than a hundred years, development had proceeded with very little control and resulted in the creation of a fantastic street system of formless roads and winding parks, in fact in many cases, the streets are nothing more than the spaces left over after house building has taken place."[6]
Transportation
As earlier noted, traffic problem in Ibadan has been aggravated by the city's rapid urbanization, as well as economic and industrial development. Roads are narrow, some unpaved, winding and lack pedestrian sidewalks. Inadequate parking facilities are another problem that the city faces. This situation is worsened by roadside trading.

Educational Facilities
Missionary intervention
The first step towards the establishment of educational institutions in Ibadan was the founding of a school by the Reverend Hinderer under a shed at Kudeti in 1853. This was followed by three Mission Schools established between 1894 and 1898. Government Participation: Direct Government involvement in the education of children in Ibadan started in 1905.
The University of Ibadan was established, in 1948. Other institutions established include the Polytechnic Ibadan, Cooperative College, School of Nursing and the School of Hygiene. Presently there are 433 public Secondary Schools and 887 Elementary Schools. Private Public ParticipationThe LEEDS University was established through private efforts later in 2003. There are more than 600 private nursery, primary and secondary schools.
Health facilities
For quite a long time in history, health institutions have been notably present in Ibadan. For instance, in 1853 and 1893 missionaries established mini-hospitals in the personage, especially at Kudeti and Elekuro, two major communities within the City of Ibadan. Then, Ibadan Native Authority established a dispensary in Oranyan community in 1902. The Jericho Nursing Home was built in 1905 and Adeoyo General Hospital in 1927. The first private hospital named Alafia Hospital was established in 1938.
Healthcare delivery in Ibadan was enhanced when the University College Hospital (U.C.H) was opened in 1957. The Roman Catholic Mission also built two hospitals at communities of Oluyoro and Eleta.
At present, several local government health centers, dispensaries, private hospitals and clinics provide primary healthcare services.
Water
Water has posed a serious problem. Consequently the Oyo State Government, of which the City of Ibadan is the capital, embarked on a programme for the rehabilitation of the major waterworks serving Ibadan metropolis. It took a loan from the African Development Bank (ADB). The projects include Asejire and Eleyele waterworks and Osegere water scheme. The effects of these projects has not been felt by the larger population in Ibadan because water supply still poses a serious problem in the city.
Housing Condition
Government intervention in housing development started in 1917 when Jericho and Iyaganku Government Reserve Areas were created. Oluyole, Bodija, Olubadan and Akobo Estates were also established among others. Development has also been enhanced by Private developers. However, housing demands are not yet adequately met; indeed they pose a major problem to the physical development of the mega-city of Ibadan.
Urban Renewable
As a result of urban sprawl, the central city of Ibadan continues to deteriorate at much faster rate than the sub-urban areas. There are no adequate urban rehabilitation programmes for coping with this situation. Even the World Bank assisted Ibadan City Improvement Programmes (CIP) at communities like Yemetu, Mokola and Ogbere-Agugu were inadequate for the task of stopping the deterioration around the city core areas because of the inevitable disruption of the social and physical fabric of project areas and the failure to resolve conflicting goals.
Rehabilitation and maintenance of social infrastructure are neither frequent nor adequate even when available. The famous Adeoyo Hospital and Mapo Hall, two well-known historic relics, built in 1927 and 1929 respectively were only refurbished and upgraded for the first time in 2007.
Recent road dualisation and the rehabilitation of the railway that cuts right through the city from Omi Adio to the inland port on the eastern side of the city are done with the hope of improving transportation when completed.
Challenges of evolution
Two of the most critical urban development issues facing Ibadan Metropolitan area and other cities in Nigeria are fiscal and social realities – the financing of urban infrastructure and the institutional arrangement for delivery of urban services. Ibadan does not currently have or follow any structural plan or master plan guiding the city growth. There are recent indications that master plans for major cities and towns in Oyo State are being considered in the year 2010 budget.
Finally, Ibadan is drained by several rivers, the most popular of which is Ogunpa that has its course right in the heart of the city. Some of these rivers, exasperated by deforestations in and around the city, annually cause disastrous floods that result in the destruction of lives and property.
Recommendations
Financing urban infrastructure and services
The Nigerian government should identify, prioritize and initiate sustainable infrastructural development and also leverage on private partnership and participation.
Natural disasters
In order to mitigate annual flooding, the town planning authorities should be proactive and stop approving building plans on the flood-prone areas.
Public enlightenment
GeoKnowledge should be advocated at all levels as this will improve the environmental awareness of Ibadan people.
Geographic Information Management SystemsGovernment should be sensitized to utilize the capabilities of the Geographic Information Systems in policy and decision making.
Partnership with the global community
It is essential that the city of Ibadan partner with identified communities around the world where urbanization had initially posed problem to its growth and development but which the people were able to come up with lasting solutions.
Conclusion
Urban Information is crucial to any city planning and management. Unfortunately, decisions about priority developmental initiatives are often based on fragmented information and therefore often do not succeed. It is essential, therefore, for policy makers to take advantage of Geographic Information technology to gather, analyze and manage information in order to identify, prioritize and handle problems that emerge as a result of growth.
——————————————————————————–
David T. Afolayan, Chief Executive Officer, GISKonsult Limited,
Internet: www.gisknigeria.com
Email: [email protected]
References

"How Big Can Cities Get?" New Scientist Magazine, 17 June 2006, page 41.

M.O Filani, F.O. Akintola, C.O. Ikporukpo "Ibadan Region" Rex Charles Publication 1994

"Nigeria: Lagos, the mega-city of slums". Energypublisher.com. http://www.energypublisher.com/article.asp?id=5307. 6 September 2006

Tomori M.A. "Ibadan Omo Ajorosun: A New Perspective Of Ibadan History And Physical Development " Pent House Publication Nigeria. 2004

"Federal Republic of Nigeria Government White Paper On The Report Of The Presidential Committee On Urban Development And Housing". 2002

Justin Labinjo "Ibadan and The Phenomenon Of Urbanization In Ibadan; A Historical, Cultural And Socio-Economic Study Of An African City". Edited By G.O Ogunremi (Oluyole Club Lagos). 2002

Michael M. Cernea "The Urban Environment And Population Relocation" Published By The World Bank, Washington D.C. 1993

National Population Census Report: 1952, 1963, 1991, 2006 And Gazette No. 24 Vol. 94 Of 15th May, 2007, Lagos (FRN) And Gazette No.2 Abuja 2nd February, 2009 Vol. 96

Toyin Falola "Politics And Economy In Ibadan 1893-1945" Modelor Design Aids Limited, Lagos. 1989