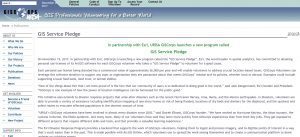 Esri will donate personal-use licenses of its ArcGIS software for each GISCorps volunteer who takes a GIS Service Pledge to volunteer for a good cause. GISCorps is a program of the Urban and Regional Information Systems Association (URISA) and has been providing a range of mapping and disaster response services for more than 14 years worldwide by harnessing the power of GIS technology.
Each personal-use license being donated has a commercial value of approximately $6,000 per year and will enable volunteers to address crucial location-based issues. GISCorps volunteers can leverage this software donation to support any topic or organization, whether local or abroad, they are passionate about that meets the criteria described on the GISCorps website. Examples could include supporting a local food bank, land trust or animal shelter.
"One of the things about Esri that I am most proud of is the fact that our community of users is so dedicated to doing good in the world," said Jack Dangermond, Esri founder and president. "GISCorps is one example of how the power of location intelligence can be harnessed for the public good."
This initiative also extends to response projects that arise after disasters such as the recent Hurricanes Harvey, Irma and Maria; and the earthquakes in Mexico.
"URISA's GISCorps volunteers have been involved in the response to almost every disaster since 2003," said Shoreh Elhami, GISCorps founder. "We have worked on Hurricane Katrina, the Asian tsunami, the cyclone in Burma, the Ebola epidemic, and many more. Many of our volunteers have said they learn more quickly from GISCorps experiences than from their day jobs. They get exposed to different projects that require different skills and tools, and that provides a valuable learning experience."
If you are interested in joining the GIS Service Pledge program, visit the GISCorps home page at www.giscorps.org.