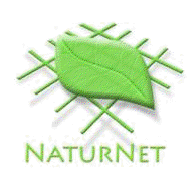 Sustainable tourism is an important aspect of many European countries and regions. It plays a crucial role in parks, protected areas and coastal zones. To be able to guarantee tourism activities and development in regions, public servants have to be trained about potential influence of investment in tourism on the environment. Nature protection and support of tourism activities at the same time are the key issues.

Introduction
The developments of the training activities within the NaturNet Plus project are based on the adoption of a Living Lab user-centred approach.. The trainees continuously provide feedback to the research team about their experiences gained during the training. This increases not only the motivation of the trainees but it also provides the necessary cross-links between theory and practice.
The NaturNet Plus consortium aims to deliver a structured & reusable set of guidelines and recommendations in all project languages (i.e. English, Czech, Latvian, Lithuanian, Italian, Romanian and Bulgarian), which will further support the development and assessment of the training programmes on the use of digital content and online resources for teaching and learning.
The main tools that enable to share, publish, reuse and work with data (spatial and non-spatial). The NaturNet Plus geoportal is a package of applications that allows you to work with maps in web environment based on OGC Web Services.
NaturNet Plus in Brief
The NaturNet plus project is co-funded by the Leonardo da Vinci programme (Education & culture DG, Lifelong Learning Programme). It started in October 2009 and will last for 2 years.
NaturNet Plus transfers methods and knowledge of the NaturNet-Redime project to European regions and enterprises trough network of organizations in Europe dealing with Environmental Education (Czech Centre for Science and Society (CCSS), Videsprojekti, Ligatne, REC Bulgaria, REC Romania, AliTerme, SRPA).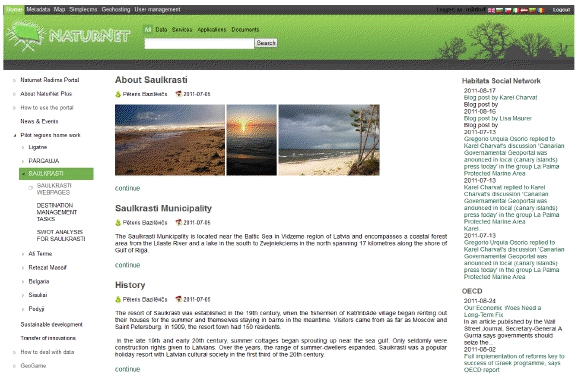 The project focus is on the training of sustainable tourism management among the target regions and mainly in sensitive areas including protected territories, national parks and costal zones. NaturNet plus will combine educational materials and experiences from NaturNet-Redime project, with methods of sustainable tourism introduced in REGEO and EMIRES projects.
Using this network makes the NaturNet results accessible to different groups of workers and public servants. The NaturNet plus educational system was designed and implemented by CCSS with focus on multimedia and interactive tools for eLearning. The NaturNet plus educational approach shares existing results and knowledge and transfers an educational system for new users and conditions. The Web 2.0 based solution opens new methodologies for future education based on social networks.
The project established newly generated educational content that was introduced through innovative platform for vocational training and eLearning. The platform will include the following components:

URM implementation

Tools for mobile learning

Metadata with regional specific information

Catalogue

Geohosting

Map client

Collection of data
The project implementation process is divided into 5 workpackages (WPs):
WP1: User Requirements Analysis and Evaluation of Existing Projects
WP2: NaturNet Plus Computer Assisted Educational Processes
WP3: NaturNet Plus Content
WP4: Training and Validation
WP5: Dissemination and Exploitation

Concept of the NaturNet Plus Geoportal
The concept of "Web 2.0" began with a conference brainstorming session between O'Reilly and MediaLive International (O'Reilly, 2005). There are many definitions of what Web 2.0 is. For the purpose of this report we have selected the following definition:
"Web 2.0 is the network as platform, spanning all connected devices; Web 2.0 applications are those that make the most of the intrinsic advantages of that platform: delivering software as a continually-updated service that gets better the more people use it, consuming and remixing data from multiple sources, including individual users, while providing their own data and services in a form that allows remixing by others, creating network effects through an "architecture of participation," and going beyond the page metaphor of Web 1.0 to deliver rich user experiences."(cit.Tim O'Reilly: Web 2.0: Compact definition?)
NaturNet Plus Geoportal is a package of applications that allows you to work with maps in web environment based on OGC Web Services.
Catalogue – The catalogue client allows you to search metadata using OGC CSW. There is a possibility to show the detail information of the record.
Map – The map client allows you to view maps based on OGC Web Services and other formats (Google maps, KML, MapServer, GML).
Basic functions:
Viewing web services (OGC WMS, WFS) selected by user from the catalogue or directly by address.
Saving user defined map project on local hard drive a re-loading of this saved composition (OGC WMC)
Distance and area measurements.
Searching in maps.
Inserting user defined objects into map.
Large format printing in PDF.
Showing legends, metadata and querying in map.
Geoportal & Social Network Sites
"A social network consists of a finite set or sets of actors and the relation or relations defined on them. The presence of relational information is a critical and defining feature of a social network." [Wasserman, 1994]
As already stated, examples of web 2.0 applications include logs, wikis, podcasts, RSS feeds, tagging, social network sites (e.g. Facebook, Myspace), search engines, Massive Multiplayer Online and others. The focus of the NaturNet Plus project is on social network sites (e.g Facebook, Linked-In, Twitter) as one of the main dissemination and communication tool.
The main aim of this activity is to communicate (to give information and to retrieve some feedback) about the NaturNet Plus developments through the NaturNet Plus Geoportal. This enables to induce discussion about certain topics. The retrieved feedback serves as input information for further developments.
The NaturNet Plus Geoportal is an entry point for any news (new developments, problematic topics, progress in the project, etc.). News are posted by the project partners and are automatically distributed to a number of selected communities – social network sites.
This approach allows involving other communities from one place without having to enter each community. Users of various social network sites can read entries and comment through their respective communities and don't have to register elsewhere.
Conclusion
The NaturNet Plus geoportal serves as a central point of all activities including sharing data, exchange of information and mainly experience and knowledge. The training materials became available through this geoportal solution. Connection with social network sites provides a feedback about the quality and suitability of tourism, education and environment protection.
The project partners and the network of users are involved in evaluation and validation of project results. New methods of data collection and dissemination are being introduced in regions. The way of treating the tourism activities for the sake of protecting nature is shared and discussed.
Join the discussion at http://www.naturnet.org.

——————————————————————————-
—
K. Charvat1, T. Mildorf2
1 Czech Centrum for Science and Society, Prague, Czech
Republic
2 University of West Bohemia, Pilsen, Czech Republic
Email: [email protected]