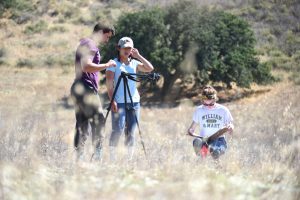 During summer 2019, 28 undergraduate students are participating in an eight-week NASA airborne science field experience that will immerse them in the agency's Earth Science research.
NASA's Student Airborne Research Program (SARP), embarking on its 11th year,  offers an opportunity for undergraduates majoring in sciences, mathematics and engineering to participate in all aspects of a NASA Airborne Science research campaign.
Flying aboard NASA's DC-8 airborne laboratory on three flights July 16 and 17, students sampled and measured atmospheric gases to study pollution and air quality. Students will overfly dairies, oil fields and wineries in the San Joaquin Valley and the Los Angeles basin, Santa Barbara Channel, and the Salton Sea at altitudes as low as 1,000 feet to collect air samples and measure atmospheric gases such as methane and ozone in-flight.
Students will also use a remote-sensing instrument, the Airborne Visible Infrared Imaging Spectrometer Next Generation (AVIRIS NG), on a King Air B-200 owned and operated by Dynamic Aviation to study drought, fire burn scars and post-fire mudflows in Southern California and ocean biology along the California coast.