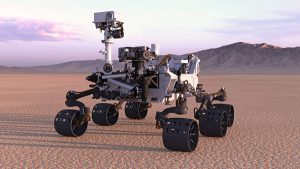 The Mars 2020 mission is part of a long-term effort of robotic exploration of the Red Planet. The 2020 mission addresses high-priority science goals, including questions about the potential for life on Mars. The mission will look for signs of past microbial life itself.
The mission also provides opportunities to gather knowledge and demonstrate technologies that address the challenges of future human expeditions to Mars. These include testing a method for producing oxygen from the Martian atmosphere; identifying other resources (such as subsurface water); improving landing techniques; and characterizing weather, dust and other potential environmental conditions that could affect future astronauts living and working on Mars.  
Teledyne e2v provided its CCD42-10 image sensor to drive two of the instruments, SuperCam and SHERLOC, onboard NASA's Mars Rover Perseverance, which was launched on July 30, 
All the electricity needed to operate these sensors and everything else on the Perseverance rover is provided by a power system called a Multi-Mission Radioisotope Thermoelectric Generator (MMRTG) developed by Teledyne Energy Systems.