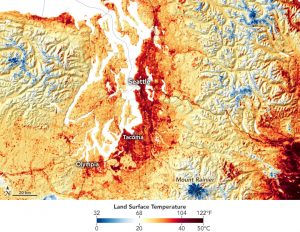 Extraordinary heat events occur around the planet during most summers, but the current heatwave in the Pacific Northwest is truly exceptional. In June 2021, all-time temperature records fell in multiple cities in the U.S. and Canada during a heatwave that the National Weather Service called "historic and dangerous."
The heat is apparent in this map that shows land-surface temperatures on June 25, 2021, in Washington. The data show that around noon on that day, surface temperatures in Seattle reached 120°F (49°C), and the worst was yet to come. By June 26, excessive heat warnings were in place across Washington, Oregon and Northern California.
Data for the map come from NASA's ECOsystem Spaceborne Thermal Radiometer Experiment on Space Station (ECOSTRESS), which uses a scanning radiometer to measure thermal infrared energy emitted from Earth's surface. Note that land-surface temperatures are not the same as air temperatures: They reflect how hot the surface of the Earth would feel to the touch and can sometimes be significantly hotter or cooler than air temperatures.
Image Credit: NASA Earth Observatory image by Joshua Stevens, using GEOS-5 data from the Global Modeling and Assimilation Office at NASA GSFC, and data courtesy of Joalda Morancy/NASA/JPL-Caltech and the ECOSTRESS science team.