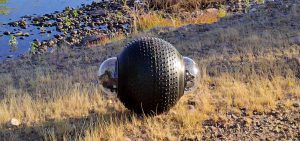 Drones are commonly known for flying in the sky, but a new breed is rolling around on the ground and swimming in the ocean. Aquiline Drones (AD) will be powering GuardBot's spherical and amphibious robotic vehicles via the AD Cloud.
"Our new alliance with Aquiline Drones now gives us the ability to program our bots with advanced AI for complicated missions in surveillance, security and detection," noted Peter Muhlrad, president of GuardBot.
"GuardBot was initially conceived for a planetary mission on Mars. As such, our robots can traverse all terrains, including paved roads, dirt paths, dunes, snowy fields, sloped mountains, or even water surfaces. GuardBot spherical robots can even navigate upstream," said Muhlrad. 
GuardBot's circular drones range from 6.5 inches to 7 feet in diameter and move using a patented drive-mechanism that allows it to provide forward and backward motion as well as make 360-degree turns. They can operate continuously for up to 25 hours on one charge and reach speeds of up to 12 mph on land and 3 mph in water. Each GuardBot is equipped with pods on its right and left sides that contain interchangeable sensors, such as video cameras, thermal, infrared, microphones, GPS and audio for continuous content gathering, transmission of data and constant communication with command control.