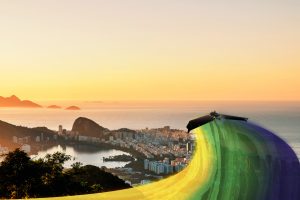 Brazil's National Civil Aviation Agency (ANAC) approved Beyond Visual-Line-Of-Sight (BVLOS) flights to be carried out in Brazil for the first time in the country's history, using senseFly's proprietary drone technology.
As the first BVLOS approval ever achieved in the country, the announcement marks a pivotal point in Brazil's commercial drone industry and will play an important role in defining risk models and shaping safe, fit-for-purpose BVLOS regulations in Brazil.
The authorization comes almost two years after the publication of regulation RBAC-E94 in 2017, which legislated the use of drones for civil applications in Brazil. With this new approval, senseFly drones become the first and only in the country permitted to fly 400 feet (120 meters) in height with a 5-kilometer radius from a licensed pilot or observer—in comparison to VLOS operations, which restrict the current use of drones to a 500-meter radius. A major benefit of this new authorization is that drone operators can now navigate and map larger and more-remote areas, which will expand the professional use of drones in a diverse range of sectors.
Photo Credit: senseFly