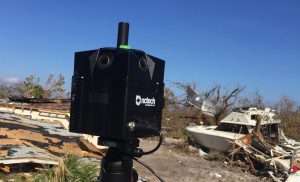 In the aftermath of natural disasters, capturing image data is a critical information resource for disaster management, supporting the response effort to deliver emergency infrastructures and supplies, risk assessment, damage assessment for cost estimation, structural analysis, and beyond.
After Hurricane Michael in 2018 and a devastating tornado in Alabama in 2019, Site Tour 360 visited the areas and used iSTAR Pulsar to quickly document the affected areas from the ground, simply by driving through them.
"We figured there was a case for being able to quickly turnaround this kind of imagery and make it available to the local response and disaster management teams," said Mike Vorce, president of Site Tour 360. "Even just using Street View to host the images, we were able to demonstrate the clear benefit of having before and after imagery to show the scale of damage to buildings and other infrastructure."
Following the Alabama tornado, Site Tour 360 was invited to meetings with a range of organizations including insurance firms, academic institutions and local government, and received a request from local government officials to make the image data available as a custom interactive map accessible on the ArcGIS platform.
"Our goal is to be able to go out in the immediate aftermath of a storm, capture and process the site data using iSTAR Pulsar, and then have that data uploaded into ArcGIS by the following morning, making it accessible to everyone from disaster management and the fire department to law enforcement and tourism," added Vorce.