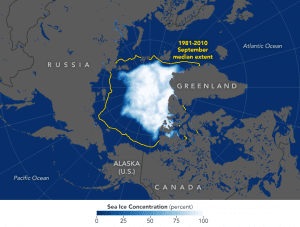 Arctic sea ice reached its annual summer minimum on Sept. 18, 2019, according to NASA and the National Snow and Ice Data Center (NSIDC). Analysis of satellite data by NSIDC and NASA showed that the extent of ice cover this year effectively tied 2007 and 2016 as the second lowest in the satellite record, which dates back to late 1978. The sea ice cap shrank to 4.15 million square kilometers (1.60 million square miles) in 2019.
The Arctic sea ice cap is an expanse of frozen seawater floating on top of the Arctic Ocean and neighboring seas. Every year it expands and thickens during the fall and winter, then grows smaller and thinner during the spring and summer. But in recent decades, increasing air and water temperatures have caused marked decreases in Arctic sea ice extents in all seasons, with particularly rapid reductions in the summer ice extent.
Changes in Arctic sea ice cover have wide-ranging impacts. The sea ice affects local ecosystems, regional and global weather patterns, and the circulation of the oceans.
"This year's minimum shows that there is no sign that the sea ice cover is rebounding," said Claire Parkinson, a senior scientist at NASA's Goddard Space Flight Center. "The long-term trend for the Arctic sea ice extent has been definitively downward."
The map above shows the extent of Arctic sea ice as measured by satellites on Sept. 18, 2019. Extent is defined as the total area in which the ice concentration is at least 15 percent. The yellow outline shows the median September sea ice extent from 1981-2010; according to NSIDC data, the median minimum extent for 1979-2010 was 6.33 million square kilometers (2.44 million square miles). Microwave instruments onboard U.S. Department of Defense meteorological satellites monitored the changes from space.
Image Credit: NASA Earth Observatory image by Joshua Stevens, using data from the National Snow and Ice Data Center.