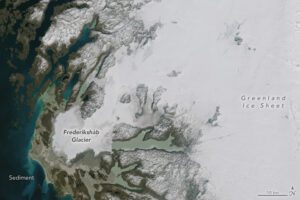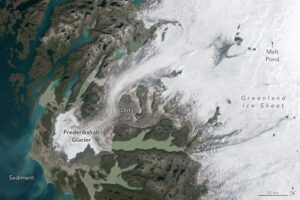 More than halfway through the 2023 melting season, Greenland has seen a substantial transformation of its snow cover. Melting has been above average for much of the season, including on several days in June and July when melt was detected across 800,000 square kilometers (302,000 square miles)—up to 50 percent—of Greenland Ice Sheet's surface, according to the National Snow and Ice Data Center. 
Summer melting was ramping up on June 14, 2023, when the Operational Land Imager (OLI) on Landsat 8 acquired this image (top) of Frederikshåb Glacier. This lobe-shaped piedmont glacier, located in southwest Greenland, flows downward from the Greenland Ice Sheet, winds past a series of valleys and nunataks, then flattens out on smoother terrain along the coast. 
The other image (bottom), acquired with the OLI-2 on Landsat 9, shows the same area on July 24, after more than a month of additional melting. Notice the dramatic reduction in the extent of brighter (high albedo) surface snow. 
Image Credit: NASA Earth Observatory images by Wanmei Liang, using Landsat data from the U.S. Geological Survey