The 17th Annual INTERGEO was held this past week in the historic city of Nuremberg, Germany. This event brought together 16,000 people from 80 countries, and delivered 140 presentations on a variety of topics to a conference audience in addition to presenting one of the largest trade show in the world, including the latest products and services for surveying, mapping, GNSS and GIS professionals and interested parties.
"The international trade fair INTERGEO is the perfect environment to encourage this dialogue." Prof. Karl-Friedrich Thöne, President of the German Society for Geodesy, Geoinformation and Land Management (DVW e.V.) in Nuremberg, adds: "There is simply no better platform to promote networking between providers and users on a professional level."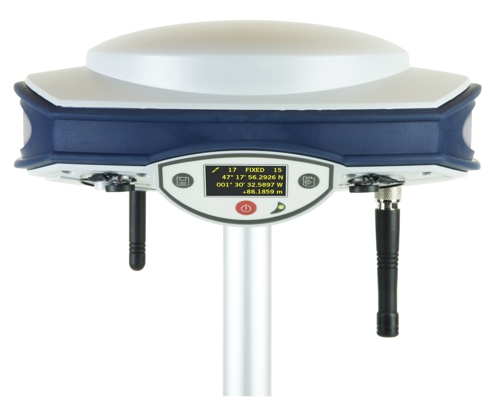 Spectra Precision_ProMark_800_ReceiverMany of the presentations during conference portions of the event captured the theme "Knowledge and Action for Planet Earth". These included presentations on themes such as law and geodata, mobile cartography, pricing and valuation, geovisualisation, satellite processes, rural development & rural modernisation, 3D city models, GNSS, machine control and guidance and concepts surrounding integrated geospatial and geomatic technologies.
Laser scanning, UAVs and data management within the cloud were all popular topics at the event. A large Open Source contingent was available for those interested to inspect and learn about new projects and services operating through OpenGeo.org – GeoServer, OpenLayers, PostGIS, GeoWebCache, and GeoExt.
Trimble was present and had many products to show including it's new 80 megapixel Trimble Aerial Camera (TAC 80MP) – for traditional flight campaigns, the TAC 80MP is a suitable replacement for aging large-format analog cameras (LFC), which are increasingly being taken out of service.
Because the long side of the TAC 80MP sensor is equal to an analog LFC image scanned at 20µm, service providers are able to fly the TAC 80MP instead of allocating additional resources to their digital large-format fleet. The new eCognition 8.7 image processing software was also present. This new product includes enhanced extraction capabilities. Trimble also exhibited Trident Analyst 4.7, a software "that takes advantage of the additional random access memory offered by 64-bit operating systems to enable loading and handling of very large terrestrial mobile mapping datasets, including production-size point cloud data. 64-bit processing allows Trident Analyst users to load, display, edit and analyze billions of points and thousands of high-resolution digital images quickly and effectively," says the company.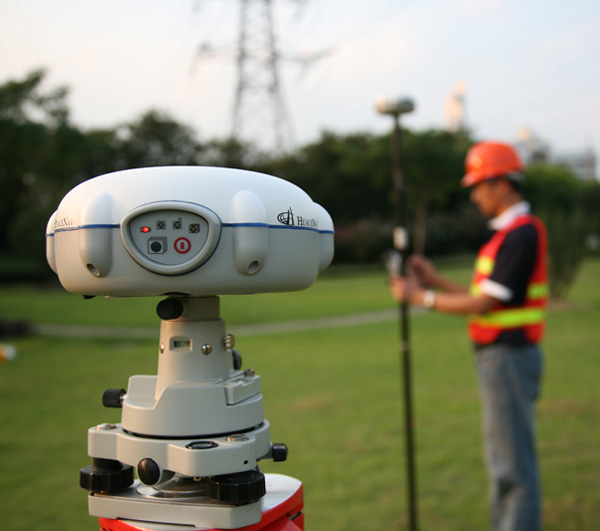 CHC Navigation — x91 GNSS SystemOn the topic of integration, Trimble did not disappoint. A collection of new products including: S6 Robotic Total Station, M3 Total Station with Trimble Access Field Software, GeoExplorer GeoXR Network Rover, Business Center Software version 2.60 and Trimble Access Field Software Developers Kit (SDK) were present, supporting higher collaboration and integration.
The theme of integration was popular at this event. And, Karl-Friedrich Thöne, summed it up during the opening ceremonies stating: "Geo and modern-day government or modern-day society – highly networked geoinformation systems and structures are in growing demand for public administration and business applications." The underlying principle pointing to the fact that geospatial efforts can change governments and support them to meet challenges.
This was a concept reiterated by Leica Geosystems President & CEO, Juergen Dold, whom I had a chance to sit with and ask a few questions during the event. When asked about the key directions in society that are influencing the company's product direction and efforts, he indicated that high-resolution accuracy was a key aspect to many applications. But not all, he recognized that depending upon the application, sometimes lesser accuracy was needed – thus why Leica Geosystems product line is wide and varied. Dold also spoke about the recent acquisition of Intergraph and indicated that the combination of the two company's was complimentary and helped to extend work flows across both Leica Geosystems and Intergraph businesses.
Optech presented the new ORION M/C 300 laser scanner, designed for tight-tolerance corridor mapping and engineering applications. Topcon had an elaborate display designed to support it's new Tesla handheld computer and tablet PC running on Windows 6.5.3 – oriented toward cloud operation. The unit comes in Standard, Geo and Geo G3 versions, with the Geo models adding imagery support and the G3 version adding 3G network support. The new Sokkia Total Station SRX, with auto-tracking and pointing was also present.
Pointools was present with several products including pointools edit, plug-in for Autocad and plug-in for Sketchup, plug-in for Rhino. The Pointools Suite is a collection of the most popular components from the same company that enable point cloud users to maximize the value of their laser scanning portfolios.
South Surveying and Mapping Instrument Co. of China presented a wide variety of survey technology and mapping technology. These included the H66/H68 single-frequency static GPS receiver and post-differential receiver. Their S750 Handheld Data Collector also proves useful to those doing GIS related mapping in the field.
CHC Navigation from Taiwan were also present and exhibiting their growing portfolio of GNSS related technologies for surveyors and mappers. Their new x91GNSS Receivers offer up built-in GNSS engine, antenna, UHF and GSM/GPRS modules, Bluetooth communications. Connection to GPS or GPS+GLONASS RTK Networks is made easy and benefits from the unique X91 auto-connect feature are included.
Besides GPS L2C, L5 and GLONSAA L1/L2, the X91 GNSS system supports a wide range of satellite signals, providing Galileo-compatible products available for customers well in advance of Galileo system availability. The company says that we can expect new announcements within the coming months on products designed to meet user requests and advanced GNSS capabilities.
Evo Logics Subsea Glider is a compelling device. It is an underwater UAV designed for hydrographic profiling, sea floor cartography, monitoring and search missions and undersea technical inspections.
LizardTech presented their Express Suite (GeoExpress, Express Server and GeoViewer) for customers who have a need to handle large volumes of data, particularly over the internet. Using image compression, this software is particularly powerful for transporting lidar and image related files to field locations. It supports ISO, JPEG200 and NITF formats. And if you are not aware yet, the new MrSID Generation MG4 version includes alpha band control and true transparency control (RGB+NIR). If you are looking for a free viewer of imagery data, then try GeoViewer.
Spectra Precision is a Trimble brand and the company recently acquired the Ashtech brand. That said, Spectra Precision was present at the event offering up presentations on their new ProMark 800 GNSS Receiver and Survey Pro 5.0 Field Software. The "Spectra Precision ProMark 800 receiver, using advanced Z-BLADE multi-constellation GNSS processing technology, tracks a wide range of available satellite signals including GPS, GLONASS and Galileo as well as WAAS, EGNOS and MSAS satellite-based augmentation systems. This universal GNSS receiver can be operated as a base, rover or network rover for Real-Time Kinematic (RTK) or Static field applications."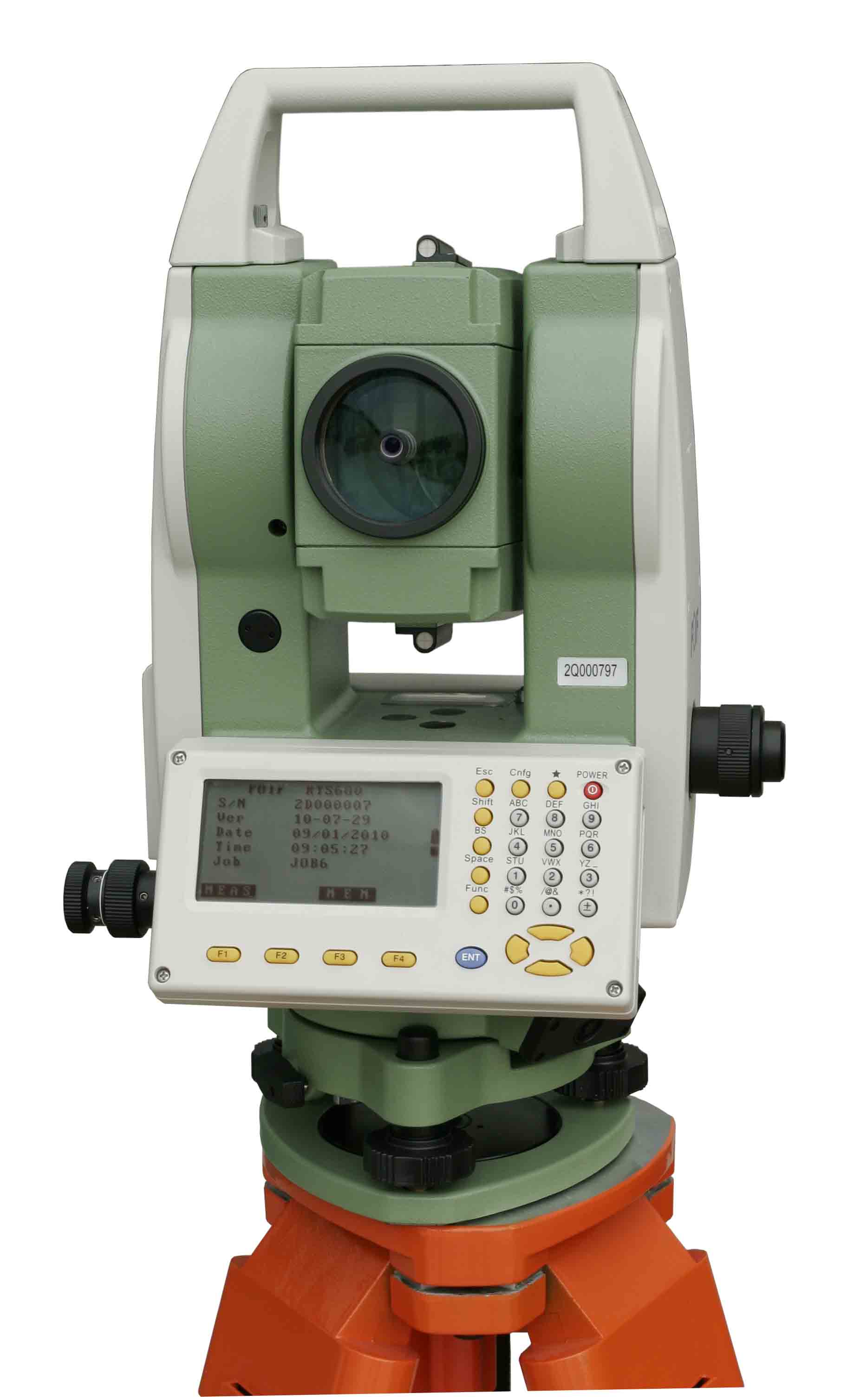 FOIFFOIF: TS680 Power Series Total Station, a China-based company had a range of new products on display including the A20 GNSS Receiver, based on GNSS reference net and data centers. It is an integrated terminal server with choke ring antenna. The CORS Server pushes data to the internet, available to a wider mobile net. Others products included the F50 GNSS/GIS handheld receivers and the GTA1800 Automated Gyroscope Station for automated azimuth determination.
Sensefly displayed their 'swinglet CAM', a UAV with an 80cm wingspan, 30 minutes of flight time, automatic flight planning, image overlap control and configured software. This product is useful for mining, forestry, agriculture, utility, disaster relief and many other operations.
Astrium Geo-Services was also present at the event. Recently, Astrium acquired Spot Image, and that leads to a portfolio that includes several SPOT satellites, the upcoming Spot 6,7 and Pleiades satellites together with exisiting TerraSAR-X and TanDEM-X earth observation capabilities. Surface movement applications and the assessment of displacement are growing applications and in higher demand I was told.
AVI Systems of Poland displayed their new UAV photogrammetric system that enables users to collect and monitor forest related information from the air. Orthomosaics in RGB can be completed from these flights, and road building, archaeology, geological and a wider assortment of construction projects.
Infoera is a Lithuanian company from Vilnius that has cracked the point cloud barrier in Autodesk products. The company is an Autodesk partner itself, and provides software to handle the largest of point cloud files within AutoCAD.
AIBOTIX presented a new Aibot-X6 UAV. This device includes helicopter-like operation through a series of 6 propellers to provide lift and flight. The multirotor system can be operated through the use of a field tablet.
Eternix of Israel displayed one of the fastest integration systems for visualization that I have seen in a while. It integrates lidar data, satellite imagery and other kinds of spatial data into one seamless environment that can then be used for quick communication as well as being able to export several formats of video files. It's new Blaze Point Cloud Extension is worth a look.
GEOPLEX GmbH manufactures a solar energy analysis software. Using this system, whole villages and cities can be assessed for potential solar energy use. The software calculates suitable rooftops and spaces for inclusion into energy programs, and it includes carbon data and financial details, allowing users to determine the correct approach for their needs.
navexperience indicates that their GNSS antenna can track 4 different satellite constellations. The 3G+C antenna was developed through the well-known Fraunhofer Institute and is now available for use.
simactive's photogrammetry software is designed for use with a wide variety of digital camera suppliers including Microsoft Ultacam, Intergraph DMC, Applanix DSS, DIMAC, ADS80 and several satellite imagery providers.
IRIS produces an advanced tunnelling management system. The software solution is an integrated solution that combines all tunnelling information together. It also includes standardised reporting the ability to visualise data. Work shift reports and financial details are all integrated within risk management procedures.
somag is a company from Jena, Germany that makes camera mounts for digital airborne cameras. If you have a digital camera and want it mounted on a stable platform for flight, these are good people to talk to.
MAVINCI displayed an unmanned aerial system. The hand launched airplane/UAV includes flight planning software, image acquisition processing, post processing and orthophoto / DEM production capabilities into one single package. Resolution of images ranges from 3 to 10 cm.
Next year INTERGEO will be held in Hannover, Germany from October 9-11, 2012.
——————————————————
Additional Coverage for this event
—- Asian Surveying and Mapping Magazine – INTERGEO 2011: Asia On Display in Germany