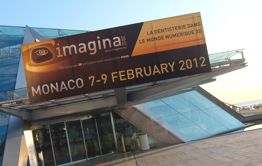 imagina 2012 – The European 3D Simulation and Virtual Technology Event was held in Monaco February 7-9, 2012. This annual event brings together pioneering indivudals and organisations developing a wide range of 3D related products in the areas of design, processing, diagnostics, decision making, consultation, demonstration and communication. Architecture, urbanism and landscape design are key roles in the conference, and several workshops in a 'Industry and Virtual Technologies' forum were held. This year, 3D & Augmentaiton Reality for Mobility was also a popular theme.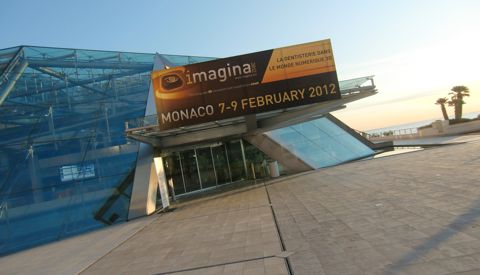 The imagina 2012 conference and workshops were held in Monaco recently. This years edition continued to build upon previous editions held in Grimaldi Conference Centre with about 1000 attending the event from different parts of the world.
There is a pronounced French speaking audience to the event, although English and French were spoken by most participants with some of the presentations translated.
Attendance this year was slightly down, reflecting the economic situation that continues to impact European locations.
Several forums were held during the conference including:
1) Architecture Conference
2) Industry and Virtual Technologies Conference
3) Virtual Cities Conference
4) Urbanism Conference
Other events taking place over the course of the week included a special 3D Dental Imaging and 3D Visual Technologies event along with an exhibition of the latest 3D technologies and innovations for 3D presentation, data processing, and communications.


3D connexion – SpacePilot Pro 3D Mouse
Many of the presentation sessions were discussing the connection of building information modeling (BIM) to visualization. A prevailing theme emerged around the issues of visual truth and fidelity along with the interactive nature of 3D visualization technologies for communication.
I spoke with Uwe Rechkemmer of 3Dconnexion from Munich, Germany, He demonstrated the latest 3D mouse products available from that company including the Space Navigator, Space Explorer and Space Pilot products. These mouse devices are highly desired in 3D operating environments due to their ability to finely move, change and navigate 3D locations and positions on computer screens. I spent some time speaking with Rechkemmer who demonstrated the products and explained the advantages of 3D mouse products.
WGS Portal – WebGeoServicesThibaut Bernardin of Web Geo Services explained the new WGS Portal. This unqiue portal provides an ability for many participates to interact within one design space.
The underlying principle of WGSPortal is the ability to create a geographic community, integrating commentary with design and visualization. Bernardin explained that this product is in operation in sevral french communities at the present time.
NVIDIA presented many of their newest products including the latest QUADRO video products. Eric Charriot, EMEA Quadro Marketing Director at NVIDIA Ltd talked about the shift toward real-time graphics processing and the need for new graphics processors to handle information for display more quickly. NVIDIA positions its products directly for 3D use in real.time environments.
acute3D allows users to build 3D (as compared to 2.5D) city models directly from aerial imagery. This product is based upon a new proprietary smart3dcapture technology that can use any photograph for creating these models.
Lumion 2.0 is the latest version of a popular new visualisation software that povides GPU architectural visualisation. Using Autodesk RealDWG format, the output from this software is fully compatible with both Autodesk and Lumion products. It also works favorably with Collada, FBX, Google Sketchup and 3DS. This product renders trees and plants extremely well and can be found in gaming products.
Agency 9 of Sweden presented their new Agency 9 3DMaps product. A Cityplanner, Geoportal and CustomerApps are all part of the SDK for this product. The integration and interaction capabilities between organisations, individuals and customers provides this software with interactive capcilities and high levels of collaboration.
Agency 9 – 3DMaps Platform
Raviv Brueller explained how Eternix Ltd. is meeting the challenge of high speed visualisation integration. Users can integrate a wide range of raster and vector related geospatial data and imagery quickly using the web-based interactive software. This software processes and display high quality very fast, providing maximum speeds with quick decision making ability as well as zoom, pan and navigation in full 3D.
Michel Vanhoeydonck of BLOM and I discussed the company's products. With over Euro 100m in revenues and employing 1300 people in 13 countries, BLOM is one of the largest 3D product providers in Europe, also owning its own fleet of aircraft for aerial imagery. Applications for products include urban planning, insurance, location services, security, property development, land and asset management. The company provides full Lidar capability, buildign 3D models from the ground up to 3D products and services. One of the products I saw was the new BLOM URBEX product, that included the ability to interactively edit 3D displays.
Benjamin Outrey of Leica Geosystems presented the new laser scanning products to me. The latest includes the HDS7000 laser scanner that is capable of scanning at a rate of 1 million points per second.
I asked him why so many data points were needed so fast as compared to other scanners and he indicated that it was due to the need for having excellent quality scanning within short periods of time.
Example of environments where the laser scanner are expected to be used include mining, architecture and infrastructure related applications for urban planning.
Presentation Papers
As wiith previous imagina events, a series of presentations were provided from notable leaders in the 3D urban planning and 3D visualisation sector. (see additional below)
Adrien Le Brot talked about some of the work from the INGEROP company, including projects for infrastructure in the City of Paris. The Canopee Project in Paris is a redevelopment project whose 7000 m2 make it one of the largest projects in Europe. The project represented one of the largest BIM related projects in Paris.
Christelle Gibon of the City of Rennes talked about ongoing work within that city. A major focus to 3D work in that city is related to communication to citzens and involves both virtaul reality and the creation of photo-realistic imagery. Projects in the city made use of cartographic elements in addition, or rather, supplementing realistic imagery, thereby providing useful information directly to citizens directly from images within a cartographci context.
The imagina Conference continues to mature. Earlier editions of the event were primarily focused on rudimentary visualisation and 3D was largely viewed as a means for presenting a picture. Moving from that starting point, imagina last year was beginning to discuss the wider potential communication possibilities through the use of 3D. This is a major turning point because it has opened the door to connecting databases of valuable data to the visual elements within these 3D images.
Furthermore, imagina is now attended by larger numbers of people experiencing 3D from different perspectives. These range from basic cartography in 3D to film making, high resolution visualisation, interactive hardware for 3D and even discussions about quality within 3D and debates about ethics.
imagina Monaco is performing a valuable role for bringing new 3D issues, technologies and perceptions across multi-discplinary boundaries to the forefront. I am sure that as 3D grows, then imagina will grow, in fact, it is hard to imagine the entire architecture, urbanism and geospatial sectors evolving in 3D spaces without a conference of this type.
Additional reports by Vector1 Media to this event:
imagina 2012 Monaco: ELYX 3D Database Designed for Urban Planning
imagina 2012 Monaco: Bentley Extends 3D Integration
imagina 2012 Monaco: Survey Says -"France and 3D Are Like?"
imagina 2012 Monaco: Esri CityEngine Connects 3D to GeoDesign
imagina 2012 Monaco: RTKL Extending the BIM Process Through Lessons Learned
imagina 2012 Monaco: Squint / Opera Architectural Visual Communications
imagina 2012 Monaco: BIM To Get Standards
imagina 2012 – Opens in Monaco
———————————————————————————–
This Event Report first appeared in 3D Visualization World Magazine (www.3dvisworld.com).