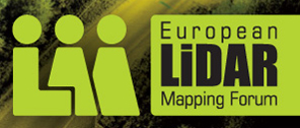 The European Lidar Mapping Forum (ELMF) was held at The Hague, Netherlands Nov. 30 – Dec. 1, 2010. Although the city endured the largest snowfall and plunging temperatures in 40 years, the environment inside was much more comfortable where over 600 attendees from 42 countries were in attendance displaying and discussing state-of-the-art lidar mapping devices and associated technologies. The ELMF also featured two presentation tracks together with a workshop series oriented toward educating users on the use and applications of lidar.

With a focus to support transport, urban modelling, coastal zone mapping, asset management and GIS applications, the event opened with Alistair MacDonald welcoming guests. George Vosselman, a lidar research professor from the University of Twente then presented an excellent overview on the current state of the lidar industry. He also spoke about his recent research in the use and application of lidar technology (see additional blog report).
With two tracks operating, Ms. Sylvie Soudarissanane of the Delft University of Technology spoke about her research into data acquisition and processing. She spoke on issues surrounding the capture of quality lidar data. Using reference plates, her work attempts to learn more about lidar pulse returns and the effective geometry that impacts lidar operations. "Laser scanning does not have standards for operating and capturing dat," she said.
Indeed, this was a similar topic discussed throughout the event and raised many times as different researchers and industry professionals displaying equipment alluded to the numerous different approaches they used in capturing spatial data using lidar technology.
It was quite interesting to learn about the Insitute of Photogrammetry at the University of Catalunya, Spain. Antonio Ruiz, director of that facility first spoke about the large inventory of technology – including 3 airplanes – that the Institute operates. The University also operates 15 GPS stations throughout the region, linking ground control points into the research operations of the University – including lidar related activities. He explained how the group performs calibration of lidar instrumentation and the procedures involved.
The site includes 65 strips, 22 transversal strips, 18 control points and they use 40 control points per area. He said that several conclusions can be drawn from observations there including:
there has been continuous and effective improvement in both hardware and software for lidar
the trend is toward reducing cost
fewer and fewer customers are able to process their own data (requiring professionals to process data)
the economic crisis is impacting the amount of work available
the need to develop alternate and value-added products from the same data
The Institute has been involved in a number of different national lidar mapping projects ranging from coastline measurement and monitoring to accuracy research.
Martin Kodde of Fugro-Inpark B.V., The Netherlands presented on FLI-MAP and DRIVE-MAP – an Integrated Approach to City Mapping. With a mission to 'Digitise the World', he indicated that the company is involved in mapping across a range of different scales. The DRIVE-MAP technology is able to capture 3D geodata along roadways at speeds of 80-100 kph. Unique to his presentation was the notion of including both FLY-MAP and DRIVE-MAP lidar together.
An example from the City of Rotterdam was presented that included both tunnels and above ground portions of the landscape using both technologies. Thus the company is able to provide a more complete survey of city conditions that includes occluded areas that are often not surveyed. Readers may learn more about Fugro's efforts using these technologies at www.drive-map.de, www.fli-map.eu and www.fugro.com.
Helen Burman Rost of BLOM in Sweden gave an overview work in that country related to the new National Elevation Model. This effort was started as a means to understand and provide useful information for use in climate risk related activities. While the current country-wide Grid is 50m, the new BLOM derived survey will totally revolutionise that level of accuracy down to less than 1m Grid point sampling.
Working with COWI,Metria and SWECO in Sweden, this work is underway and proceeding. Included are some very stiff guidelines for conducting the work to ensure it's reliability. These include control check points, metadata, 0.5 points/sq.m, scanning angles of less than 20 degrees, 20% overlap between flight lines and minimum 200m overlap.
The survey is being conducted using Leica Geosystems ALS 50 & ALS 60 equipment coupled to Optech ALTM Gemini. Flying at 2,250 m the data is sorted into 9 production areas. This includes 400 scanning areas of 50 X25 km and amounts to 450,000 sq km. The current status of the project is available online.
Bill Emison of Merrick Company presented on the topic of computer architectures for handling large data sets such as lidar (see blog entry).
Several company's were in attendance.
IVS 3D – provided information about FM Viz4D – a Fledermaus application for visualization in time and space (4D). FM Hydro is available from the company for use in marine and coastal environment work.
MANLIGHT – provider of fibre lasers including the LUSKENN product line pulsed fibre laser and the MENTAD, a miniature laser.
SINECO – presenting a Mobile Laser, Laser Tunnel, Laser Static and Laser Aereo. The company's products integrate toward a complete system providing lidar data across a spectrum of applications.
Optech – providing lidar and lidar-camera solutions including ILRIS. This company recently acquired DiMac and now provides integrated applications. Clients include Geomatics Group, BLOM, Fugro and TerraImaging.
ESRI – GIS software manufacturer providing ArcGIS 10 for use and integration with high-resolution lidar data in natural resources, public safety, survey data production and facilties management /engineering.
RIEGL 3D – providers of complete 3D lidar data solutions including compete airplane systems with onboard lidar technologies – turnkey data providers globally. Includes Diamond aircraft.
GEOPLEX – solar energy software solutions based upon accurate lidar data surveys.
Virtual City Systems – 3D city models including the city of Cologne, Germany in 3D – reconstructed from 3D lidar data.
LASERDATA – products include LIS Desktop, LIS Workstation, LIS Distribution and LIS Professional – acting as a complete integrated system for managing and delivering lidar data related products and services.
AHAB – unique combined wavelength lidar for airborne bathymetric surveying – capable of providing near-shore topographic data.
Tecon Mobile Mapping – a mobile mapping solution for urban environments and useful for waterways and railways.
SAGA – a complete open source GIS oriented toward geoscience applications including a lidar module for handling lidar data and processing.
Pelydryn – a complete coastal and marine environment lidar based data capture system. Company operates globally.
—————————————
Additional blogged items from this event:
The Hague: European Lidar Mapping Forum Opens
ELMF 2010: Merrick Pushes the Importance of Lidar Data Processing
ELMF 2010: IVS 3D Extends Marine Lidar Data to 4D