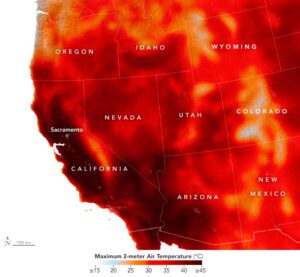 In early September 2022, a long-lasting heat dome settled over the U.S. West and brought scorching temperatures that set all-time record highs. The extreme heat fueled wildfires and stressed the power grid before an eastern Pacific tropical storm moved into the region and broke the warm spell.
On Sept. 7, 2022, more than 61 million people were under active extreme heat advisories, watches and warnings, according to the National Weather Service. Excessive heat warnings were issued for much of California and parts of western Arizona and southern Nevada. Temperatures reached well into the triple digits (Fahrenheit), with some areas exhibiting record-high nighttime lows and relatively high dew points, both of which contribute to the health effects of heat.
This map shows air temperatures across the western United States on Sept. 6, 2022, at the peak of the heatwave. It was produced by combining satellite observations with temperatures predicted by a version of the Goddard Earth Observing System (GEOS) model, which uses mathematical equations to represent physical processes in the atmosphere. The map represents temperatures at about 6.5 feet (2 meters) above the ground at about 2 p.m. Pacific Time. The darkest reds indicate temperatures of more than 104°F (40°C).
All-time high temperatures ranging into the mid-110s Fahrenheit were recorded in the California cities of Santa Rosa, Napa, Livermore, Redwood City, San Jose and King City. Both Merced and Sacramento reached 116°F (46.7°C), their highest temperatures since record-keeping began in 1899 and 1877, respectively. The Sacramento record, which was previously 110°F (43.3°C), was broken by a significant margin.
Image Credit:NASA Earth Observatory images by Lauren Dauphin and Joshua Stevens, using GEOS-5 data from the Global Modeling and Assimilation Office at NASA GSFC and VIIRS day-night band data from the Suomi National Polar-orbiting Partnership