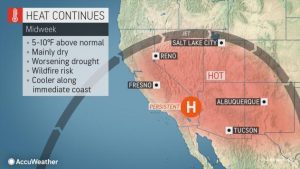 Building heat will continue to blossom this week across much of the West, bringing several days of triple-digit heat for some communities and worsening drought for others.
Cities such as Fresno and Bakersfield in the San Joaquin Valley of California topped out over the previous weekend around the 100 degrees Fahrenheit mark, with even more extreme heat to come.
"The last time Phoenix was below 100 degrees was on June 9, and this hot streak is showing no signs of letting up," said AccuWeather Meteorologist Jake Sojda.
The heat that got going over the weekend will become even worse early this week, and is likely to continue through most of the days left in the month of June.
Desert locations are likely to have the most brutal conditions, surpassing 110 degrees Fahrenheit for several days this week in places such as Phoenix and Needles, Calif. Death Valley, Calif., is forecast to reach 120 degrees Fahrenheit one or more times in the coming week.