By Dr. Ahmed Abukhater
As Hurricane Harvey made landfall on the Texas Gulf Coast on Aug. 25, 2017, with winds topping 130 miles per hour, the situation signaled a disaster on the horizon. The winds and heavy rains caused significant flooding, toppled branches and power lines, and lead to massive blackouts across the region. With its unprecedented rainfall of more than 50 inches as it slammed the state, officials warned of catastrophic flooding, mounting deaths and significant property damage. It's estimated that some 30,000 people in Texas alone have sought refuge in more than 230 shelters statewide, and many others faced a terrifying and all-too-real struggle to survive its aftermath, namely physical damage to the community infrastructure and contaminated flooding that can potentially cause serious health concerns to name a few.
Although the hurricane is passed, it has raised questions about community preparedness and response. Namely, how can local and state governments better plan and prepare to respond to events such as Hurricane Harvey and the series of Hurricanes that struck the region shortly after?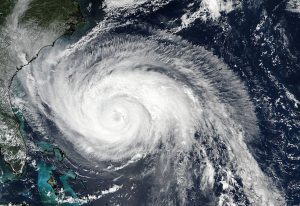 Luckily, the path of these hurricanes and their impact on local communities can be mapped out and modeled, thanks to GIS. Utilizing government data with advanced geospatial capabilities help communities to better understand, prepare for and respond to natural disasters and other events.
Knowing where the hurricane would strike before it does helped local communities plan their evacuation and mitigate the overall impact of the hurricane. By helping to effectively and efficiently deploy resources in areas where help is needed most, these technologies also were instrumental in pre-disaster planning and post-disaster recovery efforts to ensure these communities are not left to suffer the consequences of its aftermath.
Using GIS solutions, local and federal government agencies could generate different options and "what if" scenarios based on the intensity of the hurricane surge as well as overlay the results with the spatial component. This helps identify areas of inundation as well as neighborhoods that are most likely to be affected by the storm and get flooded, lose power or experience road closures following hurricanes.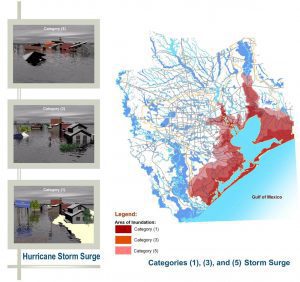 The work of first responders and emergency personnel can be crippled by downed trees, debris and flooded roads. By identifying these roads and creating alternative evacuation routes before disaster strikes, communities can ensure that help arrives quickly and residents are evacuated in an orderly and timely fashion. Identifying communities at risk can provide adequate early warning to residents prior to disaster and allows the government to reach out to these communities using reverse 911 systems alerting them of the danger and pointing them to safe routes.
In addition, on the wake of the hurricane, communities could be ready with generators to supply power to necessary infrastructure and road crews to rescue stranded residents and clear debris. If these hurricanes roll through during the summer times with intolerable heat waves, the government also can identify the most vulnerable areas and work to deploy cooling stations and necessary resources to those most at risk, such as the elderly or infirmed.
The prevalence of such extreme weather events with the rise of the number and intensity of hurricanes that rolled through the region, bringing with them violent winds and rains, highlighted the importance of utilizing decision-support tools such as these that help communities better plan for disasters, expedite response operations and better position resources to minimize the impact of these inevitable and disastrous events. Fortunately, GIS can help!
---
Dr. Ahmed Abukhater, GISP, AICP, PMC, PMP, has a role in Product Management Leadership with The Boeing Company; email: [email protected].