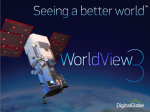 Wednesday, August 13th, 2014
With the WorldView-3 satellite launch today, it joins the extensive and capable set of DigitalGlobe satellites, greatly expanding commercial satellite imaging capacity as well as the domains where this imagery can be applied. In so many ways, this satellite is a pioneering effort that is highly calibrated and tuned to deliver unprecedented resolution, sensing capabilities,
Monday, February 4th, 2013
DigitalGlobe, Inc. (NYSE: DGI) ("DigitalGlobe") today announced that its previously planned satellite construction program related to its third WorldView-class satellite remains on track. DigitalGlobe can now confirm that it plans to complete WorldView-3 on its original schedule to be ready for launch in mid-2014 in order to meet the requirements of its EnhancedView contract with the U.S. government.