Wednesday, August 13th, 2014
The somber ecological consequences of human-caused landscape change and unsustainable water use in a western watershed are carefully examined in the recently published book, Requiem for the Santa Cruz: An Environmental History of an Arizona River (University of Arizona Press).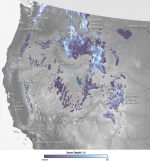 Monday, May 19th, 2014
In early May 2014, snowpack varied considerably across the western United States, with more snow in the Cascade Mountains and northern Rocky Mountains, and less snow in the southern Rockies and Sierra Nevada Range. Variability in snowpack depth leaves different areas more or less vulnerable to summer water stress and wildfire risk.
Saturday, January 19th, 2008
PR — Today, EPA, with state and national partners, released a comprehensive plan to reduce runoff and increase environmental and economic benefits for communities. The strategy will help reduce stormwater runoff and sewer overflows by promoting "green infrastructure" approaches, such as green roofs, trees and tree boxes, rain gardens, and porous pavements. Green infrastructure techniques,