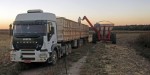 Monday, April 4th, 2016
Agricultural expansion in Brazil's Cerrado is quickly chewing up rainforests and savannas – even altering the region's water cycle, a new study finds.
Tuesday, July 3rd, 2012
Over a dozen radio signals that have hindered data collection on ESA's SMOS water mission have been switched off. The effort also benefits satellites such as NASA's Aquarius mission, which measures ocean salinity at the same frequency.
Monday, May 14th, 2012
After 114 years, Mississippi State University and other agencies have completed an acre-by-acre map of Mississippi's soils — more than 30 million acres. It's part of the National Cooperative Soil Survey begun in 1899 by the U.S. Department of Agriculture's National Resources Conservation Service. Read More