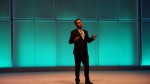 Tuesday, June 3rd, 2014
Mladen Stojic, president of Hexagon Geospatial addressed the HxGN Live conference today in Las Vegas. The address focused on dynamic information, and our ability to transform how we respond to global change. Opportunity, change and transformation permeated this address with a focus on competitive advantage.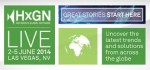 Tuesday, June 3rd, 2014
The HxGN Live event kicked off this evening in Las Vegas at the MGM Grand, with an impressive stage, light works, and rumbling musical score. The location, the Garden Arena, is where title fights typically take place, and the energy in the room spoke to that past.
Sunday, June 3rd, 2012
Intergraph's GeoMedia Smart Client takes a starring role at Hexagon 2012, with a number of new hands-on training classes being introduced, as well as break-out sessions and a variety of new vertical market workflow demonstrations. GeoMedia Smart Client enables organizations to geospatially accelerate their business workflows, and eliminates the growing disparity between antiquated GIS products