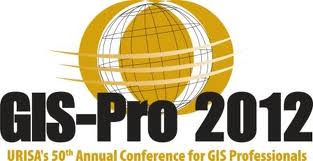 The 50th annual meeting of the Urban and Regional Information Systems Association (URISA) took place in Portland, Ore. from Oct. 1-4. The event drew a strong showing of more than 600 attendees, including representative from the co-located Northwest GIS Users Group. The conference placed emphasis on the growing needs for better urban systems given the explosion of population in urban areas worldwide that is projected to accelerate to a 70% urban population by 2050. The event included a workshop day, lively and entertaining Ignite talks, a tradeshow and exhibit reception, an evening outing, and three keynote addresses.
URISA has fostered a strong foundation of services that it supplies to its members that include a regular journal, a series of conferences, a leadership academy, a management institute, and GIS Corps for volunteer humanitarian outreach by well-trained members. The mix is seen as a foundation to grow a more international audience, with goals to increase its membership outside the United States to 50% of total membership. In addition, the association is working on an advocacy agenda to help form national initiatives that can be presented to Congress.
Horwood and History
Dr. Edgar Horwood of the University of Washington is credited with founding the organization in 1966, although the organization counts the first meeting as 1963. Many at this year's event related stories of Horwood's vision and legacy, with some suggesting that he should be considered the co-father of GIS as he fostered a lively organization where everyone was welcome to share ideas and learn from each other.
Barry Wellar, president in 1978 as well as a GIS Hall of Fame member, organized a session and a book detailing the history and impact of the association titled, "Foundations of Urban and Regional Information Systems and Geographic Information Systems and Science." Within these pages are details of the history as well as glimpses of the future.
Future Vision
The opening keynote was presented by the recently retired Michael F. Goodchild, director of the University of California Santa Barbara Center for Spatial Studies. With the topic of the future of Digital Earth, Goodchild started by looking back at Al Gore's speech of Jan. 31, 1998, which first presented the term. That visionary speech about a virtual reality where we can go to a museum and zoom down to layers of information, going forward and back in time, was very compelling, and a full seven years before Google Earth was launched. It's useful to go back to that point as it framed the future of what we do, and provides a meaningful check of where we are as an industry.
Goodchild suggests that the future should be a virtual globe that simulates social and environmental processes to show what locations might look like into the future. The Digital Earth vision would facilitate access to information like never before, and offers an effective means of communication between science and the citizen. Goodchild asserted that it should emphasize prediction and how the planet works in order to have the greatest impact.
Home for Ideas
Over the course of the 50 years, URISA has produced more than 35,000 pages of text in its conference proceedings, journal, workbooks, newsletters, and other publications. There have been 209 workshops in that timeframe as well, each with a detailed well-researched workbook for lasting instruction.
Many lasting ideas and innovative thought have been generated by members of the organization over the years, with the association sponsoring research, education, training and application activities. The inclusive nature of the group was related by many speakers, who remarked on finding a home with like-minded people where they could learn and share ideas to move the body of knowledge forward for future practitioners.
Industry Disruption
While the organization appears to be on strong footing, it was hard not to escape some of the future shock that cloud computing and online GIS platforms pose to the members. Several speakers mentioned a less centralized GIS environment where they struggle to share ideas and to train on best practices as experts throughout the organization use GIS and create maps for their own discipline.
In the closing keynote Jack Dangermond presented the radical transformation of GIS from a difficult to implement platform to a liberated decision support tool for use across organizations thanks to implementation on the cloud. GIS is about integration and creating understanding to provide insight, and to create understanding to precede action.
Dangermond expressed that GIS is leading to geodesign where we integrate science and design with the conscious creation of the future. We are all designers of the future, where it's not about the data but about bringing data together to understand. Geodesign is both a new and old field, where we look at different alternatives for decision making. The more we formalize this frontier, the more our data will leverage what's needed and wanted to create a sustainable world.
GIS software and practice is at a major turning point that deals with cheaper, easier and faster technology that is more accessible and no longer difficult to integrate. The change extends the reach of GIS professionals, however the rapid evolution may work to bypass those that don't adapt. It's through organizations like URISA that the practice of GIS will evolve, and where practitioners can lean on each other to make sense of rapidly changing technology.
Read detailed reports of the keynotes: