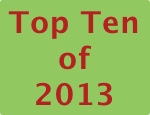 In our regular end-of-the-year reflection, Sensors & Systems looks back over the past 12 months to come up with the top developments of 2013 that will have strong implications for geospatial industry growth and diversity in the coming years. Making the list are technology disruptions, acquisitions, modeling frameworks, mapping efforts and global change. Read the full list and please add your own observations via comments.
1. Microsatellites — The launch of the Skybox SkySat-1 satellite, and the first of many "dove" satellites from Planet Labs, puts a new spin on commercial satellite imagery, with the Web services DNA of Silicon Valley. This development speaks to the continuing commercial promise of satellite earth observation, despite the rise of other platforms such as drones. The addition of Urthecast commercial imaging capacity to the International Space Station will add even more capacity, including video, although the first attempt to install these cameras was unsuccessful. Satellite imagery will be an interesting addition to many commercial websites in the coming year as the cost comes down and the data becomes more global and near real-time.

2. Story Maps as Marketing Mantra — Esri has a regular story mapping push that is spearheaded by Allen Carroll, formerly the chief cartographer at National Geographic. These newsworthy maps as a marketing effort follow a long tradition of geospatial marketing that includes the release of satellite imagery tied to world events. Google is also getting more in this maps media game with their own story mapping capabilities such as with their new Google Tour Builder. We've moved well past map capacity as the story toward maps as a means to tell very compelling stories.

3. Reality Capture vs. 3D — With increasing means and methods to capture and create models of reality, the discussion of LiDAR or even 3D is morphing into the catch-all term of reality capture. Autodesk has been pioneering this term, as their Recap product ingests both Lidar and pixel point clouds. With more maturity in capture technologies, and ease of integration within software packages, we're seeing widespread adoption in the infrastructure design and construction industries. This widespread adoption will trickle down to cities for faster and cheaper full city modeling for better planning.

4. Google and HP Help Sense Change — The ongoing use of imagery and other remote sensing technologies to monitor ecological change is getting a boost from tech giants. The cloud capacity of the Google Earth Engine was responsible for a breakthrough global map of forest change with the cloud speeding analysis of Landsat imagery over days instead of years on a standard workstation. Hewlett Packard just launched Earth Insights in partnership with Conservation International. The effort here is to align sensing to ecological problems, creating an "early warning system" for conservation efforts in tropical forests. This trend is likely to continue as a means to highlight computing capacity, with geospatial problem solving as a means to highlight big data capacity.

5. Colorado Calamities — Natural disasters are continuing to have a growing economic impact across the globe, but with many major forest fires and a thousand-year flood, Colorado saw an outsized impact this year. Geospatial technologies afford the means for planning and mitigation, as well as damage assessment. The need for greater observation for better forecasting and action will continue as the focus becomes more tied to adaptation and resilience.

6. Pitney Bowes Strikes Twitter Deal — The recent announcement of this deal between Twitter and Pitney Bowes is significant in terms of the business profile of geospatial analysis and location intelligence. The multi-year deal for the geocoding of Tweets should lead to some interesting observations as the use of mobile devices and social media continue to increase.

7. Sequestration — Sequestration and the short-lived government shutdown took a heavy toll, including the postponement of the GeoInt event, and the re-tooling of many business budgets. While there is hope that the heavy defense cuts of sequestration will be reversed in the coming budget, many companies are having a tough time weathering the uncertainty. It is leading many to greater diversify their offerings to other industries in order to weather any future issues, and ultimately strengthening the geospatial marketplace.

8. FAA Awards Six UAS Testing Sites — On the last day of the year, the FAA awarded six unmanned aerial system testing site contracts. This step paves the way for intense testing in advance of the congressional mandate to allow for the commercial use of these systems in American skies by 2015. This technology will be quite disruptive for the surveying and mapping community as aerial mapping becomes much more accessible.

9. DigitalGlobe and GeoEye Combine — The combination of DigitalGlobe and GeoEye took place this year, and the combined entity has been flexing its muscle based on the insights it affords. The company forecasts a billion dollars in revenue in the next five years, and pins much of that growth on commercial applications.

10. GNSS Newcomers — In early 2013 China opened Beidou (its version of GPS) to civilian use and expects to grab a major share of the satellite navigation market from the original GPS system by the end of the decade. Europe's Galileo constellation has been tested with four satellites, and it has secured ongoing funding. These are positive developments that will ensure greater positional accuracy and quicker times to fix position that will benefit all GPS users, but with greatest benefits in the commercial sector for surveyors and mappers as well as fleet management and precision agriculture.