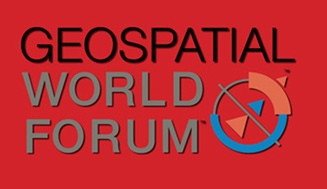 The fifth Geospatial World Forum took place in Rotterdam, The Netherlands from May 13 through 16, 2013. This is the event's second time in The Netherlands, with last year's event taking place in Amsterdam, and the previous three in Hyderabad, India. With a growing international audience that reached 1,000 attendees this year, and an increasingly top-level draw from government, industry and academia, the unique event has achieved good momentum. This is not to detract from prior efforts, just an observation that there is a sense of community, a sharing of vision for what geospatial technologies can contribute to a rapidly transforming world, and frank discussions and collaboration on the common pain points of technology limitations, economic challenges, and policy directives.
The event theme, "Monetising Geospatial Value and Practices," was an apt focal point with much of the world still recovering from the economic crisis. The geospatial vendor community continues to perform well, despite the downturn, because it achieves strong bottom-line savings thanks to an increasing focus on efficiency. There continue to be new innovations in the technology, and new application areas, these were reflected in the many breakout sessions and plenary talks.
The event began with two days of pre-conference programme centered on big-picture issues that held appeal to executives with networking and sessions, with one dealing with the business case for geospatial investment, and the other dealing with economic development. National mapping authorities were well represented in the economic development sessions, with a broad number of industries presenting their ROI strategy in the business case sessions. Significant geospatial policy and mapping authority advancements are taking place in Europe and Asia that are leaving the once leading North American efforts behind. On the business side, there were case studies from city management, utilities, transportation, financial services, and the vendor community.
There is no other global, or perhaps even regional, event that encompasses the big-picture view of the geospatial technology ecosystem with remote sensing, geographic information systems, and precise measurement toward sustainable development. There were sessions specific to vertical markets (construction and infrastructure, electric power and gas, mining and exploration, water as a resource, water distribution management, and agriculture) as well as technologies (photogrammetry, enterprise GIS, open source, sensor web, LiDAR (3D) and cloud computing).
As in year's past, the event does a good job of combining developed and developing countries in a dialogue on the importance of geospatial technology for economic development. Here, representatives from Mexico, Brazil, Kenya, India, Indonesia, South Africa, and Taiwan shared thoughts and directions with members of the European Union, Canada and the United States. The dialogue highlighted the importance of policy to support business development as well as objectives such as administration, openness and transparency, environmental protection, and disaster management.
The event benefited from affiliation with a very large number of strategic institutional partners and vendor partners that included GeoBusiness Nederland, Geonovum, the Joint Research Centre, Eurogeographics, ISPRS, OSGeo, the Open Geospatial Consortium and the International Cartographic Association. A full listing of these partners is worth exploring online (http://geospatialworldforum.org/2013/partners.htm). The level of government support from the Indian government was more subdued than in past years, but there was still a strong presence.
As in last year, there was an underlying thread on the need to better understand global change to benefit people, the economy and the environment.
Reports from the Event: