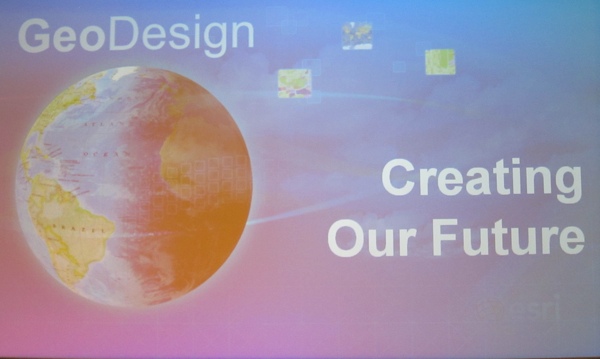 The GeoDesign Summit took place last week in Redlands, Calif. at Esri headquarters auditorium. This fourth event continues the future-oriented conversation that relates geography to design. This is a new way of thinking as well as an emerging toolset that is focused on sustainability and making the world a better place. This intimate event that takes over the 250-person auditorium is now poised to expand with planned events in both Amsterdam and Beijing later this year.
Tom Fisher from the University of Minnesota is the master of ceremonies for the event, and his introduction focused on a "course correction" period that we face currently, and the ability of this approach to address the challenges of urban growth, resource constriction and the global change of climate.
For those unfamiliar with the concept of GeoDesign, following are some definitions from past events
Geodesign is a vision using geographic knoweldge to actively and thoughtfully design. – Jack Dangermond
Geodesign is design in geographic space (geo-scape) – Bill Miller, Esri
Geodesign is a method which tightly couples the creation of design proposals with impact simulations informed by geographic contexts and systems thinking and (normally) supported by digital technology. – Michael Flaxman
Geodesign changes geography by design. – Carl Steinitz
Ferren on Innovation

Bran Ferren, the chief creative officer of Applied Minds, addressed the inaugural event and has come back as the opening keynote speaker. In his initial talk he challenged attendees to be better story tellers. His talk started with a discussion of exciting innovations like the Internet that greatly transform society within our lifetimes. Geodesign will happen similarly, with a collection of technology miracles, such as GIS, the Web, connectivity, cloud computing, ubiquitous sensing, GPS, simulation, 3D, etc. Ferren says you don't have to create all these innovations, you just need to be paying attention, and embrace the innovations rather than compete with them. Ferrin asserts that storytelling is the essential component to achieve this change.
We are in a moment where we really need to get design right, and there are no quick easy answers to the long complex problems that we face. Science has some relevance, such as global warming, and the need to address repercussions. Geodesign is a form of storytelling that combines geography and all the databases of spatio-temporal events, real-time inputs, and visualization to examine the context of our observations. The ability to rapidly iterate and look at alternatives will change how we design and execute design, as long as we validate and take the time to get it right. With the network effect, the right piece of knowledge gets shared everywhere, and makes an impact by creating a shared intelligence.
The whole list of really big issues that we need to deal with, requires us to take a long view. Ferren suggests a 250-year plan that starts with a desired end state — with an intellectual road map that allows us to test our assumptions.
Geodesign holds the promise to start the intellectual framework to create the 250-year plan where even those with wild ideas can plug them into the model and get to see what they got right and wrong. Building the models allow us to see things we didn't think about and that aren't obvious, getting us to an understanding of the steps we need to take to achieve our collective desired end state.
Dangermond's Vision
Jack Dangermond provided the morning keynote for the second day of the event. He started with the need to look at good developments amidst all the gloom and doom about the state of our planet. We're in bad shape, but technology can matter and a new cluster of technologies is creating a new platform for change. We need knowledge integration in a form that we can use, but technology is just a small part — values and methodology with technology as an enabler.
Geography is the thing that creates understanding, and GIS is a technology that makes it come alive. These methodologies co-evolve. Technology doesn't jump, it has evolved with ideas. The focus on integration is a cornerstone of GIS — data, disciplines, and communication. Mapping and visualization are a dimension of language, just as music and mathematics are.
There is a huge shift that is going to happen, with GIS as a platform that is extensible with apps and added knowledge. GIS connects and leverages the enterprise, regardless of whether its delivered by the desktop, server or mobile devices.
GIS professionals create and author data, but can put it in context that is easy to use. Designers will be part of that community, with their liquid and creative way of thinking, they are often hesitant to use technology that still doesn't provide the flexibility of paper. With cloud environments there is an explosion of use. Shell Oil for example had 400 users of the technology and there are now 7,000 people in the company using this technology in just one year's time. The president of the United States now gets his daily briefing via a Web map view, and the Secretary of the Department of Interior will soon have the same capability.
GIS is becoming more real-time and realistic with 3D views. At the same time we are measuring things anew with sensor networks, UAVs and other technologies that are creating big data problems. Seeing all the data together allows us to re-imagine GIS, with dynamic web maps that point back to services or databases in a lightweight environment and aggregate information in new ways. Web maps are views of data and services, with a more agile architecture that allows for analysis and more dynamic and collaborative decision support.
So far, the platform has been about visualization and mapping, but over the next few months you will see more online spatial analytics. This will open up the world, with people pulling the information rather than being served studies and long-term research. This pattern will also be a platform for new design.
Data collection has been an ongoing problem with GIS, and now it is being made available as a service. That changes the game, and also the role of GIS, where it can be extended and embedded anywhere. Content is growing rapidly, with imagery and foundation layers with 29 core categories of information. By the end of the year, Esri plans to have Level 3 demographics for the world, which will provide new insights across borders. Part of the system is also open content where we share both data and analytical insights.
There are also number of dynamic services. Over the next three months, DigitalGlobe is taking their imagery to pixels where it becomes a dynamic web service, and their archive becomes available as well. There is also expanded 3D visualization where models can be combined with streamed services for deeper analysis.
It becomes a major turning point for GIS, where important work is shared more broadly. Geodesign is being integrated and applied in many fields as part of Esri's engineering cycle. The tools are not just for designers, it is a way of bringing in science to all traditional GIS pursuits.