Conference director Lisa Murray welcomed a crowd of more than 1,500 attendees to the inaugural Commercial UAV Expo, with the theme "The Sky's the Limit." She introduced Patrick Meier, the founder of the Humanitarian UAV Network (UAViators), as one voice to dispel some of the negative press that UAVs have received in the press. Meier is a good example of the good that can be done with this compelling and disruptive technology.
Meier compelled the crowd to help make a difference by contributing to the UAViators mission. One contribution is in the training of new users to help them carry out aerial surveys, particularly in assessment and rebuilding from disasters. There most recent mission in Nepal, with support from DJI, engaged locals to assess damage and help prioritize rebuilding efforts from the recent earthquake. One of the unique approaches they took was to print large-format images that they captured and to have locals annotate the images with their local knowledge.
Kathmandu Flying Labs is a new effort that comes from this response, training locals with the technology and standing up an innovation center to advance the use of the technology in a diversity of application areas.
The UAViators have stood up a number of efforts to promote the proliferation of the technology, including:
an online repository for disaster footage that helps with disaster recover and also provides a repository for image processing efforts

a code of conduct and guidelines that they have sourced from a variety of organizations

an award for humanitarian use of UAVs that will be awarded in London later this year

a coordinated membership of 1,700 member and more than 300 UAV pilots
The field-based surveys for disaster damage are time consuming and are plagued by data quality issues. UAVs provide a valuable added input for these missions, however the data has a tendency to overwhelm. For a recent typhoon response in the Philippines, they used crowd sourcing tools to analyze oblique images and tag these with different levels of damage. As a result, the data became an input to impact decisions.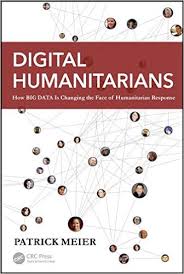 UAViators is active at the nexus between industry and academic research, tying into innovative approaches such as computer vision and machine learning to develop feature detection algorithms to further ease the analysis work.
Ultimately, the goal is to provide real-time analysis of imagery from full motion video and to make this 2D data 3D. Porting the data to virtual reality goggles will further help the effort of assessment, because turning 3D data into 2D loses information.
One of the more compelling outreach effort has taken place in Vanuatu, Micronesia where natives are busy building their own UAVs to document illegal logging. Meier closed his talk showing a series of images depicting launch attempts of this UAV with several spectacular failures before they achieved success.