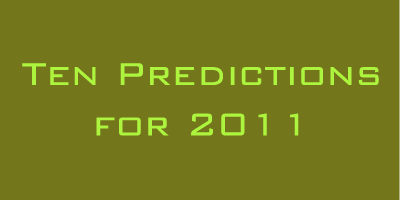 Much time is spent this time of year looking forward. V1 editors Jeff Thurston and Matt Ball spent some time reflecting on emerging stories and growing trends to come up with the following predictions for 2011. On the list are technology advancements, policy initiatives and the continued evolution of model-based design. Read the full list and please add your own observations in the comments.
Matt's Predictions
Ubiquitous Computing for Serious Heavy Lifting – The growing phenomenon of storing and serving data via the networked computers has led to an increasing interest and ability to perform compute-intensive functions such as visualization and analysis that take place remotely from your desktop and return results quickly. Amazon.com has recently launched a high-performance computing cluster on the cloud that opens up supercomputing capacity as a commodity service. This availability will lead to new computing approaches that will tackle complex problems such as climate change modeling for greater understanding and better decision making.
Social Mapping Continues to Climb – OpenStreetMap is a social mapping platform with serious legs, especially given the latest assists by both Microsoft and AOL (MapQuest). The social GPS site Waze has harnessed the power of the crowd for their traffic reporting application that recently received a boost of $25million in financing. We can expect similar sites and services to come online in the coming years, turning the building blocks of mapping, location and social networking into business opportunities and social change.
Living Buildings Combines with Intelligent Infrastructure through the Lifecycle – The idea of a living building is to generate its own energy via renewable energy, to capture and treat all water onsite, and to use resources efficiently. With intelligent infrastructure, the combination of a rich 3D model with sensored components gives a detailed and ongoing understanding of the building's condition and level of efficiency. The software and sensor tools are speeding this type of development, and a combination of these two frameworks would lead to more sustainable roads and more efficient construction and maintenance.
Geo Apps Expand – The application mentality has taken hold broadly, first via the Apple App Store, and expanding recently to Google's Chrome Web Store. Esri has embraced Apple's iOS to help users more easily create their own applications for the Apple mobile environment, and they and other geospatial players are likely to embrace Google's web store environment as well. The idea that "there's an app for that" has certainly encompassed a lot of geo applications for navigation and geographic query, and is set to know explode into the offerings of organizations for internal business processes as well as external customer-facing functions. Much the way having a website has become a business requirement, having an app may become necessary, and many of these apps will have location as a central process and user interface. While apps will proliferate, there are still many compelling reasons to keep content open and available on the Web.
Spatial Analysis for the Masses – It's an ongoing joke that many of the location-based applications are designed to help you find the closest Starbucks. While local search is a huge market that will only get bigger, there are also some interesting entries that desire to make more of the context of location than your closest familiar chain store. GeoCommons and SimpleGeo are two online map platforms that will help to spread the awareness and use of spatial analysis alongside Esri's ArcGIS.com. GeoCommons recently relaunched their GeoIQ API with a host of spatial analysis capabilities. SimpleGeo has a number of products in public beta right now, including Context, which offers contextual analysis such as geographic boundaries, weather and demographics. Esri's ArcGIS.com offers several spatial analysis functions as well as a host of online services for more in-depth analysis such as Business Analyst and ArcLogistics. As these Web-based tools proliferate, we can expect a rise in spatial intelligence.
Jeff's Predictions
Basic Infrastructure – Northern Ireland has no water. Bridges in the U.S. are falling apart. Rice in Vietnam cannot even reach port because of no transportation. High-speed rail in Europe needs expansion and our switch to renewable / non-renewable fed smart grids is racing at turtle speed. Basic infrastructure will demand attention as it begins to fail at an alarming rate in 2011. This will require investment in design, geoprocessing and construction oriented tools. This is the basic stuff that builds good roads, clean water and better health systems which we have under-funded for too long.
3D Enlightenment – The tools for 3D have outstripped our ability to understand what is possible with them. The geospatial industry will have an 'uh-huh…' moment in 2011, stepping back, and re-thinking what it really wants to do with and about 3D. We will be in awe at what emerges from this and learn of the real value of all those 3D tools and what they can contribute (particularly in infrastructure).
GNSS – This is the key driving technology of 2011. GLONASS will be completed. Improved measurement (along wtih 3D above) will build the foundation for the next decade.
Agronomy / Food Production – China is purchasing agricultural land in Africa, Russia is promising to build roads to rural areas. The price of food has been increasing because the cost of production has as well. More productive land is becoming unavailable. We see fertilizer prices rising already. The need is to produce more food, at lower cost, using more technology and improved knowledge. High-resolution digital elevation models are a key component of this activity.
GIS Essential: Cities and organisations without geographic information systems (GIS) are blind. They cannot see the turf they are responsible for, and cannot respond accurately enough to manage it. This makes GIS essential. But GIS needs to step up to the plate and initiate new ways for interpreting and understanding the places we live and incorporating functionality that helps people to see what they cannot. GIS are tools of potential.