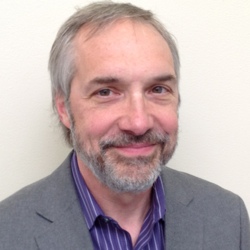 OpenGeo has been at the forefront of open source web-based geospatial technology development for some time, first as part of OpenPlans, a non-profit technology advocacy group, and now they've launched as an independent organization. The company has both a suite of enabling open source technologies as well as solutions aimed at government, transit and commercial solutions. Sensors & Systems (S&S) editor Matt Ball spoke recently with Eddie Pickle, CEO of OpenGeo about the company's evolution, it's technology development, and the current state of open source adoption.
S&S: The recent FOSS4G North America event in Minneapolis was a nice coming out party for OpenGeo as separate company, right?
Pickle: It really was. Times are tough, but people came, and it was a really great event.
S&S: The combination of open source and the strong backing that you've received to become a commercial entity are a combination that you don't see that often.
Pickle: We are breaking new ground for geo, but it's not like we're breaking new ground for IT. There are many commercial open source companies including Red Hat, Alfresco, Pentaho,10gen, and others that cover a variety of technologies. So, we are just continuing the trend for the geospatial field.
Our efforts are in line with what's going on in the general IT space; more software is developed as open source way, under open source licensing. On top of that, commercial open source companies provide infrastructure around the open source components, to make them more effective as enterprise software. The way I see it, organizations that are deploying open source software – even the big government agencies – they're not software enterprises. Their mission is to develop and publish data and solutions around it, and they're looking for reliable, commercial partners that can support the software and help them create better and more scalable software solutions.
At OpenGeo, we provide commercial support for the key open source geospatial components: insurance to fix the software if it breaks, and assurance that the software stack will continue to advance and work well with operating systems and new data types and formats. We are working hard to create a robust commercial software organization where the mode of development is open source with the communities at the core.
S&S: The packaging of the suite of software that you've combined and enhanced, is that the main asset of the enterprise?
Pickle: That's a big part of it. It's the packaging, and the infrastructure and ecosystem around it, from training, documentation, installers, and the things that make it easy for the IT staff of the enterprise to deploy. It's also all the services around it that you expect to see in an enterprise setting, such as maintenance agreements, bug fixing, and things like that that help run the software in an enterprise environment and scale.
S&S: I like that you've moved much of your infrastructure to the cloud, extending the software to external servers. Does that make the software an easier sell, without hardware purchase and maintenance issues? Further diversifying your offering as both capacity and the functions of the software?
Pickle: There's no doubt that for many customers, having infrastructure and our software all ready to go on the cloud does make sales easier. But, if I could expand the questions a bit, a great aspect of open source is that its open nature makes it easier to sell, regardless of whether customers are accessing our software in the cloud or on premise.
Open source is unique in that the software source code is freely available – free as in speech rather than free as in free beer. We believe that freedom translates to an overall better product that in the majority of cases is easier to sell. There are brilliant pieces of software that have proprietary licenses, but in general, for creating and maintaining high quality software, that connects lots of databases, enterprises and users, with many constituencies, open source is the way to go. No matter how it's deployed, whether on-premise or in the cloud, you're going to end up with a better outcome.
The other thing that's particularly nice about open source is the fair footing that open source puts us on as a company that is developing the software and the enterprises that are purchasing the software and services. There's no fundamental asymmetry of control that happens when the software IP is owned by a single party.
When you are the owner of the IP, you control the software, you set the terms. Whereas with the open source approach, when I sit down with a customer they understand that the source code is as open to them as it is to us, and they can do whatever they want with it. It's up to me to prove that we can lower their overall total cost of ownership of that free software. The software code is free, but you have to make it work for your applications, and we work to lower that ownership and make it quicker to deploy, more reliable, more scalable, and available. We make it work for them, and their end customers.
S&S: At this point of the geospatial software evolution, are more and more tools moving away from the desktop?
Pickle: Yes, and that is a big reason we started as a web service company. Generally, there's a move away from the desktop as mobile devices proliferate and companies move toward the web to conduct their business. Obviously in the geo space there's a lot of reliance on the desktop for data production, and I don't necessarily see those workflows completely moving away.
"Everyone" is touching geospatial today, with everyone that uses their smartphone creating that data or being consumers of it. We see the industry going toward Spatial IT, where the Web is the network, and organizations using it to create and manage their applications. We want to make the "geo" function a part of the "enterprise IT" function. To that extent, it does move away from the desktop, with the main data stores and operations of the enterprise, and those aren't on the desktop.
S&S: You touched on the mobile part, are different devices and platforms an increasing amount of your work?
Pickle: Absolutely, and there's no way to avoid that from multiple perspectives, from the data being created, to the way people consume it, and the way that people want to view and access the data. For example, we just released the Mapmeter Console and we engineered that to work on a tablet so that managers can monitor the health of their geo systems in production from wherever they are . If something goes wrong, they can easily identify it and get to work fixing it. That's juat one example of the utility of mobile. Since so much in geo is on the production side we're working a lot on that.
S&S: The performance of the software, is that highly tuned in order to visualize large amounts of data? Do you feel that you're pushing the performance as it relates to other packages?
Pickle: In the world of open source, I feel that we are constantly working to improve functionality, scalability and performance. It's easy to benchmark our software, and in the past there have been a lot of tests of it. We support GeoServer as part of our suite, and we've worked very closely with the GeoServer and MapServer communities to run benchmark tests, and push each other for better performance. I think that's another great outcome that you get from the open source world is that people can get it and test it.
S&S: There are some real challenges in the geospatial space, that have been well defined for some time (real-time visualization, temporal data analysis, 3D, etc.). Are you pushing along those lines to extend functionality?
Pickle: I've been in the geospatial field so long that it wasn't even called geospatial when I started! Enterprises have the same questions that they've always had. They need to understand how their operations are performing; where their assets are; where their assets and facilities are in comparison to others; where their consumers and users are. Those questions don't change, but now the data is flowing to these enterprises so much faster and they have end users that want to see it in a huge range of ways, including 3D and more..
We continue to try and move on all those fronts to accommodate and facilitate this Spatial IT. Organizations are not necessarily thinking about spatial data, they're just thinking of data. There are plenty of analyses that you can do that have nothing to do with location, but where you may want instantly turn that into a spatial query. We want to make that easy, and if they want to see it in 3D, we want to be there. We're working with AGI and their Cesium software to make 3D viewing easier and more ubiquitous.
Innovation and expectations are coming fast and furious on all fronts, and we're doing our best to facilitate it where we can.
S&S: You've created a real critical mass there, with a finely tuned software suite and a lot of top talent. I would imagine that a lot of opportunities come to you that might make it a little difficult to focus. Are you growing quickly?
Pickle: Yes, and it is a challenge to do all that we're asked!. We have talent on the database side with PostGIS, on app servers with GeoServer, and on the client end with OpenLayers. Our top developers do have people coming to them frequently with opportunities and challenges. For example, we are in the midst of working extensively on OpenLayers 3, and that brings up a lot of new functionality.
We develop platform software, so intrinsically we do get called into a wide range of engagements, which often threatens our focus. It's one of the challenges that I have as the manager to help my team get the talent that they need to keep meeting all the requests, and managing the ones that we do first, etc.
We are fortunate that we've recently named Juan Marin as our CTO – he previously worked with Michael Byrne at the FCC on the National Broadband Map. Having him step in as technical manager has helped me to free up many of our other technology leaders to really focus on specific projects and technology.
I won't say that it easy to manage across all the opportunities that come through our door, but I think we're doing well. We are continuing to grow to do the work faster, and do a better job at it.
S&S: I would guess that governments are your strongest category of customer, and there's a move toward open source, but also toward open data in that space. Are the open data and open source efforts aligned?
Pickle: It is difficult to think of having open data without open source software at the core, because if people want freely available data on an unlimited basis, and you're paying scaling costs of proprietary software, it's just going to choke on the flow of the open data very quickly. I think open source software is a natural to make open data possible. Literally, it's not required, but from a practical standpoint you really need it.
S&S: Has the economic downturn highly impacted your government customers?
Pickle: There's no doubt that government entities are being asked to do more with less. The traditional software licensing fees and scaling costs that accompany proprietary software are just impossible for them. With open source we have new relationships, and we've been working to be innovative on the business model as well as the technology side so that our scaling cost is much less than you would see for proprietary software.
As they're working to deploy new systems, and they want to test before they deploy, there are none of the licensing issues that they had to worry about with proprietary software. It gives freedom to stand up as many licenses as they need to in order to solve their problem, and then once they go into production, they have a commercial entity that they can work with to make sure they scale well and perform well.
The economy has forced them to focus, and luckily for them open source and OpenGeo have come around at the right time.