ESRI is leading GIS software vendor and the vision and life's work of Jack Dangermond. V1 editor Matt Ball sat down with Dangermond at the American Planning Association (APA) meeting in Las Vegas, where he gave a keynote address on, "Creating Our Future: The Geographic Perspective." This is the second of a two-part interview that deals with the technology development plans of the company. You can view the first interview regarding the role of GIS for sustainability here .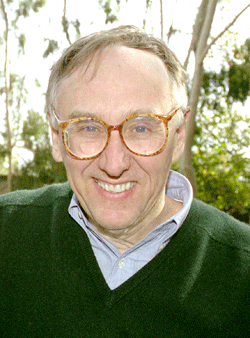 V1: I understand that this is the first time that you've addressed the APA in a keynote address since 1993.
Dangermond: The role of GIS in urban planning is an interesting topic to me. Urban planners were one of the first professions to see the promise of GIS, largely because they need to integrate lots of different data and considerations in coming up with their comprehensive, neighborhood and regional plans. They're data consolidators that get data from a lot of sources and integrate it.
In the past, people like Ian McHarg did that with plastic overlay maps and a lot of manipulation of data. GIS has really provided a framework in which people can bring all of the data together and analyze it with models and analytics to create suitability maps and interpretive maps. GIS helps planners bring together their thoughts for creating plans, but also for communicating those plans to others.
The visual dimension of GIS is so powerful because it communicates and allows them to tell stories about the future, which in some ways is what planning is about. It also allows them to build consensus with different constituents so that planning becomes much more open and available for people to understand the vision of planners and the consequences of plans. The qualitative analytic environment is totally supportive of that kind of process.
V1: The GIS toolset has come a long way since 1993.
Dangermond: When we first sold GIS, planners had to be GIS experts. Today what's occurring is that tools are easier to use so that people who aren't that technical can use and apply them. Also the data is becoming more product oriented. I can buy data off the web as a web service.
That availability of geographic data and its ability to be brought together to professional planners, so that you can combine the data instead of create all the data is something that is going on. It's certainly one of the things that's making geospatial analytics more powerful to the professional practitioner.
My hope is that this work provides a quantitative foundation so that planners do more rational and objective planning, and that they can do it faster and more efficiently while involving more people so that it is open and democratic in nature. This allows us to consider important factors that heretofore have been ignored – nature, communities – and create more efficient and sustainable plans for the future. This is what's needed.
V1: How does the sensor web factor into future planning?
Dangermond: The sensor web is a concept. What it means is that we're starting to wire up different real-time measurements and make those measurements available on the web. Organizations like the National Science Foundation are pushing for cyber infrastructure initiatives towards this notion.
One advanced application of this is GIS-based, it's in water resources. It's called CHUASI, and it's led by David Maidment and a variety of his clients. They're pushing to make all water measurements available in a geospatial environment for any application to read in and use the data in real time. All water resource information is available online, georeferenced, and can be integrated dynamically. It's changing the science of water research.
That's an example of what's going to happen in the sensor web. Traffic, weather, species changes, animals moving around, will all be measured and will be able to be brought into the next generation of planning to be more dynamic and situationally aware.
This frontier is showing up in fighting wildfires, in the war in Iraq, and in emergency response. As we move along, all geographic change will be available in what I like to call an instrumented universe. That network of sources of change that is geographically referenced will be available to planners, operations staff, and to consumers who will navigate through the geographies of the future.
V1: Do you envision an evolution of GIS technology to provide a more holistic planning approach?
Dangermond: There are several main technical areas that we're working on. Some of them are very near completion, and ready for release in ArcGIS 9.3, and others will be available in ArcGIS 9.4.
One area of software development deals with geographic sketching. The concept behind geographic sketching is to allow users the ability to sketch on top of maps and imagery that live inside of a GIS. Those maps could be the result of an analytic model, like a suitability map for a specific geography.
The sketching tool is different than a digitizing tool. It has to be very simple and intuitive like you're drawing on a piece of paper or drawing on a map. And it has to be a tool that allows you to symbolize particular features.
What we've designed is a way to build a template data model inside of the GIS and store it inside of the geodatabase and then grab a symbology and start drawing it on the map. Just like a planner would do when they're designing by hand.
The distinction, however, is that this data goes directly into the geodatabase so that it can immediately be analyzed and provide feedback. If I designed a polygon that says an area should go into residential development, commercial development or a golf course, the software can overlay that polygon on different layers, and will return details regarding the impact for any of those decisions. The software will return values for the size of the area, for how the development will increase transportation, or water runoff, etc. It will provide an immediate design feedback and analysis process.
V1: Is this a design tool similar to the functionality of a CAD package?
Dangermond: It's not a tool for making graphics, this is integrated into the geographic information system so that you can design with it and get immediate feedback, and share it and collaborate with others that are perhaps participating with you over the web.
The first version is ArcSketch, and it's a free downloadable extension tool on the current release. In the 9.4 timeframe, it will be embedded in the core software tools, and will become much richer and more integrated as the design process emerges. This will have huge implications for linking together the design community, which is intuitive and creative, with the scientific community, which is all about measurement, analysis and process.
Bringing these two worlds together around one common information system will have huge implications. This geographic design is not limited to just land use planning or landscape architecture. I'm finding that geographic design is being used by business people, military people, foresters, people that do resource extraction, farmers – they all like to layout their strategy using paper and pencils. This will allow them to do it with a more guided and intelligent process. It's like looking at an air photo, and bringing all the factors together, with interpretive overlays to guide the design.
V1: How will GIS technology evolve in terms of visualization?
Dangermond: We're working to drive GIS into the 3D domain. This has many different dimensions. It starts with extending the geodatabase models with support for full 3D, not 2.5D visualization, but true 3D data objects and features. This is done through technology extensions, extending how we model, store and represent geography in the database.
The second dimension is adding analytic tools that can do something with these 3D data models. These are things like 3D line of site, 3D buffering of objects, envelopes and volumetric representations through visualization. Tools that allow us to represent 3D in ways that are true 3D, not just pictures, where we can virtually walk into buildings and see both inside and outside.
To do this, we have to be able to model all sorts of objects, such as surfaces, volumes, facilities and buildings. In the last six years or so, there has been a lot of work on standardizing building information models or BIMs. The problem with these standardization efforts is that there are so many of them. There are CAD-based extensions that CAD companies have built. There are standards coming from the facility management world, the visual simulation world, etc.
Our approach is to build a GIS-based way to store and integrate the building information directly into the GIS, and then build interoperability procedures that interoperate between all the different proprietary and so-called standardized BIM models. We feel this is the way it's going to go rather than one BIM model that people will use.
Our partner in Canada, Safe Software, is looking to extend their tools into this space. That means we will have multiple BIM models and we will be able to talk to all these different models.
Why not have just one interoperable model? Because there's such a strong relationship between the data model and what you can do with it, and how fast it performs. Different proprietary tools are designed to do very specific things, and therefore need a very specific model. I believe that there will be lots of ways that these 3D building models emerge on the Web and in various technical manifestations, and they'll be interoperable using these extract, transform and load (ETL) tools.
V1: What's the future of building models within GIS?
Dangermond: We are increasingly seeing that GIS users want to incorporate not just shells of buildings, but complete BIM models that are intelligent, and they want to do this inside of their database for continuous and seamless data. Some of our partners, such as ARCHIBUS, that manage facilities and campuses, have discovered the value of bringing GIS into their workflows to provide a broader context beyond the building. They're extending their tools to take advantage of geospatial analytics by integrating CAD models for engineering design and geodatabases and analytic tools for planning and visualization.
In order to do full information management of reality, we often use different technologies and data models, such as CAD image processing, DBMS, document imaging, graphics packages, and visual simulation tools. ARCHIBUS is integrating these database technologies, document imaging technology, CAD and GIS technologies with various forms of workflow tools. It's another way to integrate these worlds.
I see two forces occurring, one is the harmonization of these data models so that they can be continuous, which is what we're working on for ArcGIS 9.4. The second is the integration of these disparate technologies using workflow web services and ETL interoperability technologies.
In the past this has been more difficult to do because of the performance of computers, but with the continuation of Moore's law it enables interoperability to be done in near real-time. We can allow individual technologies to remain distinct, but they can be integrated with computational processing in the background rather than forcing everybody to be in one system.
The logical extrapolation of that on the web is that you can have different distributed systems that can be unified or brought together dynamically with mashups or different workflow technologies.
V1: How does temporal data and simulation play into that vision?
Dangermond: The integration of time within GIS can fall into three main buckets, and we're seeing this increasingly implemented in GIS. The first one is looking at history, with time stamping of objects and storing or persisting historical synoptic images, which are also date stamped. This capability allows us to recall based on date or a particular set of circumstances.
For instance, asking the question, "What did the parcel map look like on July 14, 1945?", and it brings that view forward to compare it with the current situation. This change analysis or differencing, is a very valuable tool, and we see it a lot in imagery. Different image pictures through time allow us to see change in land use and change in landscape.
The second big area is moving from histories into real-time. In our field, GeoRSS feeds and other real-time information like weather, are starting to give us situation awareness pictures about the dynamics of what's going on now. GIS through technologies like Tracking Server have been exceptional in that regard.
The third is simply the time stamping of objects in the database.
Dealing with future time, the technology is really simulation and modeling, and here we construct tools within ArcGIS to do iterative modeling. There are two kinds of integration that is going to occur. One is GIS-based time simulation models, and the second is the integration of GIS with external models, by being able to extract GIS data, put it into a specialized model and extract and put the data back into GIS. Again Web Services and the ability to do collaborative computing between multiple systems will mean that we can accomplish this integration effectively.
Particularly critical are things like time-based modeling of future climate situations. The Nature Conservancy has just recently integrated all of the time information with respect to global forecasts and climate change and are about to put that into a web service environment for specialized users. We're working with them on this. It's an ArcGIS Server hosted application, and it's going to be an extraordinary thing. I can put in a geography and it will calculate what that region will look like in the future.

V1: What are your current thoughts regarding the competition from consumer-oriented mapping applications?

Dangermond: Today we have two things going on rapidly in the geospatial field. One of them is in the domain of professional GIS and the other is in the area of consumer-based mapping and visualization, such as Google Earth and Microsoft's Virtual Earth. We're making progress in both of these spaces.
GIS is becoming more services oriented, and richer in tools and functionality. The consumer mapping and visualization space is evolving with more and more participants. Their main goal is to provide a geospatial base map that is a framework for spatial search, that georeferences content on the web to be able to spatially searched and discovered. There's a rich advertising environment that is seen as the payoff for this investment. These two worlds, while overlapping, in future years will become increasingly more integrated.
GIS professionals will be serving their data into the consumer space, and the base maps that companies like Microsoft are creating will be able to be served into the GIS space. It will become a crosswalk. People describe this as the GeoWeb environment, which makes available virtually all geographic information, whether it's casual consumer-collected and volunteered geographic data or rich authoritative-source data and professional models and rich content. This crosswalk means that GIS professionals will have new places to publish their maps, visualizations and analytics. For the consumer space, they'll be able to georeference that content in their search engines, and also be able to leverage their investment in powerful basemaps into the professional world.
The benefit will be to all of society. It will be one way that we're going to reach all of the world with communication about what's happening on the planet and what's happening locally. For the consumers, it means that they'll have more knowledge available. It will be a democratization of the geospatial world to the extent that people want to do that. It doesn't obsolete what's happening in GIS servers and desktops. They are important cornerstones for making government, business and academic research continue. The ability to leverage the consumer data will make our professional GIS systems richer.
There are interesting opportunities there. How can we leverage thousands, millions or hundreds of millions of people that observe geography and are willing to share their information in a geographic context? All of that volunteered geographic information (VGI as Michael Goodchild calls it) should be brought into geographic information systems so that we can understand it.
That brings up significant issues such as authoritative source vs. volunteered geographic information. How do we sort through what we depend upon? What applications will benefit from it, and what applications should stay with authoritative source? There are issues of privacy, and who owns the information (IP), and issues of national security that all need to get vetted and worked out carefully as this GeoWeb evolves into the future.
V1: What is the current status of geotechnology from a business perspective?
Dangermond: In terms of the health and potential for geotechnology, it's vibrant and well. Our business continues to grow and accelerate, building the geospatial infrastructure behind the scenes that people can build applications on for the professional world, and increasingly reaching out to the consumer space.
The dynamics of what's been going on with consumer-focused websites is making our job easier in terms of storytelling about the importance and viability of what our technology provides and what our users are doing. We're moving in part from tools in the background to emerging solutions. People want to buy a mobile GIS without tools that they need to program. That's offering our business partners huge opportunities to build applications that sit on top of our core technologies. Our business partner conference is like a feast, with partners gobbling up the new technologies and development environments that make custom development much easier.
There's our own company's vibrant performance, our competitors are all doing well I think, and our business partners (the thousands of companies that are building applications and doing integration) are doing well.
EDITOR'S NOTE: You can view the first interview regarding the role of GIS for sustainability here .