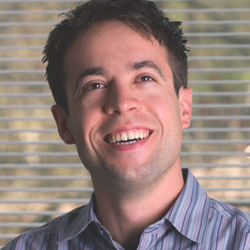 Intergraph has placed a greater importance on software platform development under the leadership of Hexagon, and this software from Intergraph with sensors from Leica Geosystems have successfully been combined and marketed as solutions under the Hexagon name. One such solution, the Hexagon Hydrology Overall (H2O) solution was on prominent display at the recent HxGN Live event in Las Vegas, where the G and N stand for global networking.
Sensors & Systems (S&S) editor Matt Ball spoke with Mladen Stojic, vice president of geospatial at Intergraph, in a conversation that ranged from these solution approaches, to the psychology of explaining the complexity of these solutions to a lay audience. Stojic indicated that the H2O water infrastructure management solution was developed to meet the specific needs of a customer, and then productized after it was fine-tuned with operational insight. Stojic said that further solutions that combine the software platform with sensors are in the works.
Hexagon is finding fertile ground for solution development in Asia, with developing economies leapfrogging the approaches of the developed world to adapt to change, spurred by strong economic growth. At the event, Hexagon president and CEO Ola Rollén indicated that Asia has accounted for 48% of the company's growth, and that they see that trend continuing. Stojic outlined opportunities with the industrialization of these economies in infrastructure development, security, housing and planning.
Stojic feels that Hexagon has a distinct advantage in delivering dynamic solutions because of their ownership of both the software and the sensors. They have expertise in sensor data capture, spatial analysis to track and understand change, with touch points of software capabilities along the different stages of a project lifecycle, and mobile connectivity to extend project details (in both 2D and 3D) into the field.
The sensor inputs to these systems include survey-grade precision measurement and monitoring sensors, aerial imagery sensors, LiDAR laser point cloud scanners, and a variety of data capture platforms for these sensors from earth moving machines to unmanned aerial systems (UAS).
A new tagline unveiled at the event is, "Hexagon, Shaping change with smart solutions." Stojic remarked that the combined solutions take a pragmatic approach to solve core problems, and are being packaged into a variety of smart solutions such as SmartWater, SmartResources, SmartSafety, SmartAgriculture and SmartPlant. The solutions are smart because they shorten the time to get information out, with sensors integrated and combined with software that focus on performance to help fine tune how the systems behave.
With integrated sensors and software under one company, the solutions can influence how both software and sensors are combined and developed. The direct connection assures that the solution is well integrated to deliver value, without any disconnections.
Stojic has been increasingly using the analogy to our five senses when describing the performance and utility of these solutions to connect for a human-connected message. With our five senses we collect, organize, identify and interpret big data throughout our day in order to take action. Hexagon provides the sensors and the software platforms that act as the perception engines to process all of the data, apply analytics, and act in a timely manner. We feel and then act with our senses in the same way that these systems dynamically do something with the data.
Stojic commented on the data that is the fuel for these solutions. A satellite imagery solution can take months to finally receive the information from the data, and that's often too late as there's an expectation now for immediate information. Intergraph is looking to increasingly provide information as a service, producing content through their trusted relationship with surveyor, data providers and conservative governments.
Many of the companies that have taken an approach to package geospatial data from their customers have taken the route of first owning that data. Instead, Stojic talked of connecting customer content to applications, pulling the latest and best data into solutions built by a Hexagon Global Network that offers content, maps and applications through a collaborative and federated infrastructure.
Increasingly, Hexagon sees geospatial solutions as going beyond the map, to focus on the application of monitoring and analyzing subtle change. Applications connect the data from trusted sources to deliver quickly the answers that are needed with a new paradigm that goes beyond, and around, the big and cumbersome systems of the past.
For further details, the keynotes for HxGN Live event have been archived and are available online here: http://tv.hxgnlive.com/