The 2008 Intergraph 2008 International Users' Conference took place in Las Vegas, Nevada from June 2-5. More than 2,600 attendees gathered from more than 60 countries, making the event one of the largest ever. The theme of the event was "Experience the Power," with strong connections to Intergraph's power business, but also a connection to the resurgence of the company after extensive restructuring.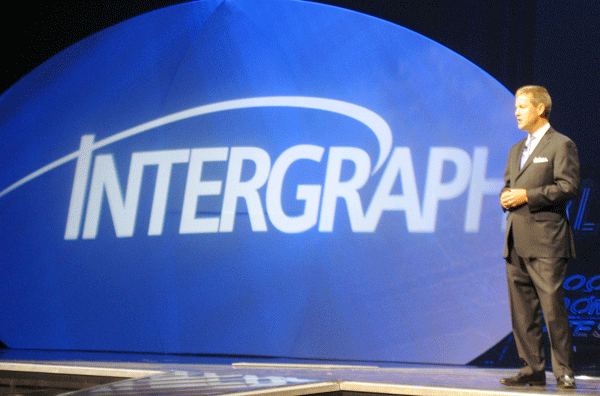 The 2008 Intergraph 2008 International Users' Conference took place in Las Vegas, Nevada from June 2-5. More than 2,600 attendees gathered from more than 60 countries, making the event one of the largest ever. The theme of the event was "Experience the Power," with strong connections to Intergraph's power business, but also a connection to the resurgence of the company after extensive restructuring and privatizion in 2006.
Intergraph's CEO, Halsey Wise (pictured in the photo on the right), spent a good hour outlining the process of change at the company. Wise referred to the event theme "Experience the Power" in three realms: the power of people, teams, and a single person; our power to challenge, change and transform; and the power of ideas and innovation.
Given the company's aggressive transformation over the past few years, Wise focused strongly on the power of change and the framework for transformation, outlining five waypoints of change:
– Steady State – a comfortable and familiar state that pursues incrementalism
– Disruption – overall discontent takes over
– Incentive to Change – a realization that risk taking is better than current conditions, and that there's a premium to achieve something better, often driven by fear or anger
– Transformation – powered by challenge and change we unleash constraints and adopt a willingness to achieve the future state (act or be acted upon)
– Sustained Achievement – this is a perpetual pursuit that rewards risk taking
Intergraph's "Now" "Next" and "After Next" strategy (borrowed from the National Geospatial-Intelligence Agency's James Clapper) has provided the framework for internal reorganization. The company has turned a corner, having increased revenue growth by 8% and profit by 13% in 2007.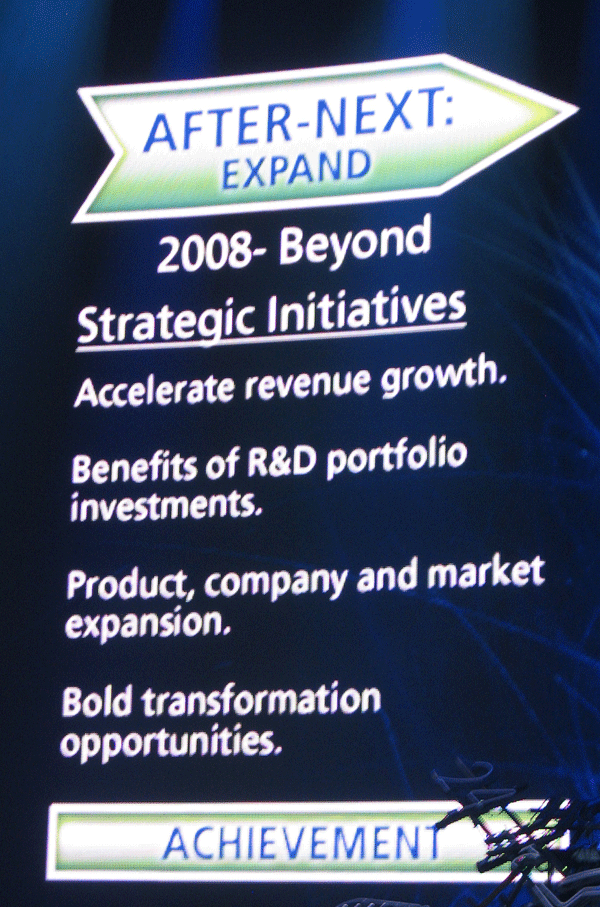 Wise indicated that Intergraph is in the "After Next" phase now, with the following strategy and goals:
– Reach $1Billion Revenue, $250M EBITDA, by 2010
– R&D Investment to grow steadily, reaching $140M by 2010
– Invest heavily in BRIC countries (Brazil, Russia, India, China)
– Capitalize on the world's infrastructure backlog
– Play a heavy role in the energy sector (Intergraph is #1 in nuclear design)
– Continue to develop security solutions
– Incorporate more geospatial analysis in their product line
– Develop more vertical geospatial applications
The main stage presentation was impressively visual and descriptive, staying humble and customer-centric. The keynote address by Lance Armstrong provided an appropriate tie-in to the theme of transformative change. Lance gave a touching recount of his battle with cancer, and focused on the power of an idea for large-scale societal change and empowerment.
Geospatial Technology Roadmap
Mark Doherty, executive director, Technology Architecture and Strategy, presented the Technology Vision Roadmap for Intergraph's Security, Government & Infrastructure (SG&I) division. The talk began with a framing of the SG&I division, with it's tailored solutions for public safety, government and transportation, defense and intelligence, utilities, communications and photogrammetry. Doherty indicated that the technology roadmap takes into account more technology trends than a horizontal technology company, because they are driven by many industry-specific needs.
Intergraph's core technology platforms for the SG&I division are incident/work management and records management in addition to their foundation of geospatial capabilities. Records management includes public safety incidence data as well as the TerraShare product's ability to fuse imagery, LIDAR and video.
Doherty outlined a number of technology trends that are driving technology development and research investments:
Interoperability and integration – Interoperability is at the top of a lot of people's list of things they need to deal with. On the the security side there's the issue of integrating a lot of sensors.
Better decision support tools – The issue is to accomplish more with less, with tools to make you more productive. Emergence of 3D models, changes the ways that people interact with information and data. Integraph is also focused on bringing together a lot of data sources and sensors information into the mix.
Increasing Mobility – Doing more in the field, wider number of devices and platforms. Those working in the field want to do the majority of their job in the field.
Changing Workforce – More than an aging workforce, baby boomers are exiting and the Internet generation is entering. This new tech savvy generation have a high expectation on how technology will assist them in their jobs.
Going Green – Green industry impacts in utilities and governments are on everyone's mind (even though in Las Vegas there's nowhere to recycle). Smart grid systems to control and monitor energy efficiency are key. As is the greening of IT, with the consolidation and virtualization of data centers.
Doherty also focused on key trends that are affecting how Intergraph delivers technology to solve problems:
Service Oriented Architecture (SOA) – There's an increasing demand for flexible, reusable, and agile platforms
New technology deployment strategies – Deployments through virtualization, appliances (geospatial box that fuses data, software, hardware) and smart clients moves away from traditional desktop and server-based approaches.
Software as a Service (SaaS) – Software tools that don't require install on your enterprise servers are gaining ground, led by SalesForce.com. These hosted solutions ofer benefits on administration costs, and Doherty feels that both Virtual Earth and Google Maps are providing a capability similar to SaaS, and these consumer-oriented sites are increasingly influencing how technology is delivered.
To deliver next-generation capabilities, Doherty discussed Integraph's commitment to both Oracle and Microsoft as a foundation. On the database side of things, Intergraph will continue to exploit data tier technology advancements, including Oracle Data Guard and Oracle Spatial, and will also embrace the spatial extension to SQL Server. For desktop and client applications, Intergraph continues to exploit the Windows presentation foundation and sees Silverlight as a promising technology for both the desktop and the web browser.
Platform Consolidation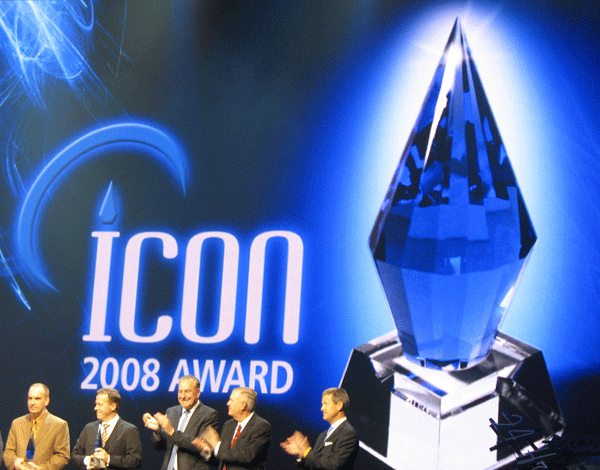 Several initiatives are ongoing at Intergraph to lead to a more integrated and aligned technology platform, aligning GeoMedia and G/Technology and leveraging advancement into the public safety market. The start has begun with an enhanced data model that underpins how products interact and interoperate. There's also a push to enhance spatial data visualization capabilities.
The consolidation of the platform technology will make it possible for users to seamlessly take advantage of all Intergraph geospatial tools, and it frees Intergraph resources to focus on enhancements and innovation. Improved meta data configuration tools reduce system management costs. Public Safety, GeoMedia and G/Technology all gain LDAP based identity and access management and the consolidation will dramatically ease the issue of bringing information together.
Intergraph has been pursuing the solutions space for at least the last four years, as opposed to developing and selling their platforms. I learned in the Security, Government and Infrastructure (SG&I) technology roadmap that Intergraph is now undertaking a considerable consolidation of their GeoMedia and G/Technology platforms, which will benefit their public safety solutions offering and enhance the ability of their customers to take full advantage of all of Integraph's geospatial capabilities.
The benefits of consolidation include :
Seamlessly take advantage of all Intergraph geospatial tools – new capabilities and efficiencies
Future display and data model enhancements done one time and available to all users
Consolidated development frees Intergraph resources for subsequent enhancements and innovation
Improved metadata configuration tools reduce system management costs
Public Safety, GeoMedia and G/Technology all gain LDAP based identity and access management
Dramatically eases bringing information together
Following are some of the areas where each platform stands to gain functionality:
G/Technology
– improved integration with GeoMedia and InService
– Improved symbolization
– OGC data access
GeoMedia
– high performance display
– role-based enterprise configuration
– wider use
Public Safety
– linear and point symbology
– image display improvement
– data access (OGC, shape files, etc.)
– Dynamic mapping
– Access to complete spatial analysis platform
The emphasis will be placed on Service Oriented Architecture (SOA) with the platform redesign, with higher-level objects that perform clear business-level functions as opposed to lower-level technical functions. The SOA approach will help fuel Intergraph's extension into the business intelligence market, which is a target of theirs. The standardization and consolidation should also serve as a good foundation for all Intergraph customers, as well as assuring them that investments are being made to update the technology.
The Intergraph 2008 event was a polished and glitzy affair. From the top-level keynote by Lance Armstrong to the tabbed and glossy event program, the event spared no expense to signal an Intergraph resurgence. Intergraph's solutions-oriented approach has had a strong positive impact on their bottom line, and they signaled their appreciation to users with lavish treatment.