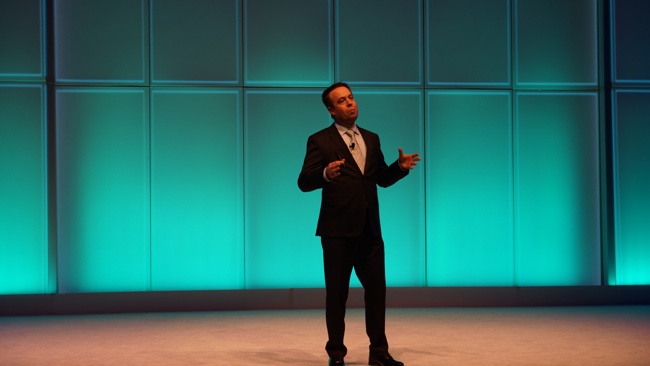 Mladen Stojic, president of Hexagon Geospatial addressed the HxGN Live conference today in Las Vegas. The address focused on dynamic information, and our ability to transform how we respond to global change. Opportunity, change and transformation permeated this address with a focus on competitive advantage.
The analogy of how wind turbines can transform a raw power into benefit relates to geospatial in terms of data. Data is our wind, and geospatial content management provides solutions that address workflows. Stojic asserted that the four blades of geospatial are GIS, remote sensing, photogrammetry and surveying and our difficulty to harness each of these blades into momentum.
Stojic spoke of a Hexagon Standard to transform how we harness geospatial data. The introduction of the Power Portfolio, providing geospatial content as a service and building industry solutions on mobile, web and desktop platforms. The Power Portfolio helps us understand what was, what is, what can be, and ultimately what will be.
The Netherlands provided an example of a country making use of geospatial data to understand change. The example of Dotka Data, and their archive of information was shown in an example of Leemons Construction, a company that are still uncovering unexploded ordnance from World War II and clearing this hazard with an understanding of the past. Dotka Data talks about municipalities creating a suite of change detection tools to uncover the dynamic nature of their city.
The blades of the Power Suite are:
The Producer Suite (ERDAS Imagine, ERDAS APOLLO) – a number of examples were presented including disaster response, tax assessment with automated change detection, and . The company announced that they are supporting the Euclideon point cloud format for streaming LiDAR point clouds. GeoMedia Desktop, the GIS component of the suite, with a map editor to create a high-performance map for routing and validating addresses and connectivity.
Provider Suite – Includes the ECW imagery compression with file size reduction with fast encoding and decoding speed, with one format as the single source of truth. Reducing the cost of storage is significant with cloud services, translating into dollars. The Big Data solution is being applied by T-Kartor with 100 terabytes of geospatial information with sophisticated data management systems built on Hexagon technology.
Platform Suite – includes the ability to integrate photos and videos within a geographic context such as planning and responding to a natural disaster or with disaster assessment after an incident. There are tools for creating Web-based applications combined with commercial data as well as the ability to create custom mobile applications that extend editing capability to the field.
In closing, Stojic said that the goal set forth with the Power Suite is to transform the geospatial economy by transforming how we capture, produce, provide content as a service and use the content in solutions as well as simplifying how we work.