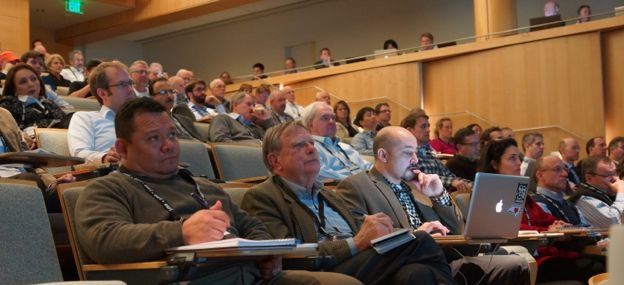 The GeoDesign Summit took place from Jan. 27 through 30 in Redlands, Calif. at the Esri headquarters campus with a record audience of more than 300 attendees from 19 countries and 33 states. The movement for geodesign continues to capture interest as the future of practice, with more undergraduate planning and design programs labeled as geodesign each year. This fifth event debuted some new geodesign tools from Esri that further solidify the approach, with some new innovations and modeling approaches.
Tom Fisher, dean of College of Design at the University of Minnesota, kicked off the summit to a growing number of practitioners from the disciplines of architecture, planning, ecology, forestry, banking, finance, health insurance, mining, marine science, transportation, sanitation, urban design, and others. This past year the Geodesign events have expanded with 200 in attendance in Holland, 500 in attendance in Beijing with another 50,000 attending the China event online. Programs in universities are expanding, with many other schools with courses and planning programs that incorporate the term and approach. Geodesign has gained acknowledgment as a valuable skill set for the work world with interest from faculty and students.
Fisher went on to discuss the evolving definition of geodesign that applies system thinking to design in a geographic context through the support of digital technology. It's a new way of thinking to understand complexity with the systematic and incredible spatial power of geography and design in ways that hasn't happened before. GIS is the tool that has created the push. Its data rich analytical power that synthesizes and offers a speculative approach to design. Understanding how it was and is from GIS with what it can be with design. It is particularly powerful in a time when we need to think differently and do things differently, driving how we work in the future.
An Evolving Vision
Dangermond shared his thoughts on the event and the evolution of the technology, and said that the creation of the event is not on his shoulders, it's something that was inevitable as a means to address today's challenges. These challenges deal with population growth, the change in land uses, the impacts on climate, biodiversity change, and on and on. The counterbalance to these trends, with the ability to stop and counteract is with designers, geographically changing what we do and affecting these challenges.
According to Dangermond, we collectively need to create a better future, bringing all the best science, technology and design thinking to change things. GIS provides a technological platform for integrating our sciences, with the concept coming from Ian McHarg who talked about how to bring sciences together as a platform for designing the future. He spoke about integrating the "ologies," but what he didn't have was the power of technology to bring things together.
GIS has emerged as a powerful platform for integrating and quantitatively analyzing the patterns and impacts. While it is in its early stages of evolution, it is providing the practical means and empowers the idea of geodesign. Geodesign takes geographic knowledge and allows us to design and evaluate alternative plans and make the best decisions. The definition continues to evolve, with a continual cross-disciplinary effort to get the definition and the practice right.
GIS is about organizing geographic information with a rich and multidisciplinary use. It has brought this vision of integration of information and collaboration to many different people and is being implemented in many patterns. The desktop, the Internet with servers and web cloud-based services has meant that it can become pervasive. The new pattern of Web GIS will transform everything, bringing the analytic and design tools to everyone else. It integrates a lot of trends — big data, faster machines, more measurement, cloud computing, devices and content. Web GIS will come to us in the form of apps that have a reach that all can use with content accessible so that we manage our own view of the world easily and collaboratively.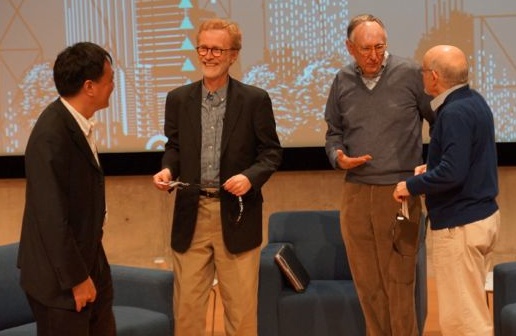 A key element to this year's event were interactive couch discussions. Pictured here are (from left to righ) Kongjian Yu, professor at Peking University College of Architecture and Landscape and principal at Turenscape, Tom Fisher, dean of College of Design at the University of Minnesota, Jack Dangermond, founder and president at Esri, and Carl Steinitz, Alexander and Victoria Wiley Professor of Landscape Architecture and Planning at Harvard University, Emeritus.
New Tools
Landscape Planner is a new application that collects and organizes data, runs analytics and follows a methodology to quickly design with impacts in mind. This new application is complemented by the lightweight apps that run on our mobile devices.
Procedural modeling with Esri's CityEngine is a rules-based 3D approach that started in the entertainment industry to build the digital sets for animated movies. These rules-driven environments are also quite powerful for visualizing cities, with analytical information that as you build buildings you can understand their impacts. You can set up performance measure or performance reports so that you're designing and evaluating at the same time. You can quickly understand alternatives such as development with and without transit. 3D visualization in a browser without any software to look at before and after scenarios, shade and shadow analysis, 3D zoning, crime rate, flooding and other scenarios. The Web scene capability also allows you to share with citizens for further collaboration.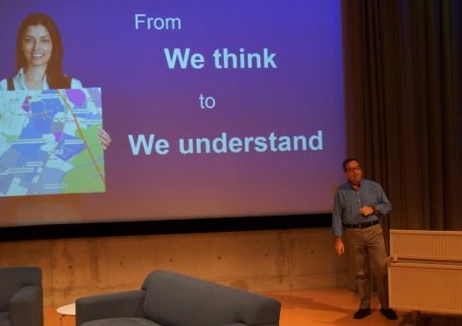 Bern Szukalski, Product Strategist and Technical Evangelist at Esri, demoed new Esri technologies that combine the desktop with the extension of the computing capacity online to improve our understanding.
China's Embrace of Geodesign
Kongjian Yu, professor at Peking University College of Architecture and Landscape and principal at Turenscape, addressed the Geodesign Summit in Redlands, Calif. this week. Yu was an intern on the Esri campus 20 years ago, and thanked Jack Dangermond, president and founder of Esri, for this early start to his career. Yu suggested that geodesign is necessary for human survival, relating the many projects that he has been involved in that deal with fundamental pressures on citizens as China continues to urbanize and re-engineer land use.
Yu related a deep historical connection in China with the concept. The god Da Yu was able to, "use rules and measures, and made wise use of the land to select a safe place for his people to build a city." Geodesign thus represents the king with an art for designing for survival with thousands of year of trial and error to select safe places for settlement and for agricultural cultivation.
More than 2,000 years ago the compass was designed in China for geography and design of the landscape rather than navigation. The compass combined 72 different variables that were invented for selecting and locating places for people. Land use and field making for planting and harvesting come from this art and scientific model, and the picturesque landscape of China is the result of this approach. With today's fast urbanization, China has lost sight of the art and are using solely an engineering strategy.
Every year China has flood problems, with billions invested every year to protect cities from floods. Yu has done analysis that shows that only two percent of the land can be flooded, so why do we spend so much?
Channelizing the rivers is a pattern used throughout the world. This single-minded approach makes things worse with an approach to build more pipes, dams and dykes to deal with water that are in part responsible for the fact that 75% of surface water in China is polluted. In addition, more than 50% of wetland habitat has been lost in the last 30 years. Sewage plants won't solve the problem, and the country has lost its green infrastructure that help regulate flooding. The speed and scale of geographical change requires a wiser approach.
The conventional way of city planning is to level all the ground, but we're now starting to understand the value of a green infrastructure approach without storm water pipes and flooding problems, and with much less cost. An ecological approach is to make friends with water and floods, with careful analysis to remove channels and make the rivers safe again with a beautiful and flood-able landscape.
The first phase of this new pattern is now under construction. The new river park is a green sponge that retains and purifies the water with greater use by the people and a habitat for nature that also recharges the aquifer. The landscape provides a low-cost means without the need of electricity. This is an intensified wetland system that produces clean water. Now, the whole river is planning on using this approach.
The central government has announced that an ecological and beautiful China is a priority for a new type of urbanization. Geodesign provides the means for a re-integration and recovery of the art of survival with alternatives to create an ideal relationship between man and nature. It is also transformative to make ecological infrastructure across scales. The method is to use spatial understanding to define the boundary between man and nature and understand a minimum land use to protect the ecological networks. The geodesign approach has been adopted on a national scale with 500 people attending a Geodesign Summit in Beijing with more than 50,000 people viewing the content online, and more than 100,000 ministers and mayors now trained in the concept.
Geodesign and the Trust for Public Land
Will Rogers, CEO of the Trust for Public Land, a national land conservation organization aims to connect people to nature in both urban areas and wild lands for healthy human habitat. The organization uses GIS and geodesign and is moving more toward using mapping and geodesign in urban areas. The organization has funded more than $50B in urban development bonds and park design and development. Their research is looking at the health and economic contribution of park systems to a city. The historical focus has been on habitat and plants and critters, but the organization is looking more at human habitat.
We are the one species that can truly shape our own habitat. We haven't physically changed much from our origin, but our changes to our own habitat is damaging ourselves as well as the natural habitat. Maps are good for showing change, and the organization looks to create parks within a 10-minute walk from all inhabitants. Getting communities involved in park design leads to greater stewardship.
The creation of ParkScore rates park systems and compares across multiple dimensions how good a city's parks are. It includes acreage, searches and investment, as well as access. The rating system includes a lot of maps and demographic information allows politicians and the public how they rate to other cities. Competition provides a great motivation for change.
This new tool has gotten the attention that they wanted to get. It is changing how parks are being talked about and prioritized. Having mayors ask, "How can I improve my ParkScore" is now bing addressed by a Park Evaluator Geodesign tool, allowing for the sketching of new areas and seeing the public that are being impacted by the better systems. This new tool is being beta tested in Houston, Atlanta and Fresno.
More parks are being driven by health and fitness issues, and the intent to draw young upwardly mobile populations. Climate resilience and green infrastructure are also driving change of planning with the TPL's four driving worse to connect people, cool the heat island effect, protect habitat, and absorb storm water. More than 700 cities have combined sewer and storm water systems, and new green infrastructure can address this problem.
Layered data allows us to understand and mitigate sea level rise and storm surge. Hurricane Sandy has provided great insight and a case study example, because where wetlands were protected the uplands fared a lot better.
Rogers closed by saying that the level of complexity that we're addressing in design is increasing, and more and more the planet is becoming the client. Geodesign provides the means for us to address these challenges, and the more we use this approach the more it will be demanded.
A New Metric for Cities that Factor Ecosystem Services
Janine Benyus, the author of Biomimicry: Innovation Inspired by Nature, spoke about the need for a better metric for the measurement of our cities that factor in the ecosystem services performed by nature. Benyus asserted that because of the human ability to impact these systems and services, it's necessary for us to start delivering these same services in our designs.
She stated that humility is a key value for what we are doing. The ignorance-based world view, that we are billions of times more ignorant than we are knowledgable should drive our work, and we should always check our work, and prey for second chances,
In discussions following her talk, Esri founder Jack Dangermond shared that Esri and Singapore have signed an agreement and are developing a detailed smart city database using procedural models. The goal of the collaboration are to understand runoff, sewer overflow, and traffic patterns as well as how each building performs. They also want to do the same thing with the trees, looking at shade analysis, solar glare, watershed impacts, etc. The model of the whole city will allow everyone to understand the effects, and it wouldn't be much of added stretch to model the city's ecosystem services.
Geodesign in this city planning context would provide the context for every proposal and action to be evaluated, and available for everyone to see. It is the ultimate democracy for all action where the externalities begin to disappear. Every action that humans make of public consequence is understood in terms of ultimate impact. The criteria for success is rigorous and it's very simple, as with natural selection — each plan must be conducive to the continuity of life.
Dangermond shared that philosophically our work is about building a platform for evolution. A concept called geo accounting factors everything that really matters, measuring all of the services into a geographic frame. Wall Street have done extraordinary things to leverage up money and computational power that allows us to account for every heartbeat of financial interactions. We need an environmental accounting system that plays at the same level, and geodesign could provide the framework.
Geodesign has become a major turning point for GIS, where important work is shared more broadly. Geodesign is being integrated and applied in many fields as part of Esri's engineering cycle. The tools are not just for designers, it is a way of bringing in science to all traditional GIS pursuits.
Dangermond closed by saying that we need to create a better future. It's important to acknowledge that we're on a mission. Being able to leverage the science, technology and design talents are really important. The field of geodesign will improve our understanding of the planet to inspire design thinking as a way to approach problem solving for the planet.