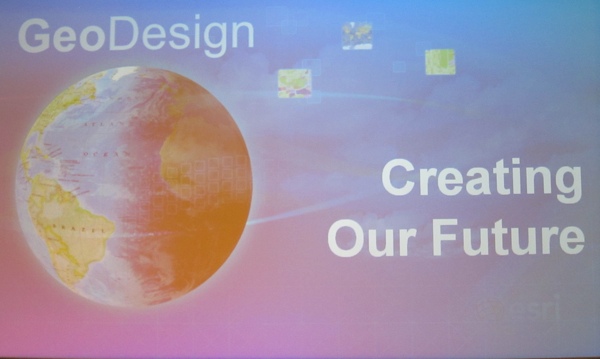 The third GeoDesign Summit took place in Redlands, Calif. from Jan. 5-6, 2012. There were roughly 300 attendees from a cross-section of disciplines at this year's event, with a strong showing from academia, architecture, engineering, landscape architecture and planning. The event continued dialogue about the definition and practice of the geospatial planning approach that is being called GeoDesign, with an emphasis placed on projects that have an impact.
The third GeoDesign Summit took place in Redlands, Calif. from Jan. 5-6, 2012. There were roughly 300 attendees from a cross-section of disciplines at this year's event, with a strong showing from academia, architecture, engineering, landscape architecture and planning. The program for this year's event included keynotes, Esri product demonstrations, two sessions full of 10-minute lightning talks, and in-depth "idea lab" breakout discussions. The event continued dialogue about the definition and practice of the geospatial planning approach that is being called GeoDesign, with an emphasis placed on projects that have an impact.
Jack Dangermond kicked off the 2012 GeoDesign Summit, by giving credit to his old professor Carl Steinitz who contributed the seed to the GeoDesign concept and process. Dangermond said that the concept of GeoDesign has real steam, that is spreading and growing in academic circles as well as in practice in many disciplines.
Dangermond marveled at that the broad diversity of the field of GeoDesign, reaching beyond just classic design across all of society. Our world is changing rapidly, the consequences are frightening, and society is being challenged at large. It's hard to get a handle on all of these issues, and Dangermond related a recent comment that President Bill Clinton made at the Eye on Earth Summit that all of these broad discussions of global change may not matter. Clinton's point is that the dedication to projects, and doing real work is what's important. Jack said that GeoDesign is really about building and creating things that have an impact.
According to Dangermond, GeoDesign is not just a concept, it can be thought of as a process to measure, model, interpret, create plans, measure impacts and influence decisions. GeoDesign is an evolution where we connect the dots and understand the connections, ranging across all fields, from agriculture to urban planning and other infrastructure disciplines.
Intelligent Maps as Enablers
The web helps speed this process by allowing for greater collaboration to create better understanding. GIS technology is right in step with these changes, with cloud computing making the enormous and increasing amounts of data accessible. As the trends co-evolve for an interactive and multi-dimensional GIS, we have a chance to link together human action and science.
The GIS on the Web or Cloud GIS is a change that has been happening the past few years, to share information through interactive Web maps and enable those that view the map to share their own perspective. Instead of formal data models, there's a more flexible pattern where all the information is made available to us.
Intelligent Web maps are a new medium that supports sketching and interaction, with live links and dynamic data flow. The pattern synthesizes and integrates information from multiple sources in real time, cutting time to decision, and breaking down barriers between different disciplines and teams.
Bernie Szukalski, product strategist and technical evangelist at Esri, spoke today at the GeoDesign Summit about ArcGIS Online initiatives and coming capabilities. Web mapping has morphed from sharing maps and geospatial information to a geospatial content management system that supports collaboration. The new iteration allows for the publication and sharing with others, as well as the access to rich global base data through cloud services. And for GeoDesign applications it greatly speeds the creation of project-based details, with the added benefit of a means to communicate different perspectives via shared maps.
Maps can be shared with others by making them publicly available, sharing a link or embedding in a website or blog. Additional content can be found via the gallery where maps are vetted by the community, with ratings and comments. These maps contain documentation with details regarding the source, providing metadata that allows you to understand how they were created. There is also flexibility in how these intelligent maps can be accessed, with options to open in your desktop, open in Explorer Online, and in the map viewer.
Understanding Design Impacts

Not much has been done to understand the impact of good city form with connections between design and livability. Andreas Sevtruk, a researcher with the
CityForm Lab
that was first at MIT and now at the Singapore University of Technology & Design, discussed the Urban Network Analysis Toolbox, an open source tool that works with ArcGIS 10.
Network analysis has proven to be helpful for understanding the urban form, specifically for transportation, business patterns, land value distribution and land development. With this toolbox, which matches the approach of Network Analyst in ArcGIS, buildings, nodes and edges are added. Additionally, each building has attributes, and they can be weighted based on the building's use, size or other parameters.
A concrete example of the application of this tool was the understanding of the correlation of the form of Cambridge with the patterns of retailers (restaurants and stores). The transit and residential pattern were explored and the model indicated what significantly mattered for current retail and where patterns for retail are good, but where no retail currently exists. Businesses generally agglomerate, and the model separates the clustering phenomenon to understand the weight of the other factors.
The group is also exploring the affect of economic development in informal settlements, because this will be the dominant form across the globe over the next decade. Here the focus is on determining the best locations for services and retail in these settlements to speed the formalization and economic vitality of these areas.
The toolbox went public in September as an open source tool with code available online. There have been 30,000 downloads since it went public, clearly indicating the pent-up demand for this type of tool.
Rules-Based Planning

With Esri's purchase of CityEngine, they have gained the ability to quickly produce city models based on configurable parameters. The ability to build a city that conforms to planning rules, and that can be quickly changed based on design parameters, the company fills a gap between intelligent maps and intelligent plans.
Esri's traditional GIS tools provide the 2D view to construct an area structure plan that helps set the process for further evaluation models. From a baseline plan, different ideas can be tried that keep track to model parameters and provide feedback on the weighting of relative importance of different design choices. Changing the parameters, and immediately seeing the impact, moves the process from mapping of ideas to sketching within the design environment.
CityEngine is being linked and integrated with GIS to provide 3D interactive plans with terrain manipulation as well as tying to different allocation models. While the integration with 3D is an ongoing issue that will take some time to realize, it will prove critical to communication between disciplines and with the public.
The Redlands Experiment

Carl Steinitz, professor of landscape architecture at Harvard University, related how we have many fundamental questions to ask ourselves about how we work, and how we might eliminate guesswork in our planning. With the understanding that that are always different approaches, and that plans at small scale don't often work on a large scale, we need a new approach that allows us to be more experimental.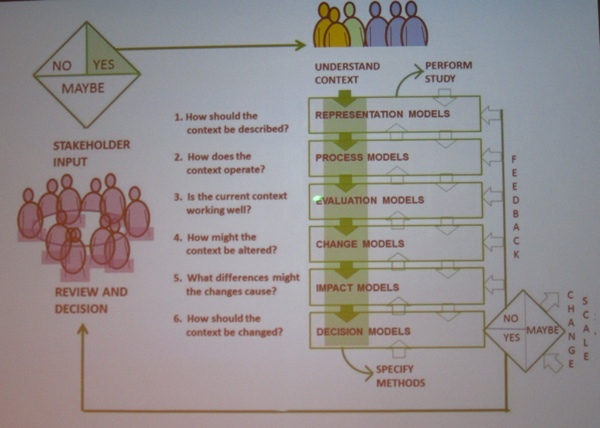 Steinitz let a experiment this past year at the University of Redlands to help the City of Redlands come up with a comprehensive plan with a testing of methods to see which would be most effective. There were four groups made up of design professionals, information technology specialists, those versed in geographic sciences and the general public. The practical approach to problem solving with different approaches using the same technology proved instructive in terms of what provides the best approach to reach planning consensus.
A general template for design has a past and a history, looks at the present, but also toward the future. The process included evaluation of processes and representations to find the right mix of transit-oriented development and open space. While the experiment wasn't conclusive in terms of the best approach, it did provide important metrics that can be followed up on and incorporated into a broad region plan that can then be shared with the community for further feedback.
Synthesis Tool
A wrap-up academic panel, led by Thomas Fisher dean of the University of Minnesota's College of Design, discussed the problems that GeoDesign helps addresss in education. Fisher asserted that education has become a disjointed incrementalism, and that Geodesign offers a new level of synthesis that conforms to how we see the world.
GIS is good in conveying information, design on the other hand is a value-laden activity without data, so that bringing the two together in a new way enables new workflows and insight. GeoDesign is a tool to enable us to work at site scale and larger scale were site decisions are linked to planetary impact. The approach takes the quantitative look of science, with two ethical positions focusing on intentions and outcomes
Fisher discussed the ability of GeoDesign to change the way we reason — incorporating both induction and abduction — that helps us move both laterally as well as deep to tackle design challenges. At the University of Minnesota they are changing coursework so that students will major in a discipline and minor in a challenge. GeoDesign fits into this studio model of education where an immersive and conversation-based way of learning and teaching helps foster critical thinking as well as practical experience.
There was wide consensus among the participants that this event should be held again to further the work and to bring more participants together. It looks like the event will take place again in Redlands next year at roughly the same time period, with ongoing work needed to foster continued development and application of the concept to address compounding global challenges.
Related Blog Posts