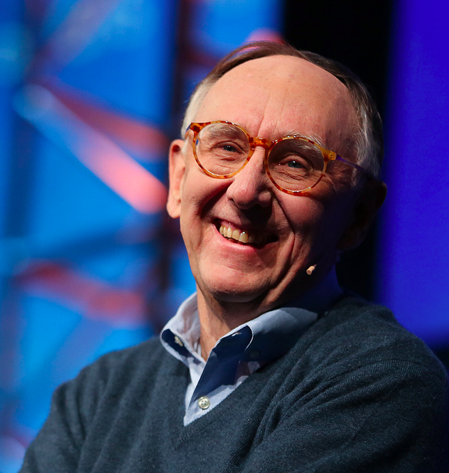 Esri has made significant inroads in terms of GIS functionality and the provisioning of their cloud-based GIS, ArcGIS Online, with significant data investments. With just a week to go before the Esri International User Conference in San Diego, Sensors & Systems (S&S) editor Matt Ball spoke to Jack Dangermond, president, founder and CEO of the company about the accelerated uptake of GIS thanks to the cloud, this investment in content, the uptake by software developers, several high-profile White House initiatives, and the formula for success.
S&S: The move to enhance your GIS software with cloud-based capacity has been rather swift, with strong customer validation. Just recently, there was the announcement of the U.S. Department of Agriculture having certified ArcGIS Online for use as enterprise software. That must have been a good vote of confidence for the cloud-based approach.
Dangermond: The federal government has a process known as FedRAMP (https://cloud.cio.gov/fedramp), with a certification known as FISMA (http://csrc.nist.gov/groups/SMA/fisma/).
ArcGIS Online has just been certified as FISMA compliant. This required a rather lengthy and detailed assessment by the federal government to assess and test the security characteristics of our technology.
This certification is a milestone for us and means that we're compliant with the security policies that are mandated by the federal government. Obtaining this certification means many of our users in federal agencies can go ahead and deploy their applications in our cloud.
S&S: Is this a nice validation for the cloud as a platform?
Dangermond: Yes, it certainly helps. While both Amazon and Microsoft, who are the infrastructure providers, have FISMA certification, ArcGIS Online had to undergo a separate evaluation. This certification relates to both the software as well as how we set up and manage security measures to ensure that people's data, applications, and identity are secure. The FISMA review involved examinations of how we manage all aspects of our platform.
In addition to FISMA, ArcGIS Online is already compliant with "Safe Harbor," another US Government and EU certification.
S&S: The ArcGIS Online tools allow for a great deal of customization, and I've noticed an increased appeal to the software developer community in your marketing and outreach efforts. What has the response been from developers, where I assume many have not worked before with GIS?
Dangermond: Fundamentally we have opened up the ArcGIS platform for developers and will make this a priority aspect of our platform on an ongoing basis.
We are supporting four types of developer communities. First are the tens of thousands of existing GIS users who do GIS application development in their organizations.
Second are our business partners who develop commercial solutions for our users. Both of these developer types see our efforts to open up our platform as very exciting and they are having quite a bit of success.
The third type is the bigger IT companies who embed our mapping and analytic tools inside their own platforms. This is resulting in the integration of simple mapping and location analytics for enterprise business solutions such as Microstrategies, SAP and others.
The fourth community is the community who use our platform for creating products. Among these are the startups who have been taking our platform into whole new marketplaces.
All four types of developers are very attracted to our APIs and SDKs as well as our Web Services for a several reasons. First, we have very high quality documentation for developers with lots of sample code to get them going. Second, the tools themselves are complete, tested and very good quality. Finally, they are attracted by our business proposition for how we're making this technology available.
ArcGIS provides developers with extensive content such as base maps and imagery as well as thousands of demographic and landscape data sets delivered as web maps and web services. It also provides online geoprocessing or analytic tools that include geocoding, routing, and dozens of spatial analysis functions that are published as cloud services. Included are things like contouring, point in polygon, geotriggers, geoenrichment, and other basic functions.
S&S: I know you've made large investments over multiple years in the content behind the functionality. Would you say that the investment in content has paid off?
Dangermond: We have always included lots of data with our software. It used to be on CDs and shipped with the software. Today, it's delivered as web services and includes a large collection of maps, landscape data, demographics and life style, and imagery.
The purpose of this investment is to support our users with ready to use content. We are collaborating with our user community to create community imagery and topographic base maps for the whole world. While our basemaps are similar to the consumer focused ones, our intent is different. We are focused on supporting GIS professionals, and as such rely upon authoritative source data that is open and available. We take the best available data we can get from our users and compliment it with both crowd sourced data and purchases from commercial data providers.
S&S: How does the user gain access to the content and the online platform?
Dangermond: Actually, ArcGIS Online is integrated into all our products. For example, when a desktop user buys the software, they also receive an online subscription as part of their software. This includes our content, cloud hosting resources and the ability to serve an unlimited number of maps to others in their organizations and the public.
S&S: What is your app strategy? How do your customers get them?
Dangermond: Actually, our apps are also included with our Desktop and Server products as well as Online subscriptions. All our users get access to a whole suite of web and device apps that can leverage their content on any device at anytime, anywhere. These apps run on iOS, Mac, Windows and Android platforms in both native and HTML5 modes. If users want to build their own app they can do so with the new Web App Builder that allows them to easily build their own apps using HTML5 and JavaScript. The applications that they build can run on anything and are "responsive" to the device they are deployed on.
S&S: How do the apps work with the Desktop?
Dangermond: A desktop user is no longer simply a desktop user. They have, as part of their license, cloud resources that let them easily send their maps to the cloud and share them as web maps for use with any of our apps.
S&S: The idea to invest in the platform and capacity, without a direct cost to users for this added functionality, seems to be part of Esri's DNA. It's also in line with your education outreach efforts and the recent ConnectEd announcement of giving away GIS to K-12 students across the United States, which has a value of $1 billion. Can you speak to that effort in terms of the long-term strategy, and how the software benefits students?
Dangermond: The ConnectEd initiative is an effort by the White House to involve private sector high tech companies to help improve education and schools across the US. The good work of Charlie Fitzpatrick and our K-12 team in creating a GIS curriculum for schools has already resulted in amazing results and done a lot of good in schools across the country. Based on this experience we felt we could scale up to reach GIS in schools and at some level help transform education.
When we met with the White House staff, there was a lot of interest and enthusiasm about how GIS could help with STEM education.
Our gift provides ArcGIS Online including cloud infrastructure to each school in the United States. ArcGIS Online is easy for teachers and kids to quickly learn and apply the platform to projects in their communities. Our vision is that GIS will support STEM learning as well as contribute to communities through the process of "project-based learning."
This is catching on already, but it depends upon a couple of things. One is getting teachers up to speed. We are hosting a Massive Open Online Course (MOOC) in September and just finished a large teacher workshop hosted at Esri. They go back and teach other teachers around them, and it becomes infectious.
The second thing is recruiting "GeoMentors" to help local teachers and schools. We have found that this kind of help is really important in the first year so I want to encourage your readers to get involved.
Your question was really what are we expecting out of this program. Our hope is that GIS will be integrated into basic education and make education better. If successful, this will create a whole new generation of more spatially literate citizens. The academic community has found that if kids learn GIS they tend to do better in all their classes, and that's pretty amazing. Another way to look at this is that we are trying to instill geospatial literacy into a whole new workforce that will be coming out of school in the future. This will have huge implications for how we manage our world in the future.
S&S: You've also been engaged with the White House with the Climate Data Initiative. How is that progressing?
Dangermond: The Climate Resilience App Challenge is in response to the president's interest in creating climate resiliency across government organizations across the country. The app Challenge has been going on for the last three months with dozens of participants that are building apps. We will be announcing the winners of that contest at the Esri User Conference with several people from the government participating.
These apps will benefit organizations in helping them respond to some of the issues and challenges that are happening in cities like coastal flooding, sea-level rise, heat island impacts, etc.
S&S: Some time ago you spoke to GIS as a nervous system for our planet, and I keep thinking of that as more satellite sensors, UAV sensors and ground sensors get deployed. Are we making progress on this vision?
Dangermond: Certainly we are moving toward a more digital and spatially referenced world where geographic information is measured and made increasingly available. As the various technologies continue to evolve I see the emergence of a global network (now becoming called the internet of things) that GIS will help organize and provide access to. The integration and application of these data in appropriate ways is what GIS professionals do every day.
S&S: This will be the first year that Roger Tomlinson, a mentor to you, and considered the founder of GIS, won't be joining the Esri User Conference. How will he be missed, and how will his spirit live on at the conference?
Dangermond: He will certainly be remembered and missed by all who knew him. I think his spirit is alive and well and being expressed in all the work of the participants at the conference. There will be a small event and space at the conference where attendees who knew him are meeting and will share their experiences and look at his photos and remember all he taught us. We're sharing a video that was made of him at Yosemite where he talks about his personal history and how he helped bring GIS into being.
S&S: Your organization has reached an incredible level in terms of global reach and software adoption. To what do you attribute that success? Is it a lot of hard work combined with a clear vision?
Dangermond: That's a hard question to answer simply. Our success has been slow and steady. We definitely listen to what users asked us to do and work hard to do it. We also have a very strong engineering culture that has evolved our GIS technology across many technical thresholds. Finally we have a supportive organization that genuinely likes to help our users.
At a personal level, a lot of it is hard work and also surrounding myself with really special people who also work hard and get things done. There are very good people at Esri that are tops of their field, and they like working here and doing what we do.