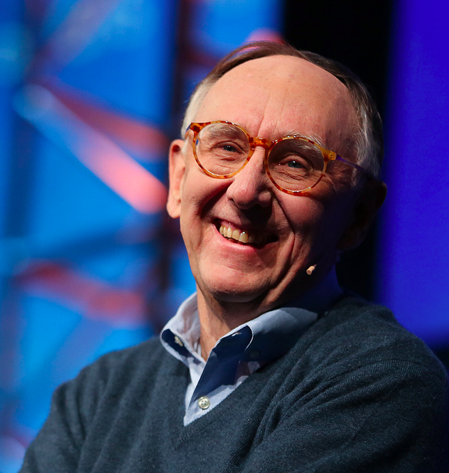 Esri has continued to expand their mapping and geospatial offerings, staying in tune with broader technology trends. Their latest extension of Web-based GIS functionality adds a great deal of data, and the ability to do many traditional geospatial analysis functions online without opening desktop software. Sensors & Systems (S&S) editor Matt Ball spoke recently with Jack Dangermond, president of Esri, about the company's Web GIS direction, and the ongoing provisioning of ArcGIS Online.
S&S: I understand that you've recently completed a global landscape initiative for the U.S. government. What did that entail?
Dangermond: There are many elements of the landscape initiative. We took 500 landscape variables for the United States and put those online, including soil, geology, vegetation, and all the attribute characteristics about these. We took the data, which the government science organizations have been building for 100 years, and we organized it with their classification systems, and then integrated it both in vector and raster formats.
Any user on a desktop or browser can now access that rich content as services. They can stream in services to their desktop or use an API or applications that live inside ArcGIS Online to use that information as a base map. Suddenly, it's not just a base map visualization, it's GIS base information.
At the same time, we added 7,000 variables for demographics. That is principally in North America and Western Europe now, but soon we are releasing dozens more countries. In the U.S. and Europe it goes down to detailed geographies.
This is a content initiative. It's not a new thing for Esri, we used to put CDs and DVDs with maps and data in the box twenty years ago. Now it's all online as raster and vector data that is available as services that you can stream into ArcGIS Online.
S&S: What are some of the things that you'll be able to do with all of the data provisioned on ArcGIS Online?
Dangermond: We've added new spatial analysis tools within ArcGIS Online so that you can build models and do weighted overlays with the landscape information or demographic data. Doing suitability analysis is suddenly something that you can do for the whole country of the United States, because you don't have to get the data any more, and the models as apps are right there. People can begin to do sophisticated analytical things without any software.
We now have more than a half a million users on ArcGIS Online that are making billions of maps every month. They have shared more than a million items, maps and datasets, and it's only been a year since we made this available. This has all hockey-sticked up systematically. Now, with spatial analysis online, there are going to be more users.
S&S: I recall the use of the term Cloud GIS from last year, and now Web GIS is the term. Is there a significant difference in the terms?
Dangermond: We've been releasing this capability in bits and pieces for several years, and this is the year that it all comes together. Web GIS has matured, where it's implementable on premises but also available as SaaS services on the cloud.
Web GIS is a new pattern, it's not desktop GIS, or server GIS, or client/server patterns, or services with thin-client access. It's the next big jump, which is any client and any server can be organized and orchestrated through this content management system. This has been a missing link as it pulls it all together for an organization.
There are mapping apps, field editing, field collection, dashboards, and support for Microsoft Office so that Excel spreadsheet users can map-enable their spreadsheets without knowing anything about GIS.
At the conference, the feedback is that people have embraced the Web GIS pattern. There are probably more than 200 organizations that have deployed it, and it's still early. A year from now, I think we'll see most organizations grow into Web GIS in one form or another, it will become the new normal.
S&S: What are the implications for spreading GIS functionality to more users throughout an organization?
Dangermond: The big announcement that we made this year that a lot of users got excited about is that everything inside of ArcGIS Online can now be deployed on premise as Portal for ArcGIS. This comes with new web applications, where an enterprise can manage their own maps, apps and workflows, and share them and do collaboration with social groups.
The implication of all of these apps is that everybody across the organization can access the Web GIS services that are now managed in the content management system, and organized and set up by the GIS professional. That means that the role of the GIS professional and the role of GIS itself goes from being a specialized technology and specialized workflow to geospatially enabling everybody in the organization.
I'm a big believer in geodesign, as you know. One of our apps can do simple sketching and analysis to understand the consequences of planning decisions. We'll be coming out with another app later this year with the full workflow of geodesign. You'll have all the content, you'll have a simple to use applications, and you'll be able to do geodesign as a service. Those apps are part of the platform that subscribers to ArcGIS Online can use.
It also includes plugins into all of the business intelligence applications like IBM Cognos, MicroStrategy, SAP, Salesforce, and Microsoft Dynamics. With Web GIS, GIS becomes an enterprise platform, and that platform works with other enterprise platforms. It becomes technology that geospatially enables the enterprise with mapping and spatial analytics.
S&S: Does the average user have access to all the cloud services?
Dangermond: Cloud services are part of the user experience that just comes with the desktop system without the need to buy anything extra. Desktop users now have access to the cloud, extending the desktop tools to use cloud computing, cloud services, spatial analytics, and data sets from the cloud. This opens up the opportunity for users that make cool maps to share them with others on the cloud.
Another capability is to extend the reach of the map to see it on any device, and take that into the field. This is where it's going, where people have their own personal devices, and several different computers that they carry around with them. The role of the GIS professional suddenly became amplified, because they extend their maps through this cloud capability to see their work on any device at any time. It's just like e-mail, where maps have become always available and usable on any device. That's a big change in our field.
S&S: The security issue, and the question of online stability, still comes up repeatedly when discussing the cloud. Have you overcome that kind of objection?
Dangermond: Users are confronted with agencies and organizations, both public and private, being fearful of the cloud, and they should be in certain circumstances. The cloud should be used to store data that is public already, because the cloud as we're experiencing it is very cheap to serve maps. By extending desktops to this cloud environment, we're able to make very cheap use of cloud resources for publishing maps.
A lot of users didn't want to use ArcGIS Online. They had issues with their data or security concerns where they don't want to do cloud computing. So, what we did is made the Portal for ArcGIS available for them to deploy on-premise. We packaged it with the ArcGIS Server so that all of the 100,000 users that have those servers running in-house are able to apply that technology to make Web GIS available to their users. That includes the content management system of ArcGIS Online and the web applications.
We're advising people to spend a couple of days with our technical people to implement the technology of Portal for ArcGIS, but that will get easier and easier. One of the reasons that it's a little difficult is that the user can optionally integrate it with their on-premise enterprise security system, and that takes a bit of configuration and technical know-how.
For data that's really secure, there are a couple of choices. They can serve it from their own server on premises, with access on the cloud. For more conservative organizations, they may want to serve it on their local server, but also enrich their local server with the portal ArcGIS Online on Premise with high-quality data and security. This is what military and intelligence organizations really need. Local government services, such as police and fire really need these secure environments as well.
S&S: I understand that you've done a lot of work with the U.S. Department of Interior (DOI) to increase the use of GIS throughout the organization, and to create dashboards for easier access.
Dangermond: We won a contract with the DOI, and the vision was to simplify access to geospatial maps and data for executives, including the Secretary of the Interior, and also to turn the data into maps that were relevant for policy making.
There's a dashboard where the decision maker can ask geospatial professionals to prepare additional maps to support policy, such as response to drought, wildfire, biodiversity and lands that are being leased for mineral and energy rights. This was a concept that was very popular with the previous secretary, and the new secretary has embraced it. This is interesting, because these maps and dashboards reach right into the White House for policy decisions.
Congress, both the House and Senate, is beginning to show a lot of interest in GIS-based mapping. Most of Congress is familiar with consumer mapping, but they're interested in agencies serving their information via maps for policy issues to see what is going on. In turn, that means that GIS users have to spend more time thinking about what executives want to see on a map to make policy decisions.