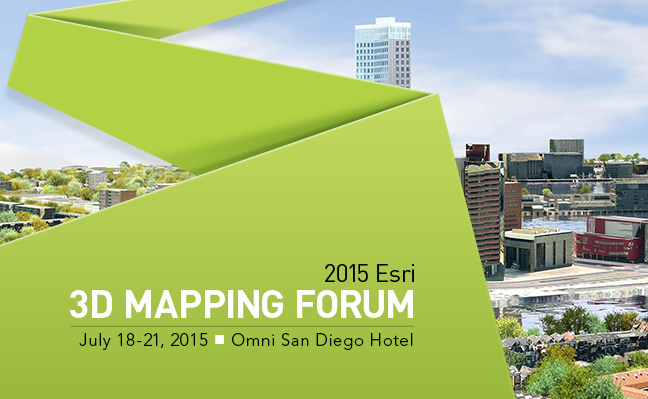 The fourth 3D Mapping Forum took place today in San Diego, as a precursor to the Esri International User Conference. The event is meant to build a community and to tackle the explosion of 3D modeling technology and data inputs (drones, smallsats, etc). The focus of the event is to focus on the future, with thoughts and ideas on the 3D Web, augmented reality, and more.
Lawrie Jordan, Esri Director of Imagery, kicked off the event with a keynote address on 3D mapping. He spoke of GIS as providing both the content and the context, both things that are more important than ever. 3D is transforming Esri with a new focus — all about integrating information, breaking down barriers and connecting people with shared and understandable information.
GIS has solidified as a platform that leverages the cloud, the Web, and ubiquitous devices to make sense of Big Data with faster computing and better measurement and monitoring. It integrates imagery, LiDAR, GPS, services, sensors and 3D. It is improving through applications, online content, data science, analytics, collaboration, open access and ease of use.
Chris Andrews, Esri's product manager for 3D and ArcGIS Earth, spoke to the explosion of 3D in the world around us. The typical GIS user visualizes things that don't yet exist and to design in context with the need to communicate with audiences. 3D has an intrinsically different value and communication capability than 2D.
Esri users are creating and visualizing with 3D in ArcGIS Online, creating story maps that are more visual and interactive. The effort now is to extend that throughout the Esri platform, and the focus is on making 3D easy for storytelling, communicating analytics, visualization, distribution and inspection and exploration. In addition to making it easier for users, there are a number of deep APIs and SDKs that allow partners to leverage capabilities and to integrate their workflows.
Johannes Riegl Jr., chief marketing office at RIEGL spoke about how LiDAR is supporting the evolution of maps. LiDAR provides the ability to quickly and accurately acquire 3D data quickly and accurately, with time stamps for future change detection. LiDAR performance has increased in accuracy with increased pulse rates and ranges.
The ability of LiDAR to capture the forest and the trees, and the ground below, makes it a unique sensing capability. It's a good tool for feature-rich data collection in urban areas. It has proven a game-changing technology to collect and analyze snowpack for accurate understanding of water supply. The coastal zone is another area where the technology shines for improved understanding with topo bathymetric LiDAR providing above-water and below-water details.
LiDAR has had a great deal of impact on understanding and responding to natural disasters. Having pre-event and post-event data allows for a difference model to improve decision making on where to apply. RIEGL has developed a UAV platform called the RiCOPTER for quick capture for rapid response.
Kurt Schwoppe, imagery sales manager at Esri, spoke to imagery management and brought up the old raster vs. vector dialogue. Today, our GIS incorporates both environments. The integration allows for better visualizations and even faster context. Incorporating drone data capture, and automated processing, is an area that will greatly expand our insight.
Esri is focused on the expansion of imagery exploitation to see the Earth, find the patterns and share the insight. Making 3D models from oblique images, exploring change through time, and processing and displaying quickly are all recent accomplishments. Seamlessly mosoaicing very large imagery datasets is now possible, just processing what you see.
Many new feature extraction processes have been introduced, and LiDAR processing continues to expand. The new Web App Builder allows you to build an app with the content and analysis that you provide, getting imagery off your desktop and out to your users. Imagery management is important
Frank Giuffrida, Eagleview Pictometry executive vice president Engineering, spoke to the imagery and data revolution. We all interact with much more data. Aerial oblique imagery provides a wealth of information, and that data stream is only going to increase with the use and flexibility of unmanned aircraft systems. With our smartphones, we're also all able to be photogrammetrists enabling a whole new scale of data collection.Interior data collection is also expanding, thanks to ease and affordability.
From satellites down to cellphones, we need to understand the purpose and application. The coverage and resolution is dependent on how you capture, and the overlap of imagery adds greater context. It is becoming possible to do daily capture now with UAS and cellphone data capture, which would be cost prohibitive with prior platforms. The key to any data collection scenario is extracting actionable information.
Eagleview have developed a technology to accurately and automatically generate 3D roof models from raster data. Leveraging data from multiple sources for higher fidelity 3D data will be focused on categorizing information and providing insight.
Stewart Walker, director of Geospatial eXploitation Products at BAE Systems and immediate past president of the American Society of Photogrammetry and Remote Sensing (ASPRS) spoke to the objectives of the society. The society reaches academic, practitioners and vendors and is aimed at expanding the use and maintaining standards and guidelines and growing the user base.
Publications are increasing with a constantly updated Manual of Remote Sensing planned, along the lines of Wikipedia. the Photogrammetric Engineering and Remote Sensing (PE&RS) journal. Certifications are also growing with certification for LiDAR and photogrammetry.
The growing range of UAS for metric capabilities, will require an adherence to standards and methodologies, and the organization maintains those standards. Another area of recent activity is the drafting of the ASPRS Guidelines for Procurement of Geospatial Mapping Products and Services. They have also developed positional accuracy standards for digital geospatial data. The society helps to vet data quality, backing up data accuracy based on specifications and standards — quantifying quality for collectors.