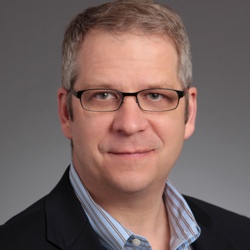 Pictometry successfully commercialized the collection and display of oblique aerial photography, finding a nice home in county governments where both emergency responders and tax assessors (among others) find great utility in the imagery. Pictometry recently merged with EagleView Technologies, a company focused on automated measurement, with products that are used widely in the roofing and insurance industries. Sensors & Systems (S&S) editor Matt Ball recently spoke with Chris Barrow, CEO of EagleView Technologies about the impetus to bring the companies together, the drive to provide solutions, and the goal of improved efficiency and increased profits.
S&S: The merger is fairly recent, and I understand that you're working to get the word out about the new organization. What is the ongoing brand going to be, and why did bringing these two companies together make sense right now?
Barrow: We thought of the merger very much along the lines of a vertical integration. EagleView is a company that has been producing incredible products for its customers, and a key ingredient we needed to take our customers to the next step was access to the imagery and some of the very detailed geospatial information that we just didn't have with our previous vendors. On the flip side, Pictometry has been very strong in the image acquisition and GIS space and they were also looking to expand their offerings into the end-user solution space. Bringing these two companies together made a lot of sense for both companies, and for our shareholders.
We went through a branding exercise after the merger, and the corporate name is EagleView Technologies and Pictometry is a name that we'll use as an ingredient brand. If you think about Dupont/Teflon, you could think of EagleView as the Dupont and the key ingredient is Pictometry or Teflon.
S&S: What was the nature of the existing relationship with Pictometry?
Barrow: The relationship between the two companies was a vendor/supplier relationship, going back five years. On the EagleView side, we were acquiring imagery from Pictometry and other vendors and then using that imagery to produce a finished product for our customers in the insurance and construction markets.
S&S: I've been following Pictometry for some years, and have known that it has had strengths in the emergency management market, with counties and cities buying imagery to get first responders to the right door. Is that a growing market where you have products that you might add to the mix?
Barrow: Absolutely. Bringing these companies together, with their combined resources, will allow us to expand our product offerings in specific vertical marketplaces. Public safety is a critical market for us, and we see pretty aggressive expansion of service offerings and products to help in that space. We're putting effort as a company behind that.
S&S: I was impressed with the EagleView reports that measure roof surfaces remotely, taking out the safety hazard and also speeding the process. Is that type of product approach, where remote sensing imagery feeds an automated report, part of the ongoing business model?
Barrow: Yes. One way to think about it is that we're taking this incredible nationwide image library that has been in place for more than ten years with hundreds of millions of images, along with all the imagery that we're constantly acquiring, and we're creating end-user products or solutions that are as close to the user as possible. We constantly ask ourselves and our customers what they are looking for, and how do we answer their questions best.
One of our customers had an interesting analogy. They love the data that we give them, but the problem they always have had was that when we delivered this very large data to them, it was as if we dumped it all upon their doorstep at one time. He said that after delivery, it takes months if not years for them to sort through this to help answer the questions that they really need.
A key direction for our company is to get closer to providing the answers to customers' questions. They aren't looking for mountains of data, they want answers to specific questions. We've been successful in extracting incredible insight from imagery through automated processes and workflows.
S&S: Is the cloud an enabler for that kind of a service, versus the data approach?
Barrow: Being able to deploy our systems as cloud-based solutions, and then being able to continually extract nuggets of information out of that data, and have that be reflected real-time in data sets for customers to extract is key. We couldn't do this without cloud-based delivery.
While some customers still demand a physical data delivery, we have transitioned to SAAS delivery methods whenever possible. There was a time when at the end of a project we would put hard drives full of data in the mail to customers. We've seen the shift with our business and with our customers, to more cloud-based solutions.
S&S: Is there an application mindset going forward, where your customers will increasingly access this information on smartphones and tablets?
Barrow: Definitely. Our goal is to provide our customers with the answers to the questions that they need, and do it in a way that is convenient and usable. We recently announced the acquisition of a mobile application development company called Mobise. They develop a mobile solution for county assessors, and we felt it was a best-in-class product for that market, and more importantly the infrastructure and product features are something that will become a base for the launch of additional products for different customer segments, including public safety, insurance, construction and infrastructure.
There was an assessors' conference recently where a large number of the county assessors gather as an industry. The timing worked out where we were able to complete that transaction and announce the purchase at that show.
S&S: There are never deep pockets in local government. Are your tools focused on return on investment, as well as new revenue sources, to help improve their bottom line?
Barrow: Yes. Being able to deliver solutions into the hands of assessors to understand in very accurate ways what is going on in their counties is a key part of our market. Having better and more accurate detail helps assessors to produce fair and equitable assessments of properties in their county, but perhaps more importantly, it improves the accuracy of the county records.
This information also lends itself to public safety, where emergency managers have the most up-to-date and accurate information about properties in the counties. That saves lives, and is a rewarding aspect of what we do.
S&S: Are you working to go inside of buildings as well, where you mesh floor plans with buildings to provide more details?
Barrow: Absolutely, and we do that today. We have a product called Critical 360 that we provide to emergency response communities, whether that is ambulance, fire or police. We provide a data set that includes the exterior of the buildings, property and neighborhood, with detailed information of building interiors. We include building schematics and 360-degree photographs of every room, hallway or stairwell in the building. If there ever is an issue that requires an emergency response, the folks responding on scene have access to the most accurate, complete and current information about what they are walking into.
Schools are the target right now, and that's been the focus of the product. There is a lot of traction within schools, but there's also increasing interest from enterprise customers that are interested in similar solutions.
S&S: You have a business model that includes a mix of selling products and services as well as providing a cloud platform, and soon mobile applications. Do all of those offerings mesh neatly?
Barrow: We certainly think of ourselves first and foremost as a technology company, and as a software and hardware company that offers great technology. What we've recognized is that the products that we deliver must answer the questions that our customers have. What we've realized is that GIS is not the final answer, it's an ingredient in the ultimate solution.
The answer to the question is not GIS alone, but GIS is an ingredient that you couldn't make the recipe without. We are focused on answering our customers' questions, and if that's delivered through a services route or a technology route, then we will do that.
Many times products that we first offer as a service end up being a technology offering, because we apply smart engineering to the problem and in turn, automate many of the key components, which allows it to be delivered as software. Often times it starts as a combination of software and services.
S&S: With Pictometry, you're capturing whole cities and even whole counties. When you're delivering a solution to a specific department, is it an easy up-sell to the county where you add more solutions to different departments?
Barrow: More often, we see customers wanting the additional services as a bundled part of what they're doing. Trying to achieve just one solution often covers the cost of collecting imagery for the whole county.
When we capture imagery it's in our best interest and the county's interest to try to provide that imagery as broadly as possible. We work with the assessors, the GIS department, and emergency responders and public safety, with all the schools captured inside and out, and the list goes on and on. For instance, with repeat areas captured we go back to the county to offer solutions that reveal changes over time. We do strive hard to get every county that is using us to maximize their usage of our entire product offering.
S&S: Your oblique imagery lends itself to 3D city modeling. Is there a growing trend where cities want to create 3D models?
Barrow: That's an interesting topic, and I was just discussing that with someone this morning. There's no question that 3D has a lot of appeal right now. The 3D models that we can generate is very cool, but I think that the market is still struggling with the ultimate use case.
We do a lot of this for customers, but the use-case for 3D models and buildings hasn't yet crystalized for many our customers yet. Many of our customers view it right now as something that is nice to have, but as the technology matures, I think the use case will develop more clearly.
S&S: We're putting together details on disruptive technologies right now, because there are so many technologies that are changing business models, such as UAVs, the cloud, and mobile versus desktop software. Are there any new technologies that really excites you or that scares you?
Barrow: We're looking at all these new technologies. Internally as a research team in the lab, I'd say that we're on the front edge of many new technologies. We're at the point now of driving the end user case for each new technology.
There's no question that as a whole this industry and marketplace is very, very exciting. I think this concept of location- or property-centric data is very important to provide true insight to any location in the world with a lot of detail. This comes with the ability to quickly deliver that information into a cloud-based solution that any user can access on any device. All these new technologies are creating an incredible momentum and a very dynamic marketplace, and we think that we're well positioned to continue to lead.