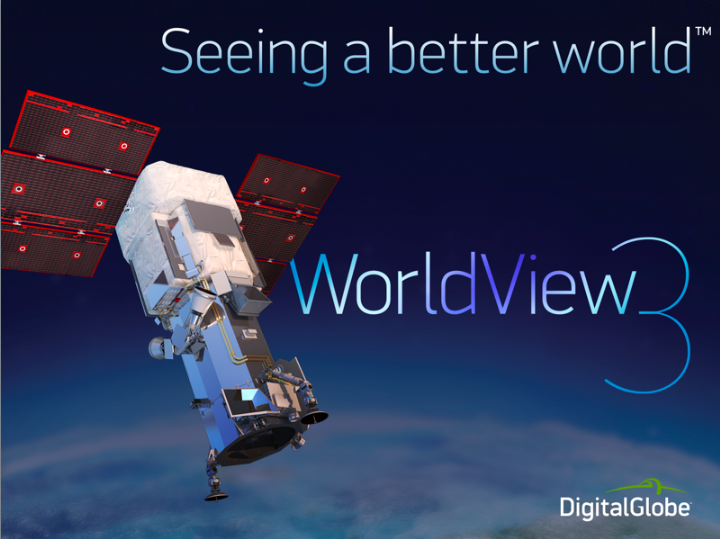 With the WorldView-3 satellite launch today, it joins the extensive and capable set of DigitalGlobe satellites, greatly expanding commercial satellite imaging capacity as well as the domains where this imagery can be applied. In so many ways, this satellite is a pioneering effort that is highly calibrated and tuned to deliver unprecedented resolution, sensing capabilities, global coverage, and flexibility of imagery collection for government and commercial customers.
The effort on WorldView-3 is a collaborative one among world-leading aerospace companies. The DigitalGlobe team consists of Ball Aerospace, the maker of the satellite and integrator of components; Exelis, the maker of the high-resolution superspectral sensors; Lockheed Martin, the coordinators of the launch; and United Launch Alliance, the makers of the Atlas V 401 rocket. This long-standing team held a press conference yesterday to discuss the satellite's capabilities.
The WorldView-3 satellite is a huge undertaking for a huge satellite — the satellite is larger than an SUV and has a weight of roughly three tons. The complexity of integrated sensors and on-board systems doesn't come cheap at a $650 million cost, but there is true innovation onboard with multiple sensor payloads, unprecedented clarity, and imaging capacity. The launch is set for this morning at 11:30 a.m. PDT from Vandenberg Air Force Base, but if weather or other factors cause delay, the same launch window has been reserved for the next several days.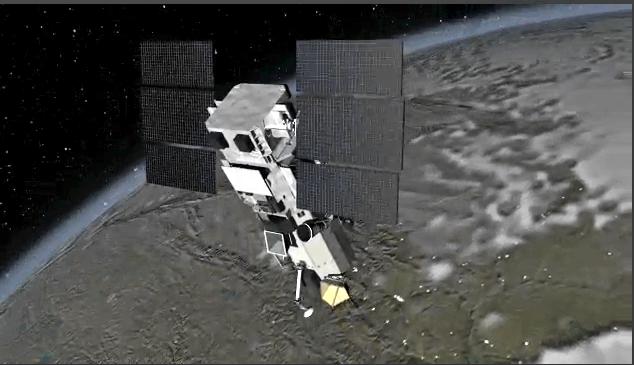 Super Sensing
With every leap forward with earth observation technology, there is an inevitable note of alarm and confusion by the general public that the satellite will see us when we step into the back yard and/or that our faces will be recognizable from space. Those in the geospatial community know that there is no commercial satellite capable of such resolution or constant surveillance, or a commercial use case where this capability might be of interest. So, to downplay this typical response to new and awesome space-based capacity, it's necessary to combat fears with facts.
The orbit of WorldView-3 is 617 km above the Earth's surface — roughly the distance between San Francisco and Los Angeles. The high orbit means that the satellite can collect a wide swath at a single pass, an example was provided that an image spanning from New York City to Washington, D.C. could be captured in just 45 seconds. The daily collection rate of 1,200,000 km2 per day, would cover half of the contiguous United States in area, and the satellite has the capacity for daily revisits for anywhere on Earth.
The Exelis-built imaging sensor is built to such exacting specifications that if the primary mirror were to deviate by the width of a human hair, the image would be blurry. This exceptional manufacturing acumen has resulted in the unprecedented 31 cm panchromatic resolution. Additional sensors deliver 1.24 m multispectral imagery and 3.7 m short-wave infrared imagery.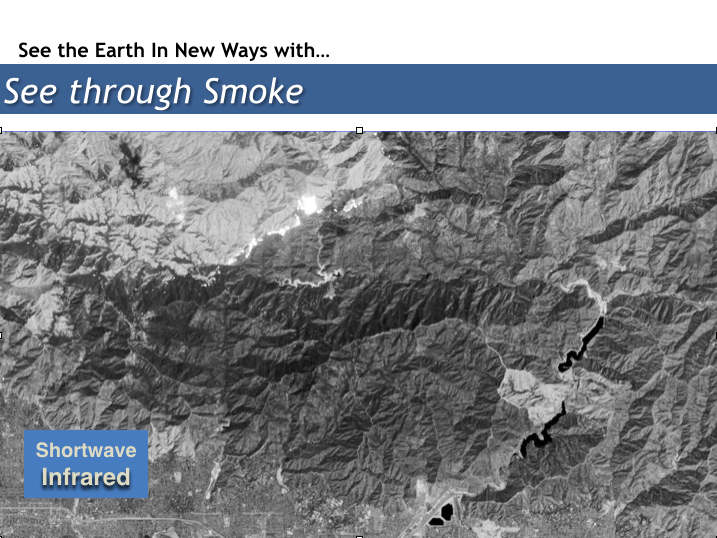 "You can actually see with more clarity, for me the contrast is comparable between high-definition TV and regular TV," said Kumar Navulur, director of next generation products at DigitalGlobe. "If you go from 60 cm to 30 cm, the image quality is two times better, because we're capturing in both the x and y dimensions. So, if you took an image of 90 cm, our imagery would be nine times better with what you see at 30 cm."
Beyond the high resolution, there are also multiple bands of collected wavelength with eight multispectral bands and eight short-wave infrared bands. The infrared bands allow for the the collected imagery to cut through smoke and fire. The multiple bands can be tuned for specific signatures, allowing users to see specific materials on the ground, including minerals or even distinguishing building materials. The near infrared and other sensor bands also help farmers and researchers understand the moisture content of the Earth and vegetation health.
Calibration and Connection
The 30 m CAVIS instrumentwhich stands for Clouds, Aerosols, Water Vapor, Ice and Snow, helps to correct for inconsistencies that are caused by certain atmospheric conditions. CAVIS is built by Ball Aerospace and it has 12 bands that measure ground reflectance. With the fine tuning of imagery post-processing, it allows for a standardized and automated consistent image. This consistency will greatly aid information extraction and allow for unprecedented change detection.
"It's all about automated information extraction about the changing planet," said Navulur.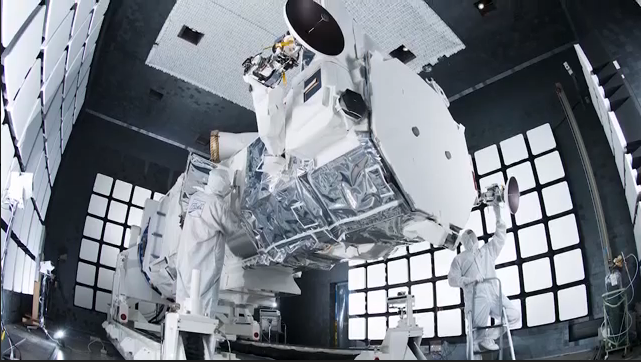 The accuracy of positioning of the sensor, controlled precisely with control moment gyros, maintains accuracy in relationship to the ground. The precision returns imagery that is accurate to real-world coordinates within less than 3.5 meters before ground control. This means that the accuracy of the elements captured on the ground can be pinpointed, and improved once ground control is applied, with greater confidence and speed.
With such a massive daily data collection rate, innovations were needed to be able to download that data daily. The downlink rate is 1200 mb/second, as much as 100 times faster than most WiFi signals here on Earth. This rapid download rate means that the imagery will get into the hands of users much more quickly.
WorldView-3 also has a direct tasking capability that allows select DigitalGlobe customers to load imaging profiles directly up to the spacecraft and execute delivery of the data directly down to their own ground stations.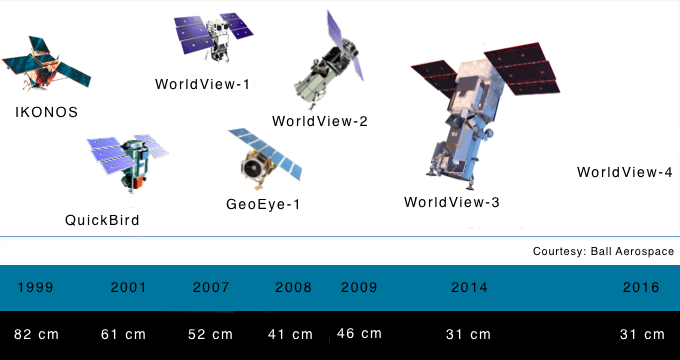 To See Better
Fulfilling the company's mission, "To See a Better World." The company goal is to help customers to see the Earth clearly, and see imagery about the changing planet. They also stated a sustainability goal to make the world a better place with lifesaving capability, saving resources and saving time.
The goal to aid efficiency isn't necessarily a new one for remote sensing companies, but it is certainly a shift from the specifications-oriented pitches of the past, where the comparison of sensor resolution and capacity were among the answers offered to the first questions asked. Now, with greater connections to the infinite computing provided by the cloud, it's a much more information and data-centric sales game. It's now about what questions can be answered and how quickly.
Geospatial is big data, and it doesn't get much bigger than this new capacity of WorldView-3 and its daily bulk of high-resolution data. The move is on for more calibrated and instant imagery for use by information professionals across a multitude of domains. The democratization of satellite imagery delivery is well underway, and this new satellite will provide a big boost toward greater insight and automation through its pioneering efforts.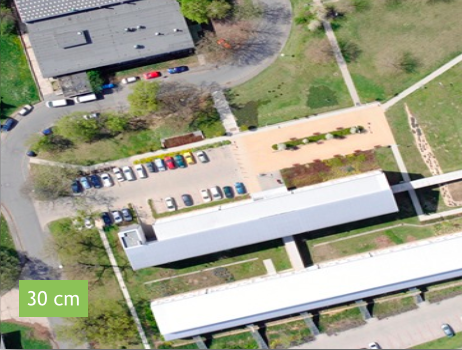 Check out the WorldView-3 microsite for more details on the satellite's capabilities [http://worldview3.digitalglobe.com/]