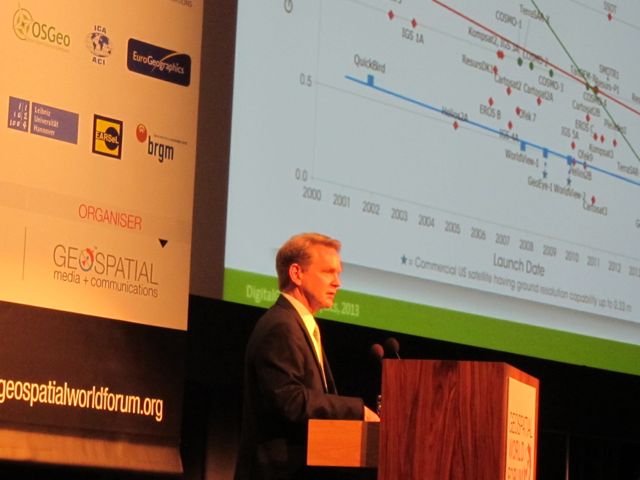 Stephen Wood, vice president, DigitalGlobe spoke this morning at the Geospatial World Forum in Rotterdam about earth imagery being all about change, and the role of imagery to provide a time machine for the world. The daily change in activity is being monitored by DigitalGlobe, using tradecraft and people across the world.
DigitalGlobe is changing quickly, particularly now with the merger with GeoEye, and the combination into one company. There are now 1,000 people employed at the company. Worldview-3 is in mid-stage of satellite construction, to go up on an Atlas-5 rocket mid-2014. With this new satellite the company goes further and deeper in spectral information.
It's becoming a global commercial satellite industry, and watching what's happening around the world is now possible. Sub-meter satellites, with five satellites operating they now have four billion square kilometers of imagery collected and archived. The globe is well covered with imagery collection, with al satellites together, the data collected comes to 26x the land mass of the world and 50 petabytes of data in storage, making DigitalGlobe the epitomy of big data.
Monetizing this incredible technology revolves around making this technology simpler. Taking the fruits of our labor, and making it easy to understand for others around the world. Getting information on an iPad and mobile devices needs to happen with remote sensing to make it easily accessible. DigitalGlobe's FirstLook data products are offered on multiple platforms in this way to make imagery analysis more accessible.
An illustration of tracking change is the Satellite Sentinel project, the brainchild of George Clooney, to track those doing harm to each other, telling the story of what's happening in the world, to help prevent another Darfur from happening. There's also ongoing monitoring in places like Syria, showing large-scale destruction of neighborhoods being destroyed.
Mining big data does not just require satellite imagery experts any more. With DigitalGlobes acquisition of Tomnod, they have an innovator that is using crowdsourcing to get information out. Giving a crowd an image of a crisis and tagging military machinery, damage, and getting that information out through social media provides a means to get the big data shared around the world.
Mining the data is one of the biggest challenges to the creation of a time machine, and making this information more accessible to those that aren't using it, but would like to.