PR – Aerial survey specialist Bluesky has created a giant photographic print to help people understand the main issues facing the future of the South Oxfordshire landscape. This is part of the Northmoor Trust's new Project Timescape education and visitor centre, based near Oxford. Showing 126 sq km of South Oxfordshire from the air, the photomap was commissioned by the Northmoor Trust to support their educational programme and community outreach activities. This new tool is helping visitors to visualise the impact of development projects on the environment.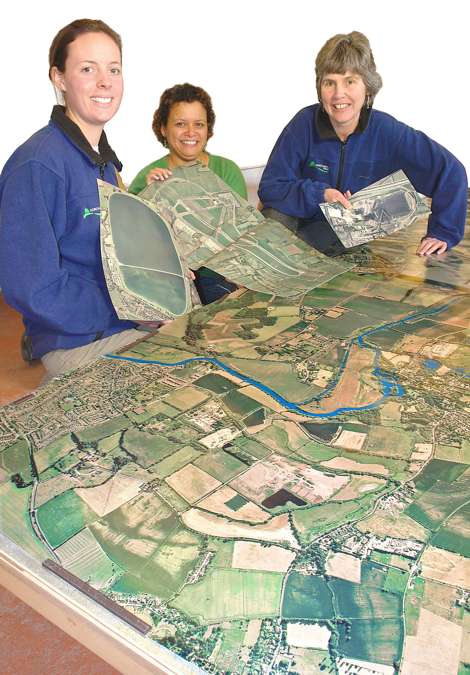 The Bluesky photographic print measures 3½ metres by 2½ metres and is mounted on a free standing platform, enabling groups of school children, volunteers, members of the public and even policy makers easy access to all areas. Magnetic overlays, based on the original landscape but depicting different scenarios such as a new airport, power station or housing project, can be attached to the photomap in order to visualise and understand their impact on the environment.
"Making a difference for the future is all about changing attitudes," said Claire Poulton, Director of Education and Training at The Northmoor Trust. "Using the Bluesky photomap groups are encouraged to understand the landscape as it is and consider the impact a range of scenarios may have on the landscape of the future.
The imagery has a real 'wow' factor; it is easy to use and draws people in and therefore encourages participation in the activities." Claire added, "Using the overlays the model can be changed to create the landscape of the future. A member of our education team introduces a specific scenario allowing the group to develop the initial idea and consider all possible developments. For example government targets require nearly 11,000 new homes in South Oxfordshire by 2026. Using the photomap, groups are encouraged to consider where these new homes could be located and what infrastructure, such as power, transport and leisure facilities, need to be put in place to support them."
The Northmoor Trust is a charity that promotes conservation through exemplary land management, education and land science. Based in South Oxfordshire The Trust manages an estate of 300 hectares, including Little Wittenham Nature Reserve, a conservation grade farm and new woodland dedicated to forestry research – all of which are clearly featured on the Bluesky photomap.