Autodesk University 2011 took place in Las Vegas, Nevada from Nov. 29 through Dec. 1. This year's event attracted 8,000 people from 80 countries to the live event, and 30,000 virtual attendees via the live Internet broadcasts of the content. The event theme, "The Power of the Possible," placed an emphasis on creativity and the ability for users to realize anything that they dream up thanks to revolutions in digital fabrication.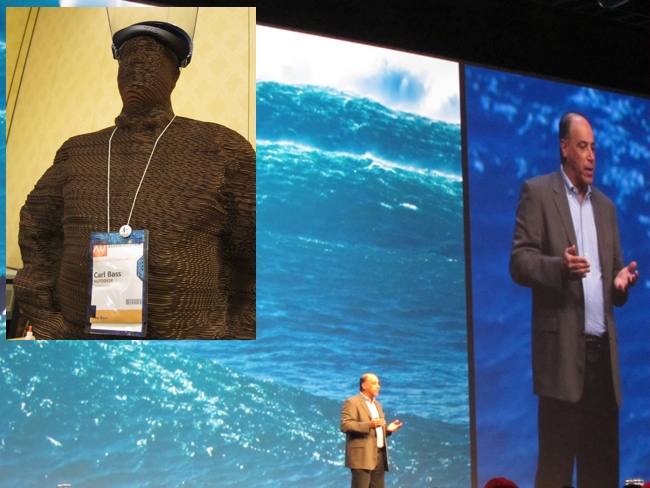 Autodesk's CEO Carl Bass addressed the crowd at Autodesk University regarding waves of disruption. The inset of the 3D carboard model of Bass was one of the displays in the Creativity Lab at the event, which addressed the digital fabrication disruption.

Autodesk University kicked off with a media day briefing that spoke frankly about technology disruptions and the challenges of their customers. Our world is full of extreme complexity now, and we're not going back. Complexity theorists talk about this as, VUCA (volatility, uncertainty, complexity and ambiguity). With this increased complexity we're experiencing disruption, changing our jobs, our businesses, and our lives.
Autodesk, as a global company, are at play across many disciplines and are increasingly making their products more accessible to more users. Amar Hanspal, senior vice president, Platform Solutions and Emerging Business, spoke to helping get design technology in the hands of everyone to imagine, design and create a better world. With their applications for the iPad, and with their 123D tools aligned to makers, Autodesk is helping to spread these tools more broadly. What started as computer aided drafting, morphed to computer-aided design, is moving to cloud-aided design.
Cloud Computing

The cloud is a disruptive change, where we can do new things, and where we have an infinite resource to draw upon. The aim at Autodesk is to leverage cloud computing to open up new capabilities for their users. The computer can be brought into process and design work, where you can run evolutionary product simulations as in evolution. With cloud computing, and with Autodesk's move to harness this power, customers can conduct what-if designs, changing how we approach manufacturing and construction.
Today, we're being forced to look at how we conduct our workflows with everyone connected at every time. We can now easily move with our data, models and revisions following from our desktop to mobile at the job site, and there's also the added benefit of collaboration across disciplines. The cloud aids this connectivity, with portable content, connection to infinite computing to improve performance of compute-intensive analysis, and with seamless tracking of revisions on multiple devices. The cloud also brings information, with connectivity to product catalogs that lets users search against available components, bringing back the idea of a data center with centralized resources.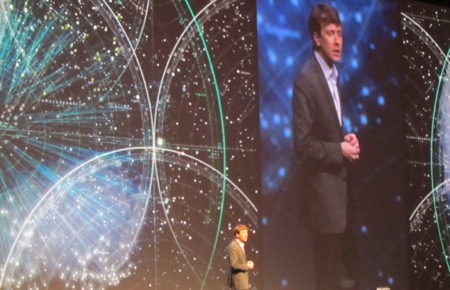 Jeff Kowalski, CTO of Autodesk, outlined five waves of technology disruption.

Infrastructure Modeler in Action

Mark Kauffman, technical lead of project visualization at Parsons Brinckerhoff (PB), demonstrated the use of Infrastructure Modele. With their large-scale infrastructure projects, PB has been dealing with geospatial data and the need to visualize their designs in context for a long time, and this new tool fit a growing need for them. Judging from the audience size, others are faced with similar problems to integrate CAD, GIS and BIM files in a visualization environment to provide context for both internal teams, customers and the public.
The demo went through the process of gathering data to begin a project, with the use of free data from the National Map Seamless Server and Open Street Map, and aggregating the information in a non-Autodesk product called Global Mapper. With Infrastructure Modeler as a SQLite file format, it provides a great deal of query capability and parameter flexibility. As you import data you can set up details and styles.
The ease of use with Infrastructure Modeler has been touted as the conceptual modeling tool within the Autodesk infrastructure design product suite. Anyone familiar with Autodesk products can pick it up and gain a working understanding within 30 minutes or so, and can then begin to sketch and model sites and cities within real-world context. Infrastructure Modeler has just been extended with a beta program on Autodesk Labs called Galileo Online, providing the ability to post your content to the cloud for sharing with others. There's also an iPad visualization application that gives you the ability to share interactive models for iPad viewing, as well as the ability to share video simulations. PB has found great utility with this new product, to import a wide variety of file formats, play with conceptual design concepts, and act as a hub for data integration between products.
CAD / GIS Convergence
Gehry Technologies worked with the Lower Manhattan Construction Command Center to help plan and coordinate the 13 independent projects at the World Trade Center site. The need at the site was for deep information sharing and coordination, that allowed stakeholders to make actionable decisions, and to communicate that information with the public.
The resulting 4D model at the urban scale is available online via LowerManhattan.info, allowing the public to track all the projects being built over a 10-year timeline. In addition, the site pulls together information from multiple projects for the individual building stakeholders, with close coordination that gets all the way down to specific construction and integration strategies. The most compelling example of the close coordination of construction around subway lines that impact 100,000 people that use the subway daily. The 4D capabilities of the site allow any user to go to any point in time and see the construction projects that are happening.
The close connection of these changes to the citizen is a compelling example of CAD and GIS integration. The close details of the planning, combined with a database that records and communicates changes, gives all stakeholders and the public the ability to manage personal impacts and to predict upcoming actions to avoid those impacts.

BIM or GIS

On Thursday, Vector1 Media moderated a debate regarding BIM or GIS as the way to move forward for those involved in construction and infrastructure management and maintenance domains. The audience expressed a fair amount of frustration regarding conflicting approaches and software limitations. There was a great deal of spirited discussion about the best approach, with several in the audience emphatically stating that GIS is and will continue to be a necessary central point for projects and ongoing large-scale maintenance.
Others felt that GIS often has overreached, particularly with its lagging behind on 3D data handling and inability to deal with the arcs involved in CAD and BIM files. Many of these technical challenges have been addressed, but there continue to be gaps in workflows and entrenched approaches that will need to be surmounted to get to the next level of modeling and analysis.

While the vendors may stick to their branding of BIM and GIS, the goals to streamline workflows and achieve more integrated analysis across infrastructure information are universal across both, perhaps leading to the need for a new term to address this. It's exciting to see the increasing level of user interest in tighter integration, and the progression in software and system functionality that promises new insight. Without the ambiguity and friction, we wouldn't have the competitive marketplace to spur competition and speed innovation.
Related Blog Post