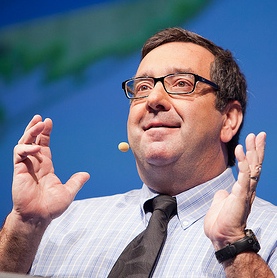 While ArcGIS Online has been in development for some time, it has only been a year since the launch where it took center stage at the Esri International User Conference. At the coming out of this capacity for organizations, the cloud extension provides a meaningful change for how organizations extended the power of the tools to a wider user base. Sensors & Systems (S&S) editor Matt Ball recently spoke to Bern Szukalski, ArcGIS.com product manager, product strategist and technical evangelist at Esri about further enhancements to this online platform, the rate of adoption, and the ways that it has changed how GIS is delivered throughout an organization.
S&S: I appreciate you taking the time as I know there's a lot of activity this time of year in preparation for the Esri International User Conference (UC) in San Diego.
Szukalski: As always, the UC is a milestone from many perspectives. It's a milestone for reviewing where we are, and also getting out updates prior to the event. It is a big deal.
S&S: I'm really amazed at how far ArcGIS Online has come in terms of functionality and adoption. The online and cloud mapping platform seems to be spearheading a great deal of Esri's effort these days.
Szukalski: It was just last year at the user conference where we finished our ArcGIS Online beta program. The year before, we were showing the publication of web maps from ArcGIS Desktop via hosted services in the cloud, and we weren't quite there with that yet. So much has happened, and our July release coming up right before the user conference is going to be a major release for ArcGIS Online. I think it fundamentally changes how we look at it, and how users will access it.
S&S: What is the rate of adoption that you're seeing for ArcGIS Online?
Szukalski: The adoption has been great. We've seen people do amazing things with it. Every one of our users that have an enterprise license have capacity on ArcGIS Online. We have thousands of users worldwide, and they're all at different stages of adoption. As is typical with most users, there are the cautious adopters and the ones that plunge forward because they see immediate value and service to some needs that they've had that they haven't been able to address in other ways.
I think some of the reasons people might be hesitant fall into the areas that we've focused on for this July release. For example, one of the reasons major enterprises haven't fully deployed it in some cases is that we haven't been able to dovetail into their enterprise authentication systems, so we've been working with large enterprise customers beta testing new capabilities and that will be fully supported in this release.
S&S: With the cloud capacity, is some of the cost justification around taking away some of the burden from IT, and not having to scale and buy new servers themselves?
Szukalski: I think that's part of it. Initially, some of the early feedback that we received was with those that had a hurdle to overcome in being able to publish services, whether hardware or organizational with an IT department that wasn't accommodating. What organizations are discovering is the opening up of a whole new way of doing things. They are reaching a different audience much more easily, and broadening access to what they do in a more available way.
The example from the main stage last year was the Utah Department of Transportation that spoke to that improved access. As a large organization with many departments, there were a lot of stovepipes of information that created issues. The inefficiencies that you get when you don't have information readily available are addressed by ArcGIS Online.
There's a lot of interest through the Esri Maps for Office part of ArcGIS Online, with the ability to empower other mappers within an organization. The whole web map ecosystem is fundamentally the most important part of the ecosystem, allowing users to author a web map, and using that map on any device, anywhere and at any time.
S&S: It's been good to see the variety of Story Maps that Esri has released on a timely basis, often with ties to current events. Are users taking advantage of that mapmaking capability?
Szukalski: The templates, and particularly the Story Map template, have taken off and really have a life of their own. All of those templates leverage the same web map functionality, and that central part of the ecosystem is vibrant and very active, and I think it's a big benefit to users.
An example of a recent popular map is the Decisive Moments in the Battle of Gettysburg, with a temporal view of how the battle progressed (http://storymaps.esri.com/stories/2013/gettysburg/ and via the Smithsonian http://www.smithsonianmag.com/history-archaeology/A-Cutting-Edge-Second-Look-at-the-Battle-of-Gettysburg.html).
S&S: You recently hinted on Twitter about improved analysis functions that are coming with the next release.
Szukalski: In the March release we offered a small set of analysis services in beta form, where users could experiment without incurring any costs. Starting with this July release, we'll be blowing the doors wide open on analysis.
When we made the initial list available, some were grayed out as not being ready yet. Now we've enabled a full list that includes: buffers, aggregate points, summarize nearby features, summarize features that fall within, geo-enrich features with a location or collection of locations to be enriched with other data (such as demographic information), correlation, finding hot spots, drive-time analysis, find nearest functions, there are also attribute calculators available, dissolve, merge, overlay, etc. Many of these are classic GIS functionalities that have traditionally only been available through ArcGIS for desktop, and that are now online.
We're crossing the divide, where a lot of what ArcGIS Online was about originally was sharing information and making maps easily. We extended additional capabilities to organizations, and that was represented by the hosted feature and tile services, and the organizational management tools. It's just continued to expand to the point where we're on the verge of moving from web mapping into true Web GIS, and that will be a topic of discussion at the user conference.
S&S: That's a great distinction, and an exciting turning point. To make it a true Web GIS, or to take it beyond traditional GIS, hasn't the investment in data as the provisioning of the online experience been a big part of that?
Szukalski: We've invested quite a lot in the data that that we've contributed to ArcGIS Online, and that's evolving. There are a number of different base maps. Not long ago we introduced a new cartographic design that we applied to the Community Maps Program, and the World Topographic Base map that is the coming together of contributed data from GIS users across the planet that we then offer to our users as a service.
We also have a tighter relationship with DigitalGlobe. We've been releasing the benefits of that relationship, with imagery extended into the base map, and we have great worldwide coverage of imagery.
Other areas that are happening with content from the Esri point of view involve imagery services, working with imagery, being able to mosaic images online, and being able to tweak and refine how they are displayed, and being able to glean more information and interact the way that you interact with imagery on the desktop.
We have a whole category of content around landscape analysis, with what-if scenarios and the ability to find suitable areas. That's something that we demoed at the GeoDesign Summit.
We've also been evolving our other types of content along with coupled services, such as a worldwide live traffic database that will provide real-time routing capabilities based upon traffic that extends our geocoding services.
It's not just about publishing maps or layers, it's about taking layers and attaching capabilities to those layers where those capabilities enrich the data in those layers.
S&S: A lot of these functionalities greatly simplify the ability to create these experiences, and make mapping much more accessible to a much wider audience.
Szukalski: That's been one of the more powerful aspects of ArcGIS Online, enabling us to access a whole new level of user. Many of these new users would have never implemented ArcGIS for Desktop or ArcGIS for Server. Many are doing what they need to do solely through ArcGIS Online. The interesting thing for many of our existing users is that they've been able to leverage that ecosystem to reach different audiences within their organization or for outreach to the public.
There's one thing that occurred to me as I have been sorting through capabilities. We've always talked about ArcGIS Online as a separate thing, and I think a lot of people identify it as a separate thing. Increasingly, with the capabilities that we've added, they're just becoming transparent and part of the platform. When we talk about ArcGIS Online, often we're focused on what you see when you go to ArcGIS.com or what an organization experiences through their subscription, but it's much more than that.
The traditional patterns of installing ArcGIS on a desktop is extended now. The desktop user can leverage all of the base maps, and can login to their organizations to see the other assets that are available that they can tap into, like tool packages or files or downloadable layer packages. I think ArcGIS Online is becoming deeply threaded into the entire platform, which was the original vision. As each new release comes out, it is becoming more transparent and we'll be talking about it less as capital "A" ArcGIS and capital "O" online, it will be a seamless desktop and online experience.
S&S: Does that seamless availability tie into your outreach to software developers? You've made some significant acquisitions with Geoloqi and GeoIQ this past year, and those were about mobile and online extension of GIS functionality to those that build applications.
Szukalski: We're continuing to evolve and embed the online part of the ArcGIS platform, and that means everything from improving security, user experience, administration and management tools, etc. Up until recently, we have not had the right way to expose these capabilities to the developer community outside of what we normally reach through the ArcGIS developer community.
We have created a new website to present information specifically to that audience, with guidance and materials to help them understand what can be done and how to do it. We're evolving special types of subscriptions that are specific to developers, because they are different than a GIS organization, with different ways to approach business. We've added the capability for a developer to manage applications, and provided them with ways to bill for applications.
We are also developing various marketplace ideas, where developers, Esri business partners, and content service providers can be discovered and their tools and services can be bought and brought into an enterprise environment. We probably won't say that much about that at the user conference, because the real unveiling of that will be later this year.
S&S: Are mobile devices an increasing component of how these tools will be deployed?
Szukalski: Our Portland R&D Center (formerly GeoLoqi) provide a "geotrigger" capability that is being embedded into the API as part of this July release as well. We have a geoevent tracking server that will be featured at the UC, and also the geotrigger capabilities that the Portland team has brought to the table, specifically engineered for optimization on mobile devices. That will be an important part of our mobile capabilities.
We had a recent announcement of a relationship with uKnow, that is a kid tracker, but with an interesting use with geotriggers and geofences to wrap into a consumer-forward application that makes a child's location transparent to a parent.
S&S: The importance of story telling was a focus last year, with a call to tell better stories with maps. Clearly the story maps template is a help in that regard, but is the ability to tell a story with geospatial data another big pillar in the effort to get GIS out to more users?
Szukalski: It has been interesting to watch this evolve. When Jack originally approached me about the idea of telling a story with maps, and we began playing with it, the templates that we were using were pretty simple and young. I sort of disagreed with Jack at the time, saying that we've been telling stories with maps since we could scratch on a stone with a sharp object. Every map tells a story to me, but clearly there's something new here.
What I've discovered is that the combination of the templates that allow you to easily bring in other things, such as photographs, and create a visually pleasing web map without having to be a programmer has really opened up a lot of capabilities for a whole new audience.
We build many of these and tackle some of the more serious topics, and our users started out with easier topics, such as the location of all the historic homes in a town. Earlier this week, I saw some really interesting examples from users of local government organizations informing the public about how capital improvement projects are progressing. These maps can be fun and entertaining, they can be informative and educational, and increasingly they are being used for "real work" to reach the public with information.
Originally, the story map templates on storymaps.esri.com were things that you'd download, assemble the data, get your photos and resize them, and get locations for where you want the places to be, put them in a spreadsheet, do some minor tweaking, and then host from your own server. In April, we introduced a new hosted map tour template, and there you can take your photos and drag and drop on the map, add the text that you want, and build your map story online, without the mechanics that you used to have to go through. There will be a whole series of these hosted templates that we'll be showcasing at the conference, including a GeoBlog application. I think we'll see much broader adoption with the lowered bar.