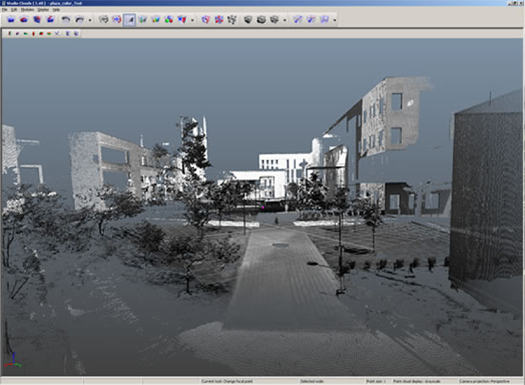 Alice Labs, based in the Netherlands, began in 2009 with an ambitious goal to create software to display, edit and render point clouds containing billions of individual points. In the first quarter of 2010 they reached their goal. Their secret: the Mirage gaming engine. The Mirage engine takes full advantage of the speed and memory of today's graphics cards to power Studio Clouds. Studio Clouds was written, from the start, for 64-bit multi-core architecture. This allows the software to also take full advantage of system memory.

First out of the rabbit hole in 2009, was Alice Labs' plug-in for Maya and 3ds Max. Users employ the plug-in to upload their point cloud data into Maya or 3ds Max and models can then be built based on the point clouds. Furthermore the point clouds can be rendered using the complex lighting and rendering systems in Maya or 3ds Max.
Studio Clouds, Editor, Register and more recently PhotoStruct were released soon after. The Studio Clouds base application is the main authoring package while Editor, Register and PhotoStruct are add-on modules. Studio Clouds allows for the import of several mainstream laser scanner formats with the ability to measure and present the data. Editor is a powerful module that can give the user the ability to clean data, project images from photos or paint points using the paint brush feature. Register lets the user merge scan files into one point cloud data set. And PhotoStruct takes Studio Clouds into another arena by giving the user the ability to create point clouds from stereo pair photos. This functionality gives the user the dense point cloud results typical from a laser scanner using low-priced camera equipment.
Installation
Upon registration at the Alice Labs website, users will be logged in and able to download the application. Once installed, users will then need to send the registration file to receive the license. Even though the company is located in the Netherlands with a 7 hour time difference, receiving the license file in the US has never taken more than 24 hours.
Performance
This is the game changer for point cloud manipulation and viewing. Alice Labs' Mirage gaming engine displays point clouds in a revolutionary way. Because of the gaming engine, real-time navigation through and manipulation of billions of data points is possible. Considering the data collection rates of modern laser scanners and the limitations of comparably priced point cloud manipulation software packages currently on the market, this is a big deal. So import all of your scanner data – if your graphics card is up to it, Studio Clouds can handle it. Alice Labs' graphic card recommendations suggested that the users' graphic card should have support for DirectX 9 graphics and 256 MB of graphics memory (Shader model 3.0). Our tests were completed on a Windows XP 64 bit Quad Core with 8 GB Ram and an Nvidia Quadro FX 1800 graphics card with 768 MB of RAM and we felt the data was displayed exceptionally fast.
Reliability
This is the first release of Studio Clouds and while we experienced some of the issues that come with new software, overall reliability was impressive. Furthermore, with each version upgrade the software package has become much more stable even as new features were added. Alice Labs have also been very responsive to our comments and questions about the software.
Compatibility
Studio Clouds allows the import of 14 different formats including Faro, Leica, Riegl and Topcon proprietary formats. Unfortunately, they only have .PTS or .DXF export options available in the current version and can lose some key information such as scanner location and multiple scan alignment that is imported with the proprietary data format. Alice Labs does state they will be including .PTX export option soon. With the Maya and 3ds Max plug-in they have brought a new compatibility option into the 3d modeling and rendering world, but currently fall short on moving data back into some of the major software packages in the market.
Ease of Use
One of the best features about Studio Clouds is its intuitive interface. Users migrating from other point cloud manipulation packages might be underwhelmed by the missing buttons but they'll soon appreciate its powerful features packaged in the simplified interface. Point cloud editing novices will really appreciate the easy to use interface, but all users will benefit from walking through very well written and easy to use tutorials to understand how to use the modules effectively.
Summary
Alice Labs has demonstrated a wide variety of tools and features in a really awesome product. This company, in its infancy, has brought amazing solutions to the point cloud industry that was previously buried in hard-to-use, expensive software and hardware. Studio Clouds' easy-to-use interface has the opportunity to bring point cloud processing into the gaming, movie and geosciences industries. The Mirage gaming engine gives the opportunity for real-time navigation with billions of data points displayed.
Hardware Requirements

Studio Clouds Unified Installer (free download from Alice Labs)
Windows XP / Vista / Windows 7
2 GHz 32-bit (x86) processor, 1024 MB of system memory, 30 Megabytes hard drive space
Support for DirectX 9 graphics and 256 MB of graphics memory (Shader model 3.0)
It is noted that Alice Labs request the user update their graphics card with the most recent graphics driver for optimum use.
Price
Studio Clouds for Maya 32bit/64bit, Studio Clouds for 3ds Max 32bit/64bit and Studio Clouds for 3ds Max Design 32bit/64bit are $2,599 (outside Europe). Contact Alice Labs for prices on Studio Clouds Editor 32bit/64bit, Studio Clouds Register 32bit/64bit and Studio Clouds PhotoStruct 32bit/64bit. A maintenance package is also available which includes all product updates and technical support for 18% of the listed price.
Contact
Upcoming
Alice Labs has let us know that they are hard at work on their 2.0 release that will make full use of the latest capabilities of the modern graphics cards. This will include Mirage 2.0, which promises major advances in the processing of point cloud data and an all new graphical user interface. Alice Labs expects to release their 2.0 version in September this year. Alice Labs will also update their stereo based version of PhotoStruct mith multiple image processing capability with the aim to enable users to get more detailed, accurate and complete reconstructions.
Snow Winters is geospatial visualization and animation developer at the Center for Advanced Spatial Technologies (CAST) at the University of Arkansas; e-mail: snowball at cast.uark.edu.
Screen Shot Gallery
(Click on the image to view 10 screen shots with detailed captions.)

{gallery}reviews/alicelabs:650::1:2{/gallery}